Archive for March, 2015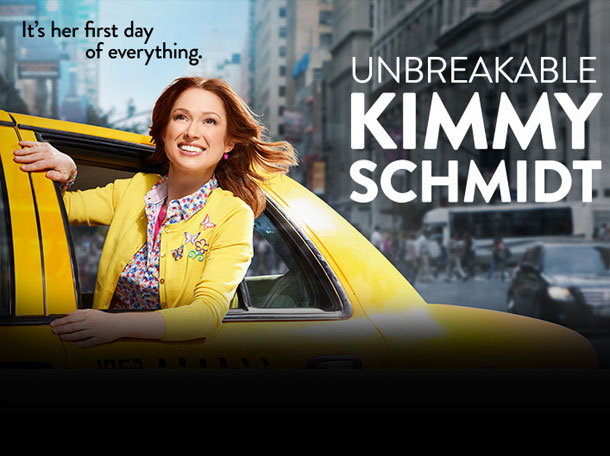 Unbreakable Kimmy Schmidt is hilarious. Audiences and critics having been, for the most part, singing its praises. It's not a huge show by any means (and Netflix's refusal to disclose its numbers continues to make it difficult to truly quantify its success), but simply by paying attention to social atmosphere and various review sites, along with a guaranteed season two, you can easily surmise that the show's cult audience is thriving.
Its success, however, is tainted somewhat by a wave of criticisms of its approach to racial humor (here's just one of the many, many thinkpieces about it). It's odd to hear so much criticism of a show that's not Two Broke Girls and/or something from the mind of Daniel Tosh or Seth MacFarlane. I mean, Tiny Fey? The darling girl of 30 Rock and SNL's more successful runs put to task about the show's alleged racism? Never thought I'd see that day.
After binging through the show though, while I can certainly see why so many people are making this argument, I don't think the show is racist at all. Or rather, I don't think it's "racist" in the way that such a loaded word tends to imply. Tiny Fey and Robert Carlock's new show certainly isn't intentionally racist, that's for sure. The problem is that its unilateral focus on Kimmy Schmidt's life has indirectly weakened its portrayal of the various characters around her. It's not racist per se, it's poor characterization, resulting in racist (and homophobic) impressions.
Personally, I've always had an issue with how Tiny Fey portrayed minorities. I've only seen a few episodes of 30 Rock, but of the ones I did see, they too had somewhat disingenuous racial connotations (specifically I'm talking about this episode), particularly when they're all centered around a successful white woman who also happens to be neurotic (the pretty white people with problems syndrome, or PWPWP, pronounced "pwip-pwip"). I don't think its necessarily Fey's fault though. I think the general narrative that tells the story of a single character's journey through a troublesome point in his or her life tends to lead to poorly structured characters around them. If you're not careful, that can lead to a lot of uncomfortable moments.
Bojack Horseman, another cult-hit Netflix show, has a similar issue. What started out as a comic take on Hollywood excess through the eyes of the scene's most failed misanthrope, turned into a dark character study of a broken former star. That's fine, I suppose, although it's hard for me to sympathize with an (ostensibly white) dude with a lot of money in the throes of interpersonal ennui. But that heavy focus really diminished other potentially rich characters like Todd, Mr. Peanut Butter, and, worst of all, Princess Carolyn, who, in the midst of her own depression, ends up dating two kids in a trenchcoat. The problem isn't that she's dating two children – clearly, that's the joke; it's that her crafty, confident, hilariously determined character became a sad sack who only felt her only worth was finding a figure worth dating before she got too old.
Contrary to most critics out there, I also find The Last Man on Earth, Fox's newest hit show, problematic in its own way. It's a trickier matter with this show, as there's only been four episodes as of writing this, but so far its high-concept premise, in which a man struggles to survive within a world devoid of life, has essentially relied on a "Men are like THIS, but women are like THIS" template, just in an apocalyptic setting. I mean, I sort of see the show's attempt to make Carol's insistence on preserving a certain sense of humanity part of her character, but I disagree that the show makes it clear that it's part of her personality, not necessarily her gender. Why is she so driven to marry before sex beyond the fact that this is what women do? The show doesn't say.
These shows aren't bad by any means, but they feel contrived, forced to fall victim to sitcomy tropes, gender cliches, and relationship woes, and no amount of animated animals or barren landscapes will hide them. What Bojack Horseman and The Last Man on Earth do with gender, the Unbreakable Kimmy Schmidt does with race. All three shows are so intrigued with their central lead characters (not in and of itself a bad thing) that they struggle to explore other characters outside of gender/racial stereotypes. In this post-Tumblr world, it's easy to categorize that as sexist or racist but really, it's just a form of laziness.
And that's the crux of the racial problems with Unbreakable Kimmy Schmidt. There's an… air of concern underlying the show that seems to exemplify Patricia's Arquette's misspoken post-Oscar comments, where white women should be propped up by minorities and LGBTQ people (that's not what she meant, of course, but that's how her words were (mis)interpreted as). In this case, it's Kimmy Schmidt (and Jacqueline, which I'll get into later) who is the white woman propped up by Titus, the gay and black man, and Dong, a Vietnamese character, so they claim. By propping up Kimmy's journey towards autonomy and self-reliance, Titus and Dong are forced to go through generic storylines mostly defined by their race and/or sexuality.
Unbreakable Kimmy Schmidt is funny, and the storylines involving Titus, Dong, and Donna Maria are hilarious, yet I can see why so many people are having trouble with the show, despite disagreeing with them. Unlike 30 Rock, whose main character is successful and wealthy yet seems to be swamped by first-world problems, Kimmy is emerging from a darker, more complex place – fifteen years within a bunker at the behest of a controlling male figure. Kimmy is driven wonderfully by her desire to no longer be a victim, which is a stronger motivation than "lack of fulfillment" that drives Bojack or 30 Rock (and, implicitly, Last Man on Earth). Yet the show is so glowingly focused Kimmy's success (witness how easily she succeeds at finding a home and a job in New York) that everyone around her, from a character perspective, feel like their playing catch-up; Titus is defined by his blackness and gayness; Dong thrives on a host of Asian-American stereotypes; Donna Marie ends her arc by selling mole sauce.
This all probably applies to Jacqueline's character the most, whose Native American parentage has become the most decisive part of the show. There's a difference between being absurd and being nonsensical: absurdity allows the satire to shine through cosmically massive hyperbole, while "nonsensical-ness" relies on sheer illogical connections for humor. Jacqueline's Native American relations toe this line, which only comes off confusing. It isn't clear if the show wants to satirize Jacqueline's overwrought attempts at whiteness (at the expense of some easy Native American gags) or play it all ridiculous for the sake of being ridiculous (like a text-alerting banana). The result is, unfortunately, tone-deaf, especially with that wild season finale scenario at the gas station.
Unbreakable Kimmy Schmidt doesn't necessarily have to explore its racial (and sexual) caricatures with any real depth, but it may be in the show's favor to do so, particularly in the second season, to make a richer, stronger, and more comically complex show. After all, this is the show that, just as lazily, implied a catcalling construction worker as a closeted gay person; Unbreakable Kimmy Schmidt can do so much better (and has, frequently). Fey and Carlock can certainly continue their story into Kimmy's world, but they'd be better off letting Titus, Dong, Donna Marie, and Jacqueline's parents into it.