Archive for August, 2016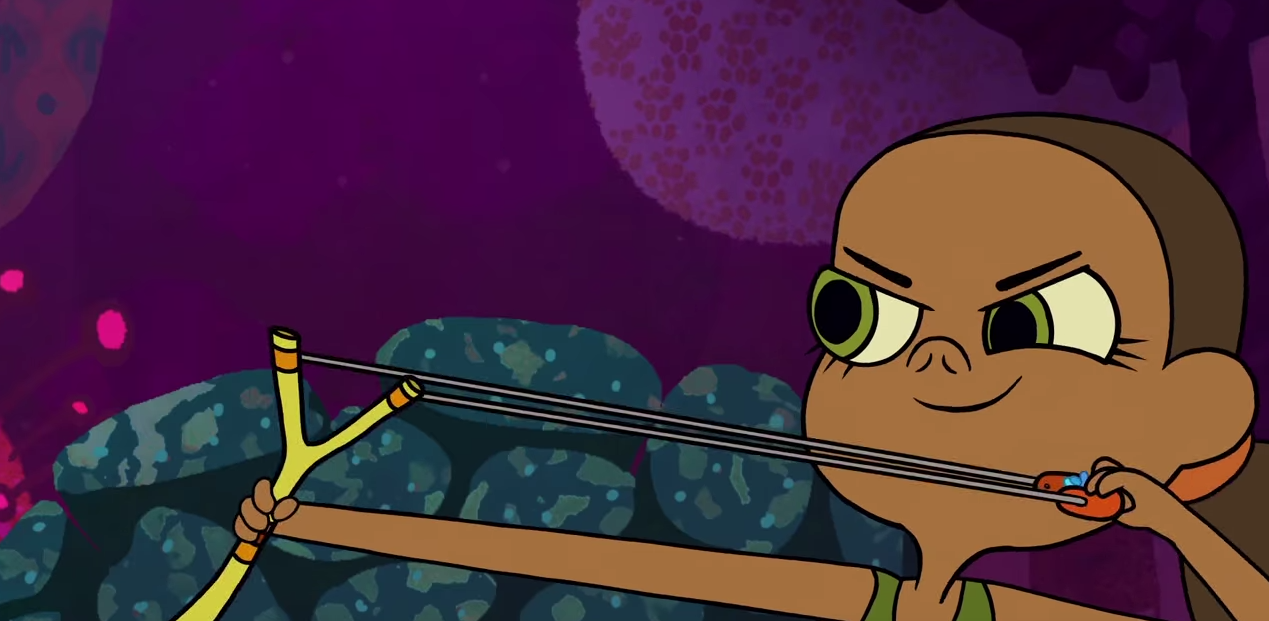 Home: Adventures with Tip and Oh is based on the Dreamworks film Home, a buggered, incomplete piece of animation that never quite grasped the satirical edge needed to portray the abject and complete removal of citizens into makeshift suburban prisons. Home cared little about the uncomfortable connotation of such a premise, which resulted in a plot – in which a young black girl teams up with an alien outcast to try and find her mother – that could not shake off its racially-coded baggage. I know. I know. I wish I could just ignore the analogies – the wholesale removal of people from their homes, the wholesale removal of African people from their continent, the constant splintering of slave parents from their children to foster an economic system that possesses ramifications that last even till this day. But what you need to understand is that it is so, so hard, and Home did little to ease that discomfort from my mind.
In that regard, I had very few expectations of this show.
If a Home TV series had to be made, the best bet would be to ignore that entire premise and forge onward with new, unrelated storylines. Adventures of Tip and Oh does for the most part, although the occasional exploration of the Bov's cinematic past actions is as awkward as you'd expect (more on that later). The animation is decent; the character designs are off-putting, as typical of Thurop Van Orman's style, but functions well enough in movement, and viewers will find themselves getting used to it fairly quickly. The character choices are fairly trope-y and questionable, with Donny being a Mr. Krabs-esque non-entity, Sherzod gearing up to be the most decisive character in a while, and Lucy exhibiting a certain level of air-headedness that doesn't seem to fit a single mother living in Chicago. These, and other creative decisions, suggest the writers are still working through some issues, but there is one thing that Netflix's new show has right: Tip herself.
I didn't warm up to Gratuity "Tip" Tucci at first. She seemed a bit all over the place. She is inconsistent, a bit aggressive, a bit loud, a bit too weird – especially compared to her cinematic counterpart. But then I realized something: that is the point. Tip is purposely, uniquely, her own girl. She is an eighth-grader who possesses her own very limited, very vain, very specific point of view. Her aggressiveness, loudness, and weirdness is uniquely her own. The writing doesn't quite do her any favors, specifically in terms of the situations that she finds herself (and Oh) in. But Tip herself is special. She is unabashedly herself, not particularly concerned to fit within the parameters of young girl character templates – specifically, young black girl characters – that came before her. She is Penny Pride – clever, determined, confident to a fault – mixed with Star Butterfly – extroverted, adventurous, out-of-her-league. Tip is confused, lost, conceited, goofy, and, yes, even grating. She is all those things – which makes her the best, most important young black female lead for children today.
I need to reiterate something: other than Doc McStuffins – a show for preschoolers – we do not have a single animated show on the air with a black girl as a lead. Mostly cartoons are driven by young boys (or talking animals). There are more shows now with girls as leads, and/or shows with strong feminine characters. But they're mostly all white (save for Steven Universe's Garnet, which is another matter entirely). And that is fine. But in this era and in the call for more diversity, it's telling that, as usual, young black girls are continually, routinely ignored. (Full disclosure: I pitched this piece to a well-known site, which was rejected, and which I deeply believe contributes to this problem.) Seeing and experiencing someone like Tip on my screen felt revelatory. It made me realize how limited in scope my expectations of what young black girls could be. (Note I didn't say "what black girls should be," which is an extremely important distinction.) I love Tip because, sometimes, I don't love Tip. I love that she's sweet and loving and naive and annoying and too much and quirky and super-weird and sometimes "uppity." Black girls need to see this. We all need to see this.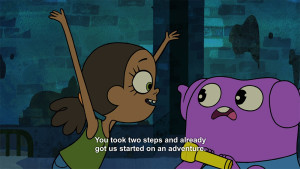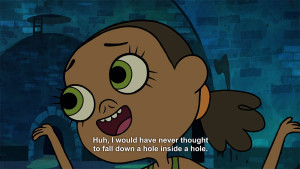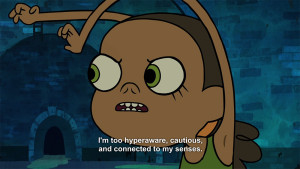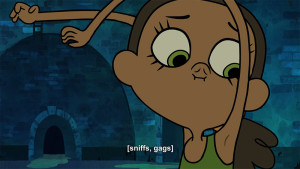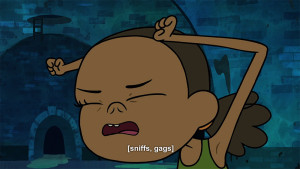 Tip isn't African-American. She's Caribbean-American. Her grandparents immigrated from Barbados; Tip is second-generation. The show doesn't play around too much with this, although it is nice to see when they do. (I would love to see more Barbados-inspired bits on occasion, in the fun ways that Sanjay & Craig sometimes played with its Indian-related bits.) I don't expect the show to really do that, though, mainly because the writers don't seem to really grasp the full relevancy of what they have in a character like Tip. There's theoretically a lot to unpack in a show in which the Bov implemented forced displacement and occupancy, where the setting is Chicago, and where Tip and Lucy live by themselves sans a father figure. When Tip's grandparents visit in "Wrinkly Humans People," that awkwardness is palpable, but the writers don't see it. After all, her grandparents deeply distrust the Bov for what they did, and you honestly can't blame them. Yet the show works it so as to suggest that it's her grandparents that are in the wrong, that they're the ones who are, essentially, the bigots, since they just can't get over what the Bov did. Well, of course they can't. History is ugly.
Even still, there is potential here. There is a rich complexity in the idea of Tip's broader acceptance of the Bov and, specifically, Oh, and how that comes up against the reality of what the Bov did. There is perhaps something to how easily a young Tip has forgiven the Bov in order to maintain the stability of her small family unit, and how that continues to push up against those still harboring resentment towards their occupiers-turned-neighbors. It would be deeply interesting to see episodes in which Tip has to, in some way, address how she justifies her love for Oh, as opposed to her past hatred for the Bov's role in separating her from her mother. Adventures with Tip and Oh might have been better served ignoring all that overall, but although I do applaud the show for dipping its toe into the thornier sides of the film, I doubt the writers have the temperament to hit such dramatic notes.
That's a dramatic layer way out of reach for this crew. At this point, in its first season, it would be just enough to take a fun, deep look at Tip herself (in the context of a young black eighth-grader with only a mother living in Chicago). As a unique character, the writers provide her with the variety of traits that I've mentioned earlier. As a character who will be developed, that where the writers fall short. It's tricky, because the show doesn't need to be an in-depth (if silly) examination on what it means to be a young black girl in Chicago – aliens or not. But it would be worth exploring some of the issues unique to that worldview and experience. The clearest example of this dilemma lies in "Angerdome," an episode in which Tip deals with her anger. There are volumes of content that could be written that explores the social exploitation and discrimination that exists within the "angry black woman" trope. It is both vicious (which posits all black women as unstable and prone to violence) and commodified (from the lighter-but-overused "sassy" trope, to pushing their angry reactions on reality TV). It's hard to say how the writers see all of this in "Angerdome," though. There's a moment, after various characters tell Tip to calm down, where she proclaims, "I'm allowed to be angry!" and it is wonderful; filled with the personal, determined, defiant spirit that young black girls need to hear. Yet the power of that statement is undercut when, immediately after, Tip resigns to needing help (and an outlet) to deal with her anger.
That's what makes it hard. There is the real, distinctive lesson which allows kids to understand that having an outlet to deal with anger is important, and I can't fault the show for dealing with that (although the answer they come up with is muddled). At the same time, the show mostly ignored the opportunity to explore Tip's individual struggle with what it means to be a black girl who gets, and is allowed to be, angry. It's a powerful statement that the writers fail to notice as a powerful statement. It's part of the overall verve of the show, really. It's great to see Adventures  with Tip and Oh use a character like Tip to have fun with the general complexities of childhood, especially within such a specific premise. It's tougher to see this done separate from the unique characteristics and history that Tip (and the show) embodies: the black, only-child, fatherless, Chicagoan setting. The universal ideas are fun, and pushing them through Tip is wonderful, but the writers have an opportunity to really explore Tip's experiences at a personal, raw level, and I don't think the writers see it – or they refuse to.
Still, I praise the fact that a character like Tip exists. She is simultaneously fun and frustrating, and it makes her necessary to see a character like her on television. What ever issues or concerns that may happen around the lives of the Tuccis (which, for all we know, could be fixed by season two), Tip's goofy, abject, unforgiving weirdness and quirkiness – so often contributed to white women to the point of a dated, oft-misunderstood trope – has been finally applied to a young black girl. It's just good, refreshing even, to see a black girl outside of a typical "no-nonsense" role. (Tip is no-nonsense, but it's defined within her weirdness, not as a sole contrast to those "silly" white kids.) A lot of her appeal is due to the voice artist, Rachel Crow, a 2011 X-Factor contender taking the role from Rihanna from the movie. Rihanna had gumption, but at best her voice work was merely passable. Crow brings a serious, specific attitude to Tip – a rough energy that's wonderfully infectious (in the same multi-layered cadences that the late Christine Cavanaugh gave to Gosalyn Mallard). She also has a distinct singing voice that manages to add flavor to both the show and the character, without it being too distracting or random.
So flaws and all, I look forward to see where Home: Adventures with Tip and Oh takes Oh and Tip in future stories. The creative critic in me wants to see the show lean a little harder on its premise, on its boundaries and issues, just to see them contextualize how Tip might respond to those tougher dilemmas and grow as a person. I would love to see those issues hit upon, to expose it to kids, particularly young black girls, who struggle through those issues every day. As for now though, I just want to see more Tip. I want to see more of her odd, assertive, annoying behavior. I want to be challenged, bothered, and amused by Tip's antics, because I want young black girls – and all viewers, really – to understand that being like Tip is okay.
(Final note: I know this is "just a cartoon." I know I should just enjoy it for what it is. What I'm telling you is, I just can't. Not with what I know and experienced, not with what I've read, not with the history and context of this country and even Chicago itself inside my head, not with the news stories and the personal accounts of people's experiences shared every single day. I physically, emotionally, psychological cannot separate the two. I can only channel it, and I would hope and love to see Home: Adventures with Tip and Oh do this as well.)