Archive for June, 2017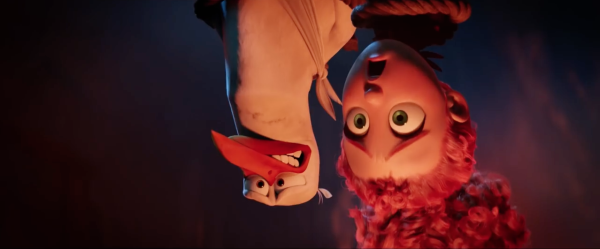 Storks received some minor attention when a Twitter account pointed out a montage from the film showcasing various couples – and singles – receiving babies from the flying avians. The recipients were of various races, ages, sizes, and sexuality. It was a slight scene, and it was really only for those who would take notice, but it still was worthy of attention. Storks seems like it's part of the not-so-great trend of films playing minor favors towards progressive ideals – a sentiment that feels more like a "spot the trend" game than any real sense of modern acceptance of diversity. Storks, a movie as a whole though, is genuinely more interested in those progressive ideals than a tossed-off montage. Storks is generally dismissed as a non-essential children's film. But it's a funny, clever, self-aware bit of animated goofiness with its heart firmly held in its silent, but meaningful, progressivism.
Storks, at the onset, feels like its a film about nothing, really. It's the off-beat, quirky story of a stork at a company, which no longer delivers babies, teaming up with a orphan human girl, to do just that. The movie runs through an assortment of wacky set-pieces and silly characters via a plot that on its surface is rather simplistic and superficial. Its reliance on heavy cartoony antics and self-aware gags can be a turn-off to a lot of people who prefer their animated films to be more grounded and sophisticated (an approach I find limiting in a lot of ways but that's a topic for another day). Yet underlining all of that silliness, Storks exhibits a real sense of confidence in its characters and in its setting – a confidence that is exploratory and distinctive, noticeable with a closer look.
I hate saying this, and I hate how this will sound, but I need to say this only in order to clarify it: Storks is arguably the most "millennial" movie I've seen in a while. It's a film in which its absurdity and irony attempts to, but doesn't quite, mask its dramatic exploration of the confusion of life and complications that younger "20-somethings" face. It's a film that comically but quietly explores their contemporary search for purpose and identity – in a wildly basic way, but in a way that feels necessary. Storks wears its heart on its sleeve. It is quietly, narrowly honest, but that honesty is cluttered in self-awareness, funny voices, and physical comedy – the kind of way in which millennials tend to approach their futures.
It's tricky, almost dangerous, to explain myself without stereotyping, but hey, I certainly wouldn't be the first critic to speculate on "what millennials are" these days. In my experience, I find that this particular upcoming generation is more honest and forward than the previous one, but often diffuses that honesty through irony, asides, and forced comedy. (You know, memes.)  Storks isn't a "meme" movie, in that it didn't inspire an array of JPEGS and GIFs tossed about on social media, but its core sentiment is easily lost in its nonsense. One could suggest that the film's failing is exactly that – its sentiment is belittled by its chaotic cartooniness. But I feel like that's a shallow reading of cartoon antics in general, an implicit denial of letting cartoons be cartoons. That is to say, all of those antics don't deny the film's sentiment, even if the characters aren't the utterly raw, broken characters, like the ones in Bojack Horseman or Rick and Morty. The cast of Storks are lost in deeply confused, deeply aimless ways, composed of characters who are coded in youthful exuberance and confidence but not necessarily a purpose: Junior the stork (note the name) is up for promotion without any idea as to what to do when he gets it, while Tulip the human is a literal 18 year-old orphan who has no idea who she is or where she belongs.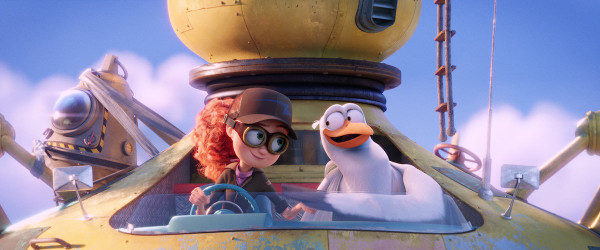 Storks is somewhat atypical of most animated movies in that it places much of its stock on those two characters for a good portion of its runtime. All the physical gags and loose plotting is secondary to the film's confidence in the interplay between Tulip and Junior, and essentially the voice artists Katie Crown and Andy Samberg. And it is a delightful pairing. Crown and Samberg work off each other so well that it almost feels like certain scenes were added and/or extended just to pad their interaction. Their comic conflicts and camaraderie move fast and sharply, due to the power of two actors on top of their game. Yet even through those comic interactions, Samberg and Crown don't deny or ignore the complication of their characters in this weird, specific moment in their lives; they instead manage to exude their current turmoil through their hilarious performances. It's not nuanced, but millennials aren't particularly nuanced (and I mean this positively). Just because someone posts a meme that dumbly describes their current feelings doesn't negate the fact that they're indeed feeling that feeling.
It's immediately present early in the film, when Tulip gleefully asks Junior to stop calling her "orphan Tulip"; she comically, but bluntly, describe how the term "hurts her heart." Later in the film, Tulip teases Junior over his ideas on what he would do once he's promoted. After a bit of inane, silly prodding and subsequent deflections, Junior reacts in anger: "BACK OFF" he screams. It's a hilarious but personal response to his dilemma – what does he truly believe in? What is his personal drive upon "earning" his position, and what will he do when he achieves it? Junior is terrified of self-reflection; throughout the film, he blindly recites the corporate slogan, he sings the commercial jingle to a baby, and he grows excited over Storkcon, a convention in which its cleverest innovation is a spherical box.
I don't think millennials aren't especially hostile to capitalism, so much that they're more readily and willing to question and criticize it. "Climbing the ladder" is still the goal of many young people, but as it becomes clear that such an achievement is more complex and fraught these days (financially, socially, and mentally), millennials at the very least need a real sense of purpose within the system that goes beyond "it's just what you do." Junior's mind literally explodes when he gets that promotion early in the movie, yet the story showcases his reluctance to articulate what, exactly, he would want to do once he achieves this. Tulip's assured ideas push back against Junior's smarmy question over what she would do in his position, but it also reinforces how specifically lost Junior is in this particular point in his life.
Speaking of Tulip: I just have to say that the Storks' co-lead is a fantastic character. She pulsates with such life and personality, a funny and quirky being who also shades a lot of complexity in her actions and her vocal performances – and in her animation. Tulip is a brilliant young girl who never is given her due: she invented (and fixed) a flying machine that doubled as a boat after a plane crash, and her rocket packs actually work before one of her test subjects take things too far. (You then want to question whether "Tulip's help" really was the cause of the company's low profit margins.) Let's be blunt: there's a clear, prescient feminist message here. A smart, capable woman whose ideas are dismissed, who can't even be seen as a real person without the "orphan" qualifier? Really, there's enough here that could fit an essay on its own. (This also ties into capitalism's problematic approach within a social context, but again, that's worthy of its own, separate critique.)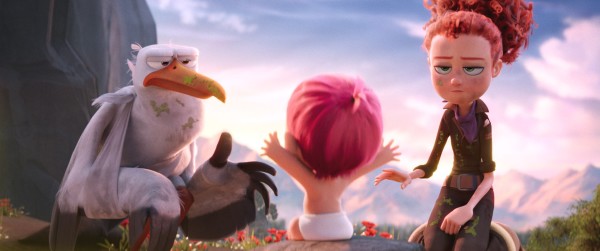 What we get here, through the overall tale told in Storks, is two young persons of different lives (and species, which winks towards its own idea of a diverse co-lead setup) who struggle with modern ideas of personhood and livelihood, all while engaging with the ultimate symbol of the classic "success" traditional ideal: the baby. And here is where things get interesting. Junior and Tulip fit within a particular archetype. A young couple, both of different worlds, who find themselves suddenly in the care of a child, neither of them ready to care of it, let alone care for themselves. They're literally figuring it out all their own. In this way, Storks attempts to bridge traditional ideas of social success while questioning it all the same.
And, to be very clear, Storks isn't a movie that's going to delve heavily in such an idea. It's silly, audaciously funny, with the kind of animated physicality that rivals Tex Avery for delightfully dumb cartoon exaggeration. The last CGI film to do something of this caliber is probably Madagascar 3 (one of mistakes of the Penguins of Madagascar movie was arguably to pull back from that gleeful embrace of cartoon exaggeration). Storks delights in its visual nonsense: its bird characters with hilariously perfect teeth; it's fun, revealing montage of Tulip's cast of imaginary workplace characters; it's most sharpest creation in the form of a male wolf couple (wink) who fall in love with the baby and commands its pack into sheer physical recreations of bridges, mini vans, and submarines.
But those exaggerations do not (and should not) distract from its richer, well-considered points; they reflect millennial confusion and fears over how to approach a society that continually questions the nature of livelihood and family. Storks feels like a movie in which its creators almost lucked into devising a smartly considered world and a thematic heft that balances the film more than its previews indicated (and which hinders its third act a lot, which I'll get to in a bit). In Tulip's brief idea, suggesting the company they work for invest in a more diverse set of  birds and animals, Storks sparkles with potential of a world in which its animals have as much life as its humans. It's present in the wolves and the throwaway scene in which Toady interviews a bunch of animals. Storks enjoys the world it created and meta-commentary that flows from it.
This, in some ways, is also reflected in the scenes involving Nate Gardner and his family. Here, tradition again is questioned, if perhaps not as rigorously as it is with Tulip and Junior. It's as cliche as it comes when we see two overworked parents consistently neglect their own kid, but at the very least, Nate thrives with a clear self-awareness of the situation, as in with the scene where he guilts his father to help him built the baby-catching contraptions on his house. Storks smartly doesn't dismiss out of hand traditional ideas of success and family; it simply requests that its characters understand why it wants to achieve those goals, and be assured in that achievement. Note that Tulip and Junior do NOT fall dotingly in love with the baby and automatically become a family. The wolves' are seen as in the wrong for this behavior, and so is Jasper, who realizes his ultimate mistake (falling in love with a baby just because its "cute") and resolves to return to just finishing his job.
This is Junior's ultimate lesson, which he recites (ironically, when he recontextualizes Cornerstore's slogan into a personal mandate) when he finds himself in a factory filled with babies and an assortment of unemployed storks around him. This is also Storks' weakest moment; its third act is lost in its perfunctory need to create an over-the-top climactic moment (if you watch carefully, Tulip and Junior don't do anything but watch the chaos unfold in the entire sequence). A friend of mine commented on the need to kill off (and, for all intents and purposes, he is killed off) Hunter when he just wanted to protect his company, and he has a point. Turning Hunter, an antagonist who just had a strict corporate/capitalist mandate, into an out-and-out villain was a mistake, but you definitely get the sense that even the filmmakers felt ambivalent about it. (This more or less is notable in their approach to Toady, whose antagonism and motivations are hilariously, and purposely, unclear; Tulip and Junior barely grasp his role in the chaos that unfolded in the end).
Storks is infinitely more interested in the kind of silly, cartoonish world it created and the lost, confused characters who inhabit it, who open up to their insecurities through funny voices and dumb expressions, but whose insecurities are still present and significant. In its final moments, Storks showcases the myriad of families, and family types, who embrace their babies (many of whom could indeed never get babies the traditional way, something a "woke" sequel could really delve into?). It provides Tulip her rightful family, but more importantly, it gives her a sense of identity (family) and purpose (delivery of the baby). It also provides Junior a sense of purpose (embracing baby delivery at Cornerstore.com) as well as identity (Junior was never as lost in knowing who he was as Tulip was, but establishing a personal connection with her, and her family, does seem to provide him a level of peace he never knew he lacked). As heartwarming it was to see Tulip and Junior embraced by Tulip's family, it was also right, perhaps even more so, to see the two of them nod at each other confidently in the workplace, confident in their new role.