Archive for category Childhood Revisited
If you haven't heard by now, Disney is developing a CGI/live-action film of their classic Disney Afternoon series Chip n' Dale Rescue Rangers. This happens to be on the heels of the recent announcement of a CGI film version of the video game Sly Cooper. This announcement came a couple of months after the first surprise announcement of a upcoming CGI Ratchet & Clank film. (The latter two are being animated by the same studio.)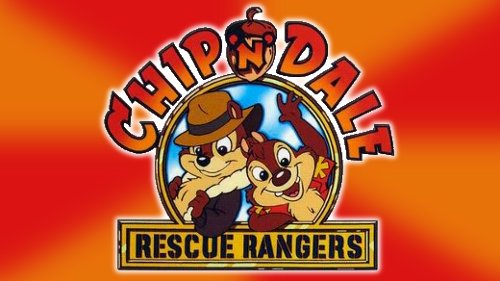 This is somewhat unexpected and unprecedented. Not because they're adaptations of classic, well-known franchises, but because of the specific choices that were made here. In the case of Sony's games, Ratchet and Clank and Sly Cooper seemed to be on their way out, the last bastion of an era of mascot-based games in a world of gritty, heavy shooters. The last two games were relatively well-reveiwed and probably made a decent amount of money, but it's difficult to claim they did SO well as to spawn a movie. Yet, every film based on the big-hitter games – Uncharted, Halo, World of Warcraft – have all stalled and/or proven to be problematic. Both games have the potential to be interesting films (Ratchet and Clank moreso than Sly Cooper), but the idea always seemed lofty, the fandom's unachievable wet dream. And yet, here we are.
Most likely, Sony saw Dreamworks' heavy push into the animated franchise end of things, with its multiple films and TV shows and agreements with Netflix, and wanted a piece of that pie. If the films do well, most likely TV shows will follow (as for more games? Maybe, although that's difficult to say right now). It helps that both films seem to be tied to those people who worked on the games, but films are a whole 'nother ballgame with a less than stellar track record when it comes to video game adaptations. Still, I can't help but hope – I have long wanted to see these iconic characters outside their gaming forms, reaching a broader audience. If this works out, perhaps more gaming companies (EA in particular – there isn't a money-making scheme they WON'T try) will get back to creating mascot-based games, if the ultimate goal is to spawn a franchise across multiple media formats. Maybe, just maybe, those mascots will be pushed into next gen gaming mechanics, beyond idealized 3D platformers. Imagine playing a cute purple alien in a game with the sophistication of Deus Ex.
Disney's take on a live-action Rescue Rangers somewhat fits along the same lines, but in many ways it's wholly different. Disney is probably thinking more along the lines of Alvin and the Chipmunks and G-Force. This should give everyone pause. Rescue Rangers was quietly creative and clever, a fully realized miniature world that existed among the feet of humans. This live-action adaptations, which looks increasingly likely to avoid using anyone connected with the original show, may turn this group of flawed, complex rodents into comedic visual eye candy. (They also claim this will be an origin story – unless they basically do a CGI version of the "To The Rescue" five-parter, this probably will be terrible. They'll also probably do that thing where the Rangers wear clothes but all the other talking animals don't, which will be bullshit since the whole point is that the smaller animals DO where clothes. But I digress.)
The original Rangers were a tight-knit group of flawed critters – Dale was too scatterbrained, Chip was too stuck-up, Monty was conceited, Gadget was absent-minded, and Zipper was insecure. As silly as the show was, they were characters. They had desires and feelings and flaws, and the original writers put in the work to make the characters and world of the Rescue Rangers feel "real." With the likelihood of the original creators not being involved, there's a chance that the creatives chosen to take up this film will take the easy route – a simple story involving kids and some adult that needs to "believe" or some shit, with a cringe-worthy dance routine. (TO BE FAIR, the original show had cringe-worthy dance routines, too.) But there is potential with fresh crew, in particular if they're fans of the old show. There's a chance that they can be respectful of the original series while pushing it in an interesting direction. Gadget going overboard with internet-speak will be terrible; Gadget quickly getting the hang of the internet has potential.
The question on my mind is – how is Disney going to approach this film in relation to the original series? That is, will Disney, at any point, acknowledge its relationship with the original show? Will they air (or at least put on their Youtube page) the original show? Obviously there's a huge nostalgia angle that Disney is exploiting here, but the question is how far will they go with it. Alvin and the Chipmunks didn't exactly inspire legions of people to see the originals, but then again, the cartoons and songs are already readily accessible if you know where to look. Disney is notorious for keeping a certain sect of its past output under lock and key.  So, I'm not too sure they'd jump aboard tying the film to its Disney Afternoon ancestor. If they did, they'd have to also deal with the question of it's other DA shows – Ducktales, Tail Spin, Darkwing Duck, and so on. How far would that go? I mean, their later output – Goof Troop, Bonkers, Mighty Ducks, Quack Pack – isn't so hot (I purposely skipped the shows based on Disney films for obvious reasons).
The fact that these films are coming out is kind of a big deal, though. There's been growing appeal among CGI creations, both ironic and unironic, and while many people roll their eyes at yet another batch of talking pixels, the technology, and the realistic approach to that technology (not to mention that sweet, sweet green) has a lot of people excited. Some of the best CGI creations in the last few years – Smeagol in Lord of the Rings, the Navi in Avatar, that big ol' ape in Rise of the Planet of the Apes – only has audiences and executives alike eager for more. Hell, ninety percent of the talk over Marvel's new Guardian of the Galaxy film was centered around their talking raccoon. The people who scoff at "how silly" such a character might be seem to be more in the minority as filmmakers finally take them seriously and not comic relief iconography. How can these people be taking seriously when they ridicule a talking animal with a gun while rooting for a god from a magical planet wielding a massive hammer? This argument is pretty much invalid.
What's next is still up in the air, mostly dependent on how well these films do. While there are some reservations about these announcements, there's definitely potential, which is hugely dependent on who's involved and their dedication to the material being adapted. I'm reserving judgment of the films themselves until the release date, but I'm more curious about what talking creature comes next, and whether it'll be sincere or cloying.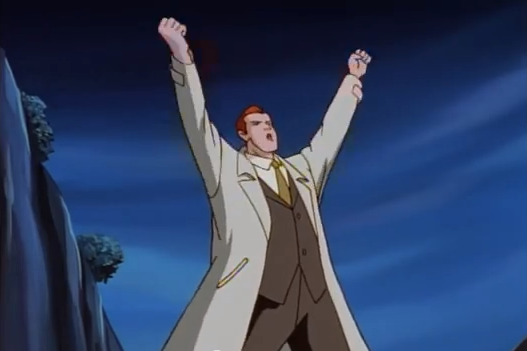 HELL YES MATT BLUESTONE.
I am an unabashed fan of Matt Bluestone. I truly, honestly love him, with his ginger hair and his bright, baby blue eyes, spouting Illuminati nonsense and running around looking for connections and secrets and red herrings. I love that when he does indeed find answers, it only makes him crazier and more unhinged. I wouldn't ship him with Elisa though – Elisa would try and calm him down, and the last thing we need right now is a relaxed Matt. Screw Gargoyles; Matt Bluestone needs his own spin-off. His partner could be Xanatos' dad! Matt could be flying an alien spaceship into the sun, playing space chicken with some Martians to get them to divulge their world domination plans, while Xanatos' dad is sipping martinis in the back of the spacecraft, complaining about the "ruckus and whatnot".
I'm getting ahead of myself. "The Price" and "Revelations" are two fairly run-of-the-mill episodes. Nothing too exciting or surprising, nor terrible or upsetting. They don't quite push things along ("Revelations" does, kinda, but it's hard to tell if it's significant), but they don't really hurt the show in anyway ("Revelations" does have a part in the middle that feels way too forced). The hiatus has put a bit of distance between me and some of the events of the episodes, but then again, after the whole "City of Stone" saga, coming down from that high feels like a let down. Still, we learn about some characters in new and interesting ways, which is always nice.
"The Price," in particular, feels perfunctory. It doesn't do much really but give a bit more insight into Xanatos and Hudson, although the biggest surprise involves Owen. Here, the gargoyles are attacked by Macbeth while on patrol, and we get a cool, if not particularly exciting fight scene. Macbeth is "killed" in the fight, but not before smashing a bag of pink powder over Hudson's face. It seems innocent enough, but when the gargoyles awaken the next evening, they find that Hudson is still stuck in his stone slumber. Assuming it was the magic dust, Goliath and Lex head off to Macbeth's mansion to find a cure while Brooklyn and Broadway stay behind to watch Hudson.
All of this is just a massive distraction, as the real Hudson is locked away in a laser cage, held captive by Xanatos and Owen. Once again, Xanatos has an ancient Macguffin, the Cauldron of Life, which grants mortality after boiling a piece of a gargoyle's stone skin for twenty-four hours. You see, there was a bit of a misdirect – as the gargoyles were sleeping, Xanatos and his crew grabbed the real Hudson and replaced it with a fake stone model. The dust was just a red herring. I gotta be honest. This is a reach of a plan. For one thing, after the gargoyles awoke from their stone slumber and flew off, I'm sure there would be a lot of stone skin pieces lying around to choose from. Second, how could a sculptor know the exact pose Hudson would be in when changing to stone "weeks in advanced" to fool the other gargoyles? That's a bit of a nit-pick, but that is also a fairly big flaw in the planning of this episode.
I won't harp on it too much, though, as this gives Hudson and Xanatos the opportunity to shoot the shit. The Cauldron grants immortality, something that someone like Xanatos would want, of course. Hudson advises against it. After all, he's seen so many things and lost so many clansmen, so he knows full well what immortality is – a curse. Xanatos doesn't buy it. In a rare moment of vulnerability, he plays his card when he overreacts to Hudson's claim that he fears death: by crying out he's not scared of anything, Xanatos pretty much admits he's scared of dying. At the same time, Xanatos accuses Hudson of being an old, useless waste of space, contributing nothing. We know that Hudson has his insecurities – we learned that back in "Long Way to Morning" – but he's too prideful and loyal to give in to age, which is important. Xanatos completely underestimates Hudson in that regard, which is how the gargoyle escapes his fate.
I do like these kinds of conversations. You don't really see it a lot in cartoons, adult or not. It comes off a bit clunky, but Ed Asner (Hudson) and Jonathan Frakes (Xanatos) sell it well. As I mentioned before, Gargoyles has always been about purpose, finding ways to move on and keep going, despite tragedy or riches. Xanatos' has pretty much everything, yet his whole motivation is about wanting more. Hudson sees him as a rich fool who thrives on greed and power, which is true to an extent, but Xanatos' real desire is to WANT that greed and power. Which is why he never really commits to going after the gargoyles, or simply taking out Elisa or Renard. The multiple threads in the air allows him to function off these characters for whatever end goal comes his way, and death would be the end of that high. So, yeah, he fears death, because it would completely take away his edge.
The weirdest and potentially most significant thing to take away from this episode is Owen. Much is made in the way of his service and dedication to Xanatos here, with Xanatos making some passive-aggressive digs at Owen's loyalty, responsibility, and accountability. It's sort of a strange development. Xanatos never really expressed any doubts about Owen before. In fact, the two seem to connect a bit during the "City of Stone" debacle. So to see Xanatos praise his fake Macbeth over Owen is rather surprising (and out-of-character if this doesn't lead anywhere). In order to prove his worth (and he doesn't really have to, which makes the moment even that much creepier), he dunks his hand into the Cauldron to test it, no questions asked, turning his arm into stone. You see, the Cauldron grants immortality by way of stone transformations, because sorcerers love misdirected wordplay in their magic spells.
Hudson makes it back to his clan after they thought he was dead, and they learn that Macbeth, who kept coming back and repeating the same lines over and over, was a series of robots. It's a nice reunion to a rather straight-forward episode.
"Revelations" is just as mainstream, although since it stars MY MAIN MAN MATT, I have to give it extra points. Good ol' Matt is still on his tear about the Illuminati, desperately wanting to break that entire group wide open. Here he gets close, but not after a whole lot of crazy and paranoia, which works so well for this kind of show. I wish Gargoyles had more unhinged, slightly-bonkers characters. Maybe if Malone escapes his hotel prison we'll get a few episodes of that.
"Revelations" is aggressively the most comic-book-like of the series so far, beginning with a sequence of a captive Goliath crushing his way through a series of deadly funhouse traps inside a horrific hotel. Matt Bluestone and Mace Malone watch Goliath struggle from surveillance cameras, which then triggers Matt to recollect the events on how they even got in this situation. I'm almost convinced this WAS a comic book that they decided to make into an episode, with Matt's running commentary equivalent to captions. While I'm normally not into narration and in media res formats, I think it works for Matt because he's so nutso, but also because his craziness is combating a sense of guilt and betrayal. His recollection of events is his way of determining if he wants to save Goliath or let him be killed so he can delve deeper into the halls of the Illuminati.
Matt is being pulled at all sides. He pushes his former FBI partner to give him info on the whereabouts of Mace, while Elisa constant disappearing into the attics of the police station confuses him. Elisa starts to act flirty towards Matt to throw him off, but even though she's faking it, flirty Elisa does not work for me. It doesn't seem like something she'd do, falsely or not. Good thing it happens briefly, although the episode implies a romantic pairing between the two. I hope that doesn't happen. I REALLY hope that doesn't happen.
"Pulling the wool over your eyes" is the core of this episode, with Matt being the guy struggling to see. Even though everyone around him is trying to throw him off the trail, he bullies and forces his way to find answers. There's a nice moment in the episode where he mentions to Elisa that his crazy pursuits give him purpose (there's that theme again!) and makes him stand out. And even though it causes people to distrust him and ignore his claims, it keeps Matt driven, and that's all that really matters.
Matt tracks down Mace Malone, who indeed offers Matt access to the Illuminati if he can bring in a gargoyle. The scene that follows, in which a psycho Matt speeds along a cliff to force Elisa to divulge information on the gargoyles, is great and quintessential Matt, but it's also really, really forced. Elisa was driving. It was her car. Matt asks to drive and Elisa, rightly, tells him no. But then she pulls over and lets him drive anyway? I was really thrown off by this. I'm aware the Youtube episodes are edited, so did I miss something? Why would she tell him piss off, only to give in into his pointless request? Elisa seem wildly out of character here, and for a chunk of the episode as well.
It works though, and soon Elisa shows him the gargoyles. They quickly become friends, kinda, which allows Matt to lure Goliath to Mace and the hotel-of-death, with a million rooms of deathtraps and other psychological torture devices. I mean, this is as comic book as you can get – the only good thing that came out of DC's New 52 was The Court of Owls, who basically did the same thing to Batman. We return to the present as we watch Goliath struggle through the rooms, up until he reveals a hotel key he snatched off Matt. The episode kinda glosses over this – apparently if you have a hotel key you can shut off all the traps – by specifically not showing Goliath actually use the key and work his way safely through the hotel. It's silly, in that comic book kind of way, but I buy it because if you're going to do silly, you got to do it by way of Matt Motherfucking Bluestone.
In the end Matt Motherfucking Bluestone saves Goliath by attacking Mace before the latter pumps the beast full of lead. He rather keep his new beastly ally instead of expose the Illuminati, at least for now. Mace Malone now is slowly losing his mind in the hotel, trapped inside its walls without his key. Matt and Elisa bond some more over the gargoyles, and their partnership is restored – and hopefully kept that way. Not all is lost on the crazy front though, as Matt's former FBI partner outs himself as an Illuminati member assigned to throw Matt off the secret society's scent. Both he and Elisa tried to push Matt in the wrong direction, but you can't fool crazy for long, especially "yelling nonsense at the sky after damn near committing a murder-suicide" crazy. I love you, Matt. May the Illuminati completely and utterly regret bringing your brand of insanity into its fold.
Oh, and apparently Xanatos is a low-level member of the Illuminati. Nice one, Gargoyles crew.
"The Price" B/"Revelations" B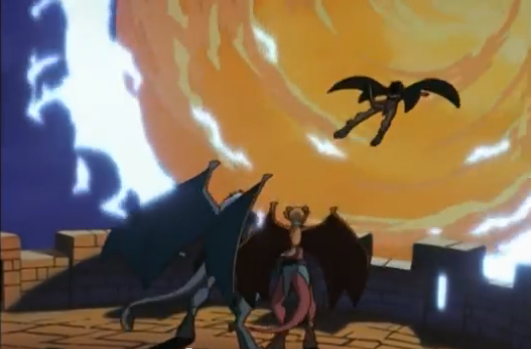 Welcome back, Kevin! Thanks, Kevin!
It's good to finally get back into Gargoyles recaps, especially after a great, four-part saga. "City of Stone," as I mentioned before, won me over to the Gargoyles fandom. The first season was a bit shaky, but the second season, while awkward at points, at least had the kind of forward momentum that one looks for in shows like this. I can finally say that I understand what people see in this show.
Or, at least I did.
Continuity really wasn't a thing in the 90s, really, especially in cartoons. There were no DVRs or Youtube to catch up on missed episodes or recap current narrative threads. I might be rehashing this, but this is actually an important point, especially after watching "High Noon" and "Outfoxed." In the era of Separate TV, when shows were watched weekly or daily, making sure an episode stood on its own wasn't just optional – it was paramount. Overarching narrative threads are nice and all, but it's important to remember that such threads have to be planned in (ideally) excruciating details. My point is, as detailed as Gargoyles is, I have severe doubts that Greg Weisman planned the entire run of this show with the level of detail that his fans may think.
When I was in LA, I spoke with a contemporary of Weisman. He was particularly adamant against shows being so beholden to continuity, because, in classic TV, that kind of planning was really nonexistent, except for large scale dramas. There's a lot to be said of the narrative connections between Batman, Superman, Batman Beyond, Justice League, and Justice League Unlimited, but let's be clear, only a certain percentage of it was planned. (It helps that comic vets worked on the Marvel Animated Universe, a group known for connecting past works with apparent ease). The contemporary alluded to the fact that Weisman and his crew were more or less scrambling to tie up loose ends more than prepping future story reveals. It just was a different approach to story telling in the 90s. And while "High Noon" felt right, moving forward with an intriguing followup to "City of Stone," "Outfoxed" is a prime example of that scramble to tie up loose ends, taking a step backwards, both visually and narratively.
"High Noon" shares little with the movie that hosts its name. It's the story of Eliza, really, a woman who's lack of sleep in this episode masks a more internal struggle of a person simply tired of it all. Between Derek, the gargoyles, Xanatos, Demona, Macbeth, and a host of other crazy people, Eliza, understandably, just wants it to end and return to a normal life. Early in the episode, Eliza tells a now-literate Broadway and Hudson that she chose the badge because she knows what's right; she's no hero, she's just doing her job. It's a bit on the nose but it's something that needed to be said – after all the insanity, Eliza is hanging in there because it's the life she chose, the life she has to live with.
The gargoyles struggle to return Coldstone back to his former self, with the three souls stuck inside Coldstone's body back in "Legion" due to science and magic. The internal struggle inside Coldstone continues to fall flat, especially since we know so little of his lover and the third evil gargoyle, who is apparently just swooping down on occasion to disrupt the lovebirds? There's no meat here, and if the writers were scrambling to tie up anything, this should have been one of the top priorities.
As the sun rises, Eliza tracks some strangers in the police station downstairs, only to discover they're Macbeth and human Demona. They knock her unconscious and fly off with "the package." Things are really weird here. What package? How did Macbeth and Demona discover the gargoyles home turf? Why did Demona, with a perfect opportunity to destroy the stone gargoyles, not do so? Why in the world are they working together? Of course, we know it has something to do with the Weird Sisters. The question is what, and how far? This is starting to approach "Xanatos-gambit" levels of control, but at least the Weird Sisters have shown their abilities and insight to be way beyond mortal souls. That being said, there aren't any real parameters given to the sisters' magic powers, so it's hard to really get a bead on why they'd enact their plan in such a fashion. More on this later.
Right now, though, Eliza tells the gargoyles what happened – that they took Coldstone – and the team goes after him. The animation here continues to be gorgeous; the fight scenes are top notch, but Demona's human/gargoyle transformations are the real highlight. There's a real sense of foreboding and tension as the gargoyles explore Macbeth's spooky mansion (especially knowing how well Macbeth can set traps). And while it seems the team gets the upper hand, it's revealed that they were fooled all along when Coldstone – in the possession of the nameless evil gargoyle – betrays them. In all honesty, this should have been a Coldstone episode. We should have been focused on the resuscitated gargoyle and given clarification on who his lover and rival are. Instead, we're presented with an uncomfortably clingy Coldstone who has no motivation to gain control of his body, until his lover (in no small part helped by the Weird Sisters) talks him into it. Again, though, since we haven't learned a lick about these characters since "Legion," this just feel forced.
Demona teases Eliza to come to a certain locale at high noon to save the captured gargoyles, which seems insanely out of character, but there's a purpose to it all. Here is where Eliza bears her soul, her desire to just get away from it all. An officer named Morgan helps to regain her sense of purpose and duty – a long running theme of the show – and while this approaches "magical Negro" levels of schmaltz, I'm willing to let it go. She rushes to the location and has a one-on-one fight with human Demona, who she beats by doing the same move twice. Meanwhile, Coldstone – the real Coldstone – is convinced to regain control of his body, forces Macbeth and Demona to run away, and then scurries off himself to achieve the victory of his internal struggle. I assume it involves learning his lover's and rival's names? [Okay, maybe not names since they don't have them, but can we at least learn something about them?]
As Eliza finally gets her sleep, Demona and Macbeth break down their real spoils – the Grimorum, the Eye of Odin, and Phoenix Gate. It's here that they finally become self-aware, confused as to the full extent of their plan and even why they're working together. They're just about to kick each others' asses before the Weird Sisters show up, freezes them in place, take the spoils for themselves, and warp everyone away. Yes, it was all their hugely, wild manipulative plan to ultimately get their hands on the goods. This is important I presume. The Sisters are not a Greek chorus, a group of symbolic Fates who work to affirm or deny personal stakes and desires. They have a specific objective in mind, powered by their control of Macbeth and Demona, and a bit of solid manipulative apparition. But what is the full extent of their powers? Considering all the things they can do, is this really the best plan they could come up with?
I suppose it doesn't matter. Eliza gets her beauty rest. She earned it.
"Outfoxed" hurts a little. It kinda seems stupid. It's definitely the most forced episode of the run so far, creating by far the most ludicrous setup and ham-fisted metaphor in the show's run. Remember back in "Awakenings," when Xanatos fooled Goliath and Demona to attack Cyberbiotics' flying Fortress, and Demona destroyed because she hates everyone in the world? Well, Cyberbiotics has a new Fortress running. Goliath "thinks" Xanatos may attack it, so he follows the thing, all exposed and everything. Cyberbiotics leader, Halcyon Renard, a creepy guy copping Professor Xavior's hovering wheelchair, sends a legion of robots at him, besting him in a really terribly animated aerial fight, and capturing him.
Then begins a series of speeches on responsibility and accountability. This is just really, really awkward. I mean, I get it. I really love it when a piece of entertainment acknowledges the full extent of its setups and developments. (Almost Human never calls attention to the fact that its police officers routinely kill its criminals in cold blood, which implies a Judge Dredd-like dystopian worldview but never comments on it, while Sly Cooper 4 brilliantly called out Sly's bullshit – you can rob from all the evil criminals you want, the fact is that he's still a thief). It's clear that's what they're doing here. But watching Renard just lecture Goliath about taking account for his role in destroying the Fortress is a prime example of telling, not showing. It doesn't help that the animation by Hong Ying Animation is subpar, with really wonky perspective shots and off-model poses. Without anything really motivating it, like say, a cliched but entertaining thirst for revenge, it comes off petulant and whiny. Oh, speaking of whiny:
Renard: "No excuses, creature. Learn to take responsibilities for your actions, and stop whining!"
Goliath: "A gargoyle doesn't whine. He ROARS!"
Yeesh. That's a cringe-worthy exchange from a show that's rather on point with its dialogue.
This should have been a lesson that Goliath learns on his own, if he should have learned it at all. Having Goliath stuck in a cage and lectured at is insane. Maybe, just maybe, he could have visited the various humans who was hurt in the first Fortress crash and saw their pain and suffering as being innocent victims to a vicious attack. After all, Goliath isn't Demona. He KNOWS that humans, while flawed, are suspect to the same emotions as their own kind. It's quite possible he may understand this in theory. SEEING that kind of pain and limitation in humanity would allow Goliath to understand a new, tangible truth to the fragility of humanity, and how his actions, no matter how manipulated, led to it. But no, "Outfoxed" take the "Shame on You" route via an inane, consistent lesson force-fed to the gargoyle before he finally swallows. And suddenly, Renard and Goliath are friends. This would never work on humans; I doubt the quick-to-anger gargoyle clan member would be so susceptible to it.
The real point of this episode is filler and more setting up. There's Renard's assistant, Preston Vogel, who resembles Owen so much that it can't be a coincidence. Brothers? Clones? The episode doesn't say, but I'm sure we'll get to it. The real story lies with Fox, who we learn is Renard's daughter and with child. The best part though is witnessing Xanatos and Fox work. Their relationship still functions perfunctorily, two machines continuing to wheel and deal sans any passion between them. Xanatos' blase response to his wife's pregnancy (and Fox's own stoicism) is creepy but perfect, as is their plan to sabotage the second Fortress via Vogel, ruin Renard, and take over Cyberbiotics. Vogel proves to be more loyal to Renard in the end, assisting to save the Fortress and confessing to his treachery. This leads to a slightly-less-but-still-ham-fisted conversation where Goliath convinces Renard that Vogel's confession proves that humans still possess the kind of integrity that Vogel believes his species has lost. Again, I understand what the show is going for, and it's something worth learning, but "Outfoxed" fails to make that theme work.
That theme is put at the forefront when Fox and Renard talk, revealing their disturbing relationship. It's clear Renard's obsession with integrity and accountability stems from his daughter's demeanor, who would rather forcibly take over his father's company instead of inheriting it. It's definitely a strange thing but on par with what we know of Fox. With a little bit of tweaking and rearranging, this could have been a stronger episode with a more resonant theme, but as it is, it's a lot of posturing and lecturing, and no one likes to be lectured to.
"High Noon" A-/"Outfoxed" B-