Archive for category Childhood Revisited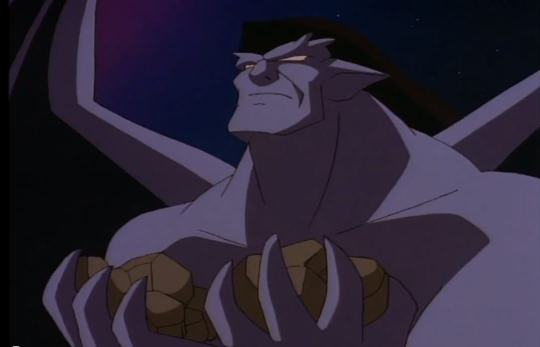 Jumping around the Disney Afternoon lineup to review their various shows have been proven troublesome; because shows were syndicated on different networks and randomly aired in different markets, it's tricky to get a bead on what aired first and where. Plus, there's a difference in which episodes aired first and which episodes were produced first. Disney Afternoon shows had no reason or incentive to be in any order, which is perfectly fine for any TV program, but it makes it rather difficult to note any callbacks, or to put certain plot or character reappearances in context – when Gosalyn's Quivering Quack returns in "Paint Misbehavin'," Darkwing references her previous appearance in "Quivering Quack," but if the former aired prior to the latter in syndication, viewers would have no idea what he's talking about. (This makes it even trickier for Rescue Rangers, I've recently learned – the 5-parter that brings the team together wasn't even produced first, let alone aired first.)
Gargoyles, created by Greg Weisman and which aired in October of 1994, was always a show I always wanted to tackle, but I wanted to cover the other cartoons – Ducktales, Darkwing Duck, The Wuzzles – first. I remember not quite liking this show when I was young, but then again, I distinctly remember thinking that it was a show that I would've love when I was older, a sentiment I shared with TaleSpin. Gargoyles came about when the first wave of 90s action cartoons became a huge hit – specifically, Batman: The Animated Series. As far as copying styles go, Gargoyles definitely has  a solid amount of cache, according to its fervent fanbase. (Perhaps not so much for the Goliath Chronicles, which were made sans Weisman and his team. I'm not sure how I will approach the non-canon season at this point). Action cartoons have a lot more going for them than their comedic counterpart, so I decided to give it the episodic coverage treatment.
"Awakening" is the five-part movie introduction to the gargoyles and the setting. It was clearly created to be a straight-forward movie and not split into five episodic parts, but it isn't as if splitting things up harmed things in any real way. "Awakenings" has a somewhat shaky and unclear start, but as the events and plot points comes along, a good amount of tension and intrigue develops, and Goliath learns the harsh lesson that being an sadistic asshole isn't confined to humans.
We're introduced to Elisa Maza first, a smart and formidable New York detective, arriving at the scene of falling debris that is careening from the top of a building. When she notices claw marks in the stones, we flashback to Scotland, 994 AD. An invading hoard attempts to ransack a castle, and the green-clothed soldiers attempt to defend it. Among the chaos, there's talk (from the good and bad sides) about sundown and the nightly reveal of "monsters". Sure enough, as the sun disappears into the horizon, the great stone gargoyles break open to reveal the flesh-and-blood gargoyles underneath, and the beasts beat back the hoard with aggressive gliding and brute strength. We're introduced to the main clan at this point. Goliath clearly is the leader, but we're also shown Broadway, Lexington, Hudson, Brooklyn, Bronx, and Demona – but at this point they don't have names. Just distinct looks and attitudes.
The intro is one of those really awkward things that need to be set up for the great payoffs down the line, but it's awkward nonetheless. I'm certainly not bothered by the prejudicial attitudes the humans exhibit early on – the commonfolk and Princess Katharine dismiss the Gargoyles and shit on them when they stop by the main dining hall – it's just difficult to justify that attitude right after the gargoyles saved them. I mean, it's an attitude I understand, but it's not consistent – when the gargoyles save them later, they suddenly love the creatures, which goes against the idea of their prejudice as deep-seeded and cultural – so it comes off less conditional and more that the script demanded. Still, it's a nice scene that sets up not only the humans' hatred, but Demona's growing frustration at such attitudes, and the "support" of the captain. It also sets up a bit of misdirection, when Magus, a mage who obviously supports and secretly loves the princess, expresses his disapproval at the gargoyles, then is seen scanning a book of spells ominously.
"Awakenings" suggests that love and loyalty, while powerful, blinds us and confuses us. The road to hell is paved with good intentions, and the season premiere is about these well-meaning intentions utterly falling apart due to rage, passion, emotions, and poor judgment. After the Magus scene, a figure approaches the invading hoard with a proposition. We cut back to the castle, where the captain and Demona suggest that Goliath and the gargoyles go and finish off the hoard. Goliath, vicious but not genocidal, only takes Hudson to scare them off for good, his reasoning is that he doesn't want his clan to get hurt. Whoops. As it turns out, the Goliath and Hudson track a decoy group of said hoard, and are caught outside the castle as day breaks. They turn to stone quite a ways from the castle, and the hoard then tries to take the castle again. The soldiers defending the castle find out their bows were cut, and someone conveniently opens the portcullis to let them in. The hoard wins, and the captain is revealed to be the traitor. "These are not my people," the captain says when asked why he betrayed them, a statement that's a bit unclear at first, but it suggest that he took the princess's slight against the gargoyles personally. After all, they fought for him, too – the captain most likely sees the gargoyles as his own men. It is extreme, though, that he'd betray the entire castle and, you know, his OTHER men for such a slight. It would have been good to see exactly why the captain felt so strongly for the gargoyles over his human soldiers, enough so to goddamn sabotage their bows and ultimately put their lives at risk. Hopefully this pays off later in the show. The real kicker is that the captain of the hoard, Hakon, destroys the stoned gargoyles, despite the captain's protests. Both Goliath and the captain attempted to protect the gargoyles, but in their decisions, doomed them.
But don't worry, it gets worse. Magus and Princess Katharine (as well as the commonfolk) are captured and led out the castle. Nightfall comes, and Goliath and Hudson return to see their brethren destroyed, including Demona, Goliath's lover and second-in-command. We see that Bronx, Brooklyn, Lexington, and Broadway survived, as well as the eggs, so there's some hope. Still, revenge is in the air, so they all go to save the humans and enact some justice. This triggers a set of tragedies that brings the "love/loyalty dooms us" theme to the forefront. Hakon and Captain Benedict Arnold suggest ransoming Magus and the princess, but when the gargoyles arrive, things go crazy, and Hakon almost kills Katharine. Magus flips out, assuming that there's no way she'd survive when the princess escapes and the captain/Hakon gives chase. Magus escapes his binds as the gargoyles unload into the invaders, and as Goliath chases the three escapees, Magus, in his infinite rage, turns the remaining gargoyles into stone. Goliath prepares to unload on the captain due to his betrayal, but then the captain and Hakon betray EACH OTHER, and they fall off a cliff in their own scuffle. Goliath saves the princess, but rages over not earning his revenge. He THEN returns to see the rest of his clan turned to stone. Christ. Goliath is having one shitty night.
Magus and Princess Katharine are deeply sorry, though, and they do the best thing they can – promise to protect the eggs and turn Goliath into stone along with his clan. It's a hollow, sad moment. Goliath certainly didn't earn this. It just happened. Everyone thought they were doing the right thing, for love, for honor, for safety, and a whole lot of terrible things happen. Gargoyles may skimp on its story transitions – breaking the stone curse by putting the castle above the clouds is a particularly "it's in the script" development – but it doesn't skimp on the themes of altruism not happening in a void, especially with people with their own sinister motivations. This becomes clear some thousand years later when Xanatos (think of him as Disney's Lex Luthor), upon discovering Magus's book, brings the castle to New York and repairs it high above the clouds and releases the gargoyles from their curse. Goliath and his crew emerge relived but jaded, distrustful of the humans that betrayed them. But Xanatos may be their only hope.
What happens next is great to watch but not particularly meaningful, save for the relationship that develops between Goliath and Elisa. A bit of investigation of the clawed rock leads her to discover gargoyles and, after saving her life, the two develop a connection. I'm not too fond of the romantic implications of it, but the platonic stuff is great – especially their mutual distrust of everyone around them. There's a couple of scenes where Elisa and Goliath explore the city, Hudson and Bronx get acquainted to barcaloungers and television, and Lex, Brooklyn, and Broadway have surprisingly amusing encounters with taxis and motorcycles (they also develop their core traits – Lex and his fascination with technology, Brooklyn and his love for the minutia of modern society, Broadway and his lovable oafishness and "passion" for food). It's a nice setting up of future events and some cool action sequences, including my favorite: Goliath, stuck away from his castle again when the sun rises, turns to stone, so Elisa herself has to lure AND take down five armed henchmen in Central Park (or a facsimile of it). It's a great High Noon-esque sequence, Elisa using her wit and stealth skills to take the henchmen out one-by-one.
Goliath and Elisa's relationship develop into something real and poignant, two people who need each other in a world that threatens to overwhelm them. It comes in contrast to the manipulative Xanatos, who seems to be attacked by a rival corporation that stole a series of discs. He asks the gargoyles to help him retrieve the discs in three separate locations – which comes off a little too video gamey for my tastes – and as an extra incentive, he reveals Demona to be alive. Goliath, struck by the return of his love, agrees with her to help Xanatos. The action sequences are quite exciting, where Lex/Broadway/Brooklyn breaks into a building, Hudson and Bronx take on an underground base, and Goliath and Demona go after an airship. It's in the airship that Goliath notices how vicious and cold Demona has gotten – she is more than eager to let the humans die for this disk. She even causes the entire ship to crash, much to his horror. Even in his massive distrust for humans, he has yet to resort to the casual killing of them.
That might be because of Elisa, who helped him greatly get acclimated to the new world. Xanatos thinks that the mission and Demona earned Goliath's true loyalty, but he still goes off to see Elisa. In a perfect piece of parallelism, Goliath's sense of devotion, which doomed him back in 994 AD, leads him to the truth in 1994, when Elisa reveals that the whole disc thing was a crock of shit, planned by Xanatos (more or less – it's actually kinda unclear) to manipulate the gargoyles into his trust, and, um, use them as guinea pigs to study for his own robotic gargoyles creations. Or something – again, it's a bit unclear here.
Still, we get an awesome sequence of gargoyles fighting (and destroying) robots, and one final encounter between Demona and Goliath, the former of which reveals everything – how she made a deal back in 994 with the captain, how Goliath was supposed to lead all the gargoyles away as the hoarders invaded (so they could return to the castle and take it over), how the captain tried and fail to protect the stone gargoyles, how she lived through the ages as a monster, while simultaneously seeing humanity become their own sort of monsters, to come to today and her uneasy alliance to Xanatos to rid the… let's say city for now… of humans (considering the fact that Xanatos is a human, that is a "knife-behind-the-back" agreement if I ever saw one). Goliath is crushed by this reveal, and before Demona blows his head off with a bazooka (her knowing how to use human technology is a really nice touch and contrast to Goliath estrangement), Eliza comes in and saves the him. Stuff blows up, Demona disappears, Xanatos is arrested, and the gargoyles are tentatively at peace.
Of the entire tumultuous if thrilling ending, the deal with the captain and Demona makes the least sense, partly because it's really difficult to see where the captain's loyalty really lies, and, again, why he would risk human life over the gargoyles. It would have worked better if the captain seemed offensively jaded by humanity penchant for cruelty, but he certainly doesn't come off that way. This, and Xanatos' plan with/against the gargoyles showcases Gargoyles opening day flaws – the internal mechanisms of its most complex plans don't fully congeal. But the core of Gargoyles storytelling is its strongest. Motivations and intentions are clear, and when it all goes down in flames, people and gargoyles alike are left stranded, hurt, or even killed. "Awakenings" sets a tone for the first season. It'll be fun, but it won't be pretty. Don't trust anyone but yourself, and even then, that may lead to ruin.
GRADE: B+
(The show is pushing 20 years old now, but I would still recommend SPOILER alerts in the comments, if you plan to touch upon developments in the show's future.)
Tad Stones, the creator of Darkwing Duck, took some time to answer some questions about his show. If you want to learn more, check out my review of Ducktales and the subsequent interview with Mr. Stones about the one cartoon that started it all.
———————
TMB: So it's pretty much known that Darkwing Duck is a non-direct spin-off of Ducktales – specifically, the "Double-O-Duck" episode. Can we get a little rundown why the secret spy angle was replaced with the superhero angle?
TS: Simple, Jeffrey Katzenberg hated my spy take. Of course, I hated it too. He felt "Double-O Duck" was a super marketable name in search of a great show so he made me attack it again. So I went Doc Savage (the team), the Shadow/Green Hornet with it but still had the spy connection. Once Gosalyn was added we had a show with heart and personality at the center of it so when we found out we couldn't use the name, it didn't matter. The show stood on its own.
TMB: Darkwing Duck is a pretty great character, and Jim Cumming nails the voice. What's interesting is how over the course of the season, he and the character starts to add more nuances and vocal tics – sarcastic impersonations, trailing off when flustered, hilarious stammering, and so on. Did Cummings himself add that to the mix? Was it tricky to animate around? It's not something seen extensively in other Disney Afternoon cartoons.
TS: It was the partnership of Jim Cummings and Ginny McSwain, our voice director. Jim would explore different reactions while Ginny pinpointed the things that sounded unique and played them back to him. Then she'd remind him to use a certain reaction in another show. The two of them built a sonic vocabulary for Darkwing which help make him distinct. Ginny never got any publicity support or fans would really appreciate all the great work she did. She did most of the casting for the show.
TMB: Similarly, Darkwing Duck is particularly more slapstick and "wackier" than the other cartoons in Disney Afternoon. Was there a particular reason for this direction? Did it help to allow for episodes like "Darkwing Dabloon" and "Comic Book Capers," where the episode is a bit different tone-wise, or blatantly self-aware?
TS: It was something I wanted to do but I had to sell it. The Disney tradition, pre-Genie, was all about sincerity and the audience losing themselves in the story. I remember a major discussion about whether Darkwing should ever address the camera. I love playing with the form of storytelling for any medium. "Comic Book Capers" excelled at that. I wish we had more experiments and less straight storytelling episodes. Back then we had very little oversight after the first three or four scripts except for an executive assigned to the show. I performed that role on DuckTales. For Darkwing we were lucky to get Greg Weisman who had edited at DC comics so was well versed in comic tropes. Greg also has a great sense of humor although fans connect him more with drama and overarching story lines because of Gargoyles and his adventure shows. One last thing that helped was the premiere of Tiny Toons while Darkwing was in mid-production. Sometimes, when the competition has a hit, our own execs might dissect it to see if anything can be applied to our shows… rarely with good results. With Darkwing we were already well down that road so we weren't sent off course. So it's not that we took anything from TT, it's that we weren't pushed to change the course we were on.
TMB: Gosalyn Mallard is a really fun character. What was your approach to her, and her relationship/connection to Darkwing? I particularly enjoy how much she becomes like him over the course of the show.
TS: I'm not sure I see that sort of change. They both started with huge egos but Darkwing has a huge streak of vanity running through him. Gosalyn is more an action junkie/ thrill seeker. As I mentioned before, we didn't really have a show until Gosalyn. Just doing a goofy Batman wouldn't have much substance but having the friction of a father and daughter at the core makes for great conflict, emotion and fresh gags. It's like an overprotective Batman who doesn't want a Robin but the kid refuses to stay at home.
TMB: Can you give a bit of some insight into NegaDuck? It was a bit odd to see NegaDuck as a "negatron" version of Darkwing Duck, then to suddenly make him his own, separate character.
TS: My philosophy was to go where the entertainment was. Once we saw how entertaining the Negatron version of Negaduck was, I wasn't going to leave him on the sidelines. And I wanted him to face Darkwing not a limp Posiduck. So I told my story editors to do more stories with him and not to refer to that original story. The Negaverse didn't come along until later.
TMB: Who was the most difficult villain to write for? Who was the most fun? In fact, a brief rundown on how villains like Megavolt, Quackerjack, Bushroot, Liquidator, Tuskernini, and Splatter Phoenix were created would be amazing.
TS: Tuskernini was the hardest because he just wasn't that interesting. The best thing that came out of his first story was the idea of Darkwing always changing his "I am the blank that blanks your blank!" Originally DW was just going to say the same one over and over like the Shadow's radio introduction. Different editors and writers took to certain villains. Google their names to see the various series they went onto later. Doug Langdale was the best at Megavolt. Duane Capezzi took a liking to Liquidator. I loved Bushroot because he was more misunderstood than evil which was interesting. Carter Crocker wrote the best Splatter Phoenix stuff.
TMB: Kind of a silly question, but is there any connection, metaphoric or otherwise, between Steelbeak and Tiny Toon's Fowlmouth?
TS: Since I'm unfamiliar with Fowlmouth I'm going to say, "No." Steelbeak was created around a voice that I heard Rob Paulsen doing while kidding around. That's the fun of working with the actors we had.
TMB: Where and how did the development of Morgana come from? Was it simply, "Let's give Darkwing Duck a girlfriend!"? Or was it a suggestion from above to have a strong female character in the mix? (That's what happened with Rocko's Modern Life, apparently).
TS: There were no suggestions from above. [Morgana] might have come from me. I'm pretty sure I named her. It was mostly about trying to do different things with different villains. We didn't have a magical character and I loved the Addams Family. The romance came as the story developed.
TMB: Continuity and consistency was never a real concern with Darkwing Duck, which is perfectly fine. But, if given the chance to do it all again, would you go for more continuous plots and detail more concrete elements like DW's origin and job as Drake Mallard?
TS: Continuity was not only a real concern, I specifically wrote against it. That's why DW has around six origin stories in the series. Darkwing Duck was based on the Silver Age comics that I grew up with and the general status of most comic strips where characters and relationships don't change. Darkwing was a COMEDY show first and foremost. Why on earth would I want to spend screen time with Darkwing doing some ordinary job? He's a SUPERHERO, we want to see him do superhero things. That's why it's funny when Gosalyn messes things up by inserting herself in his adventures. Should we spend time with Gosalyn in school? I am content to let fans write stories where they try to connect the threads and create their own stories. If I were doing the show today I would try to make the action bigger and staged more dramatically and the comedy a little more off the wall. More "That Sinking Feeling" where Darkwing and the gang are suddenly dressed in baseball uniforms and get Moliarity in a pickle. More "Comic Book Capers" and "Hot Spells."
TMB: Favorite episode? Least favorite?
TS: It's been too long since I've watched many episodes. Favorites change along the way from script, to board to finish. I love almost all the episodes animated by the Disney Australia Studio because they got the spirit of the show and got the most out of the gags. When I watch episodes now I want to edit five minutes out of them because modern pacing is faster. But I think I had more favorites than stinkers.
Darkwing Duck toes the line between comic superhero farce and wacky cartoon comedy, to mixed but mostly positive results. How Darkwing Duck grounds the disparaging sensibilities with its amazing cast of characters and relationships.
Darkwing Duck, the indirect spin-off to the Disney Afternoon hit Ducktales, hit the airwaves in March of 1991. It was hugely popular, pushing itself to a solid 91 episodes of the bumbling beaked character of Drake Mallard, AKA, Darkwing Duck, as he battles his psychopathic enemies and his overwhelming ego. DW, as referred to by sidekick and holdover from Ducktales' Launchpad McQuack, was nevertheless quite skilled, possessing a combination of unique physical prowess and intelligence, but extremely prone to self-satisfaction and self-hype, often leading to hilarious reactions, both physical and verbal.
Darkwing Duck, the show, however, happens to be a lot more complex and distinct, an anomaly out of the other shows within the Disney Afternoon line-up. Darkwing Duck, in some ways, is Disney's version of the fourth-wall breaking animated shows like Animaniacs, Tiny Toons, and Sam and Max, yet produced in a very unique and controlled manner that makes it stands out from the others. Darkwing Duck comments not only on the absurdity of the superhero genre, but on the entire atmosphere in which superheros thrive. In the era of live-action superhero films and the rebirth of superhero comics, Darkwing Duck's slick satire is surprisingly relevant. It wasn't always a perfect show, as its multiple assault of ideas often did not gel together as well as intentioned, but for the most part the show managed to be endearingly smart, clever, and heart-warming, with ample amounts of comic ideas to boot.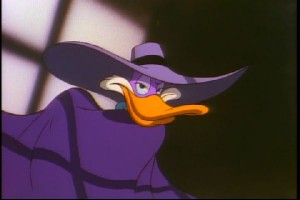 Darkwing Duck – (1991)
Director: Tad Stones, Alan Zaslove
Starring: Jim Cummings, Terence McGovern, Christine Cavanaugh
Screenplay(s) by: Dev Ross, Doug Langdale, Tad Stones
Darkwing Duck is, pun intended, an odd duck within the entire Disney Afternoon lineup. It's arguably the closest that Disney has come to straight-up aping the Warner Brother wacky fare of Tiny Toons, Animaniacs, and Freakazoid. Specifically, Darkwing Duck is not simply a show about an egotistical superhero duck fighting an eccentric bunch of supervillains, it also is a show about a show about an egotistical superhero duck fighting an eccentric bunch of supervillains.
I had forgotten how distinctly self-aware a number of the episodes were. Darkwing Duck plays on a spectrum of self-awareness, from being completely straight-forward (Darkwing fighting a villain and stopping him) to skirting the edge of a Duck Amuck type of sensibility (in fact, a late episode transforms Darkwing Duck into a blob of green and blue, which resembles Daffy's surreal transformation so distinctly that it couldn't be a coincidence). Darkwing Duck plays with not only its stories, but how those stories are told, and bounces around between self-aware staples like breaking the fourth wall, "talking" with the studio heads, "discussing" ways to improve Darkwing's image (and his appeal to multiple demographics), and knocking back and forth over artistic expression and comic books.
Ambitious with its wealth of ideas, Darkwing Duck, unfortunately doesn't start off as strongly as one would imagine. For the first twenty episodes or so (sans the pilot, which is as a fine a pilot as you can get), I had worried that the rose-colored glasses effect had caught up to me, and that Darkwing Duck was not the great, funny, classic show I remembered it being. Fortunately that wasn't the case, as two-thirds of the run was fantastic, matching and even beating out some of the best Ducktales episodes. But the rough patches were very rough, to say the least.
A friend of mine felt the same way; upon watching the above episode, he commented on how "kiddie" it was. Kiddie-ness, I believe, wasn't necessarily the problem. Timing, pacing, and story beats were. Here we have a time travel episode (and Darkwing Duck uses the time travel conceit quite a bit), and it delves into one of Darkwing Duck's origins (I say "one of" because the show plays around with this – which I'll get into later.) The problem with episodes like this is that it simply isn't a strong plot that's sustainable for a full 22 minutes. What badguy should DW fight in the past? An Elvis parody, for some reason. This fills up seven minutes. What's next? An OLDER Elvis parody. Then? Let's go back to the younger parody! Darkwing doesn't meld at all with the villain or the situation, and even more filler is placed in the show with some very not-good songs. All the while it fails to even do anything interesting with Darkwing confronting his younger self. There's just too much randomness here, and there's no reason, comic or otherwise, for it.
It's a general problem that plagues these early episodes. It seems that the show doesn't know what exactly to do. So there are a lot of gimmicks and filler happening to pass the time. The big filler technique is setting up frame stories – ie, Darkwing Duck "telling" the story that we see either to the audience or to some other characters. Then they can cut away to Darkwing-as-storyteller, soaking up precious minutes. Factor in the weird pacing and general sense of discomfort, and Darkwing Duck fizzles at the start.
But then, Darkwing Duck slowly grows into its own. While I started the series grimacing at the awkwardness of the early going, I found myself utterly hooked by the time the show hit its groove. The characters, both good and bad, become the focus a lot more instead of the various gimmicks. The plots have more stakes, especially as character themes and arcs become more pronounced. The storytelling conceits are purposeful now; frame stories have context and are presented in a unique way. Jim Cummings, the VO artist for Darkwing, REALLY comes into play, as he adds more of Darkwing Duck's most notable tics – his sarcastic impersonations of other characters, his hilarious trailing off when things don't go his way, his infamous "Yep, yep, yep," when things DO go his way. Everything finally comes together as characters are fleshed out and stories are enriched with fun dialogue, character pairings are made, and the physical gags are timed perfectly.
The physical gag thing I wanted to point out, specifically, because it's the show's most difficult line to walk. Darkwing Duck is a cartoony show, so there's no real threat to our hero. Segments will end with Darkwing Duck in some kind of physical danger, and when it returns from commercial, Darkwing will… well… be hurt by the thing that threatens him. It's a weird choice, especially when Darkwing Duck uses physical gags as an advantage – like purposely crushing himself flat to slip underneath a door. The danger/not danger juxtaposition really works only if the physical gag works, rendering those two ideas moot. Again, this is really improved as the show goes along.
The key to all of this, however, is definitely Darkwing Duck himself, and his relations/interactions with everyone around him. When the show finally gets into the good stuff – his hatred of his neighbors The Muddlefoots, his relationship with his adopted daughter Gosalyn, his not-that-far-off-the-mark connection with the crazed villains he faces, his creepy girlfriend Morgana Macawber – the show, quite frankly, becomes excellent. Even the "stories about stories" become stronger, once the show itself becomes comfortable with the crazy plots they come up with. Character improvements and better storytelling make Darkwing Duck one of the best shows of the 90s era.
"Dances with Bigfoot" may be the first episode where the show is pretty much perfect through-out. A solid mystery in which Darkwing goes missing, which leaves Gosalyn and Honker to locate him. What's great is how much Gosalyn becomes like Darkwing, a capable investigator who always misses the forest for the trees with all the clues she find, and slowly absorbs her father's verbal tics as well. It also helps that the story is nice, long, and twisty, and beats back the stereotype of primitive natives by giving them hilariously up-to-date technology. Following it up with the excellent Twin Peaks parody, "Twin Beaks," which is also big and meaty with a delicious creepy factor, and Darkwing Duck really comes into its own.
"Twin Beaks" isn't Darkwing Duck's only creepy episode; in "Duck Blind," Darkwing goes blind and gets deeply depressed, and in "Dead Duck," Darkwing not only dies, but he goes to hell first! It's wonderfully dark and macabre stuff, but it's not egregiously so. Darkwing Duck maintains its whimsy and comical nature to ease some of the more scary elements. Contrast them to the show's more self-aware episodes. "Night of the Living Spud" is a boring, straight-up monster tale told by DW to some young scouts; the frame story is pointless. But "Inside Binkie's Brain" gleefully enjoys visually delving into the mental headspace of various characters with its framestory, to enjoyable results (a monstrous representation of Darkwing's ego trying to kill them is a nice touch). Then there's what could ostensibly be a trilogy of self-aware, Animaniacs-like episodes – "Comic Book Capers," "Twitching Channels," and "A Star is Scorned" – where Darkwing deals with various ways he's portrayed in comic books and/or TV. Then there are just straight-up, what-the-fuck episodes, like "The Secret Origins of Darkwing Duck" (a future episode that re-tells the Darkwing Duck mythos in a bizarre, surreal take), or "Darkwing Dabloon" (which tells a Darkwing Duck story where all the characters are pirates for some reason, way before pirates became a thing), or "Whirled History" (where Gosalyn sleepwalks through various moments of history, before Histeria! was a thing).
Episodes of Darkwing Duck are always strange and random, and you never know what kind of tone you will get, which can be both exciting and frustrating. But it's the characters that keep the show grounded, even when the plot falls apart. Certain characters, like Comet Guy, never work as well as intended, but from scenery-chewing villains like Megavolt, Quackerjack, and Negaduck, to fun secondary heroes like Agent Grizzlikof, Morgana Macawber, and the Muddlefoots, you're guaranteed at least some entertaining character dynamics. Disney Afternoon shows always had an excellent sense of character development – the concept of which I wrote about on my tumblr – and Darkwing Duck is no exception. The dynamics are the quintessential high points for the show, so of course we see episodes involving Megavolt and Quackerjack working together, hilarious interplays between Darkwing, Negaduck, and Morgana, excellent self-centered conflicts between Darkwing and Grizzlikof, Gizmoduck, and even Launchpad and Gosalyn. In fact, the series best episode in my opinion is "Quiverwing Quack."
Like Scrooge McDuck's conflict between being a family man and a business man, Darkwing is conflicted between raising a daughter away from danger, and perhaps raising her to be his successor. Gosalyn not only develops Darkwing's mannerisms, but she also develops Darkwing's superhero abilities – and flaws. She is a smart, brave, capable fighter, but is also prone to conceited fancies and self-important speeches. Darkwing clearly wants to keep her safe, but at the end of the episode it's clear he not only needs her out in the field, but can genuinely depend on her. It's a sweet, character-rich episode that's also exciting and well-done. While no other episodes quite reach the heights of this one, they come wonderfully close – or at least two-thirds of them.
Darkwing Duck's wackier, sillier sensibilities may be different from its surrounding Disney Afternoon family, but underneath the slapstick veneer is a entertaining show in its own right. After an awkward beginning, Darkwing Duck engages in its characters and world with such aplomb and boldness that one can't help but fall in love with everything it does. For 91 episodes, Darkwing Duck would probably win the "Most Improved" award, and it's an award it should be proud of – although Darkwing wouldn't accept anything anything of the sort.