Archive for category Film
The last few weeks have been both busy and distracting. I have to be honest – I've been digging into Mass Effect 2 for the most part as I continue to wait for my storyboards to come in. I'm also waiting for a pencil test. I'm  also assisting in KaboingTV as much as I can, and sooner or later I'll be really delving into the site's upkeep along with the webtoon. In a way, I've been sort of relaxing somewhat before the poop hits the fan, where I have to really start putting all the elements of this together. Truth is I -do- have to catch up on my gaming. I also do have another blog post at the ready, but I'm somewhat in a bind because I need to acquire some pictures, and this has proven to be difficult.
Still, I could only slack off for so long before I got the itch to write spec again, and as Survival Instincts got off the ground, I began planning out another idea, inspired by a recent Netflix run of Doctor Who and Firefly. That combination of thrilling action, endearing humor, rich characters, and surprisingly dark and powerful themes spurred the idea of an animated version. Weeks turned into months of planning out the details and characters, as well as the parameters of the story's universe. While there's still a ton of elements to plan out, I decided to work with the basic characters types I developed and write an hour-long pilot spec.
I don't know if it's just me, but I find that a lot more can be discovered about your story and characters in simply writing it instead of planning it out beforehand (as a rough, of course). Characters names popped in my head immediately; dialogue opening up their histories and characteristics; the story itself inspiring ideas for future episodes that would be enjoyable to work on. Of course, this is all speculation, but even having a few spec episodes in the portfolio would increase my chances with an agent or manager. Plus, it's FUN. I've had such a blast writing this up that I ended up doing thirty pages in three days. In writing parlance: five pages a day is ideal on a typical writer's best day.
Still, it's rough n' tumble, and certainly needs to be re-written. But writing to ENJOY it has been something I've been missing, and it's good to have that feeling again. Here's a screenshot of what I've been toying with. (Just so you know: Jaren is a wolf, Liana is a fox, Marigold is a snow leopard, and Dr. Tedrick is a kangaroo. Yes, they're animal characters. Helps because I can make them larger-than-life.)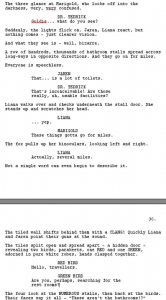 Tentative title: Wild Timez.
I'm not really into mixing my side projects together, but I decided to just go ahead. I've been working on this fan comic relating to Super Mario and Sonic the Hedgehog. Geeky, I know, and not related to my webtoon, but all the same, I think it's worthwhile endeavor.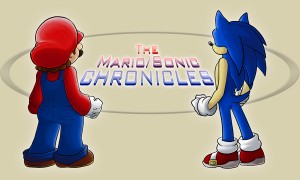 Introducing the Mario/Sonic Chronicles! All the details are on site. Hope you enjoy!
Casper – (1995)
Director: Brad Silberling
Starring: Bill Pullman, Christina Ricci, Malachi Pearson
Screenplay by: Sherri Stoner, Deanna Oliver
Cartoonists Seymour Reit and Joe Oriolo created a phantasmagorical little boy in the 1930s named Casper, a friendly ghost who refuses to eschew the rules of the metaphysical, opting to try and befriend the mortal instead of haunting or scaring them. First as a children's book and then as an animated cartoon, Casper's foibles center around his attempts to communicate with people who consistently, automatically freak out and run for the hills. It's a simple enough premise, mixing the whimsy of idealized Halloween with the creepy comradeship that the macabre can bring, all presentable for the young. And it worked; cartoons of the youthful spirit were created well into the 60s; even today, there are a ton of direct-to-DVD and simple cartoons out there. All of which were more or less spring-boarded by the 1995 film. Hope the re-watch won't be horrifying! Etc.
NOSTALGIC LENS: I was quite effected by the film when I originally watched it, and I remembered it being surprisingly dark. It's a difficult line to walk, trying to make a film about death and "what happens next" for kids, who certainly don't do too much thinking about it. Still, I remember it being fun and chilling, impressed by the ghost effects, and quite enamored by the story. Boy, was I in for a trick-or-treat! Okay, I'll stop.
DOES IT HOLD UP: When I re-watched this, my immediate first thought was, "This HAS to have been written by two writers." Sure enough, two names appeared under the Written By credit, and it makes sense. It's was like watching 2 separate movies in one, barely connected by a thread. One wanted to write a goofy kids film about a young specter wanting to meet a real girl and go to a school dance. The other wanted to write a dark tale of a loss, control, obsession, and shades of abuse. Instead of trying to fuse these ideas together, they just mixed and matched sections of each screenplay and plopped out a finished product. Scenes are starkly black and white in tone, instead of the smooth gray it should be.
Widower doctor (Bill Pullman) and his daughter (Christina Ricci) constantly move from place to place as the former seeks to "communicate" to his deceased wife, and the latter rolls her eyes, or something. Meanwhile, lonely ghost Casper tries desperately to befriend anyone brave enough to enter his haunted mansion, only to be scared off by his triple ghostly companions (or more accurately, owners) of Stretch, Stinky, and Fatso. MEANWHILE STILL, Cathy Moriarty and Eric Idle are two typical corporate-types who want to destroy the mansion for generic money-making scheme #8, but end up discovering a secret within the house, so they switch to generic money-making scheme #14.
Sounds messy, right? It is, but not overly so. It's more or less three ideas told in five-to-seven minute chunks, and the ideas themselves are simple enough so it's easy to follow. Also, the direction and editing is clean and straight-forward. Nothing special, nothing exciting, but just passable enough so as to not call anything into question – if you're a kid.
Older viewers, however will call shenanigans on the parts that seem especially off-putting or nonsensical. For example, an early sequence has Pullman fighting the goofy ghosts with a plunger and vacuum cleaner. Funny, silly kids' stuff, right? Well, after trapping the ghosts in the vacuum, the following scenes act as if THAT NEVER HAPPEN. Stretch, Stinky, and Fatso are suddenly freed and out and about – without any indication on how or why they were released. The idea, that Pullman is trying to talk these ghosts into "moving on," is never exactly relayed to the trio of spooks. We're supposed to assume this.
Balancing the dark with the goofy is never easy, but in Casper, the "dark" borders on horrifying territory. Watching Casper being physically abused by Stretch, Stinky, and Fatso comes off disturbing, not cute. A scene where those three basically ridicule Pullman's dead wife is starkly cold. The worst thing, though, comes from the film's attempt to utilize a piece of dialogue that works in the thematic sense throughout the film. The line? "Can I keep you?"
My "rival" is dead correct – that line is just fucking creepy. It doesn't even really make sense. Part of me thinks its a child's mistaken approach at romantic terminology (he sees it like one sees a pet or a toy), but the line directed at a young Ricci by a DEAD thing makes it come off much more terrifying.
There are some really nice moments, though. Casper recounting how he died is pretty heartfelt, an interesting approach to something that probably didn't matter to the original run. And these final scenes are surprisingly dramatic: live-Casper and Ricci's dance is cheesy good in the 90s sense, but Pullman's revisit by his wife is actually quite powerful:
Beyond that though, there's a lot of random moments, including the stuff with Moriarty and Idle, which doesn't serve too much purpose, and is resolved in a silly way (there's actually a weird moment where Casper and Ricci run from the ghost version of Moriarty, only to come back. Inexplicable.) Casper's dual-narrative doesn't exactly fuse together all that well, but it has moments of liveliness to combat the incomprehensible dread.
Oh, and Dan Aykroyd makes an early appearance as a Ghostbuster. That was kinda cool.
NEXT UP: Heavyweights