Archive for category Uncategorized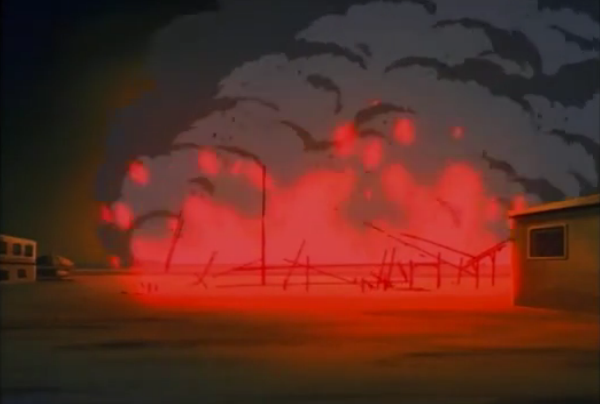 The World Tour has its critics, me among them, but by using the global journey structure, Gargoyles has been able to let individual and specific stories breathe on their own, such that when the gargoyles and Elisa returned home, there would indeed be a reckoning. "The Reckoning" and "Possession" are two great episodes that really tie the most important and "still up in the air" questions of the season. "Possession" has some minor flaws but overall is a pretty solid episode; it's "The Reckoning" that is beyond reproach, by far the best episode of Gargoyles' run. Barring the events of "Hunter's Moon," the three-part finale, Demona's tragic and difficult life story ends here, in the most powerful way possible.
Gargoyles 2×48 – The Reckoning

Vezi mai multe video din animatie
"The Reckoning" cheats a little, teaming up Goliath, Brooklyn, and Angela at first, all three of whom has specific agendas against Demona, so of course they all find her first. It's a fairly quick battle, but interesting to note that Brooklyn attacks first, the one character who hasn't had the chance yet to work through his anger – and is punished for it. Goliath and Angela take Demona down within her battlesuit, and, in determining where to take Demona's unconscious body, they figure the best place to send her is to the Labyrinth.
It's all coming together now. The events after "Kingdom" has created an alliance among the Manhattan clan and the Mutates, and they come to an agreement to stand watch over the captive Demona every night for… I assume, ever. This I found absolutely fascinating. Gargoyles pride themselves – natch, live for – protection, for keeping a watching over the things they love. So with minimal hesitation, they agree to take shifts to watch one solitary figure, in a dark, dank room, all night, for eternity. They make it into a second job, they do this for over three months, and there's nary a complaint. I can only imagine how tedious that must've been, but there's a resolve to their task that's undeniable.
Angela takes the first watch. Goliath tries to talk her out of it, but it's Hudson who stops him. The show continues to establish Hudson's wisdom in quiet, understated ways, and it's always a treat. This leads to a one-on-one conversation between Angela and Demona, and it's fantastic. Koko Animation, which handled expressions fairly well in the past, is pitch perfect here, nailing the expressions and framing needed to convey the pain, anguish, and sadness that Demona is feeling, and VO actress Marina Sirtis is on point with every line read. It's depressing, to see Demona, for a brief moment, express what might be happiness at seeing her daughter, only to jump right back into her rage when Angela tells her about Katherine and her protection of the eggs. Stark proof right there that humans can be helpful, saving her own daughter, but Demona can't accept it. She won't accept it.
All this time, however, Demona has been secretly sending out mechanical bugs to suck the blood out of various Gargoyles' characters. I was a little reluctant about another sci-fi plot – mainly because the conversation stuff between Demona and the various members of the clan was so, so good – but this led to some unexpected developments; namely, the bugs being sent back to a Nightstone Unlimited, where Dr. Sevarius is using the DNA to construct… something, for a well-paying Thailog! Giant genetic "things" in a vat can only mean clones, and Thailog is raising them to be brutish but loyal. Thailog, voiced by a sassier version of Keith David, is just fantastic, as always, and Thailog is really just having fun as the tensions mount.
After a few months, the shit hits the fan. Thailog crashes into the Labyrinth and frees Demona, and the two reunite in love… per se, since Demona still isn't aware of Thailog's attempt at his betrayal way back in "Sanctuary," so we're witnessing yet another layer to her tragedy. The two escape, freeing Fang in the process, who was there, captured as well, making lame quips and being a nuisance, but it's okay, since he's much better as a side villain than the main antagonist of an episode. Goliath and Derek chase them down to an abandoned theme park – a classic showdown location, so kudos, Gargoyles. Goliath gathers the crew, and it's about to go down.
It's Thailog who has the jump on them, though. Unleashing his creepy clones onto the unsuspecting crew, the Manhattan clan and Derek are ambushed by multiple doppelgangers and held captive. Thailog is so great, only he can get away with classic evil monologuing, as he regales everyone his massive clone plan and the necessity to keep them stupid. What I like about this part, though, is Thailog very subtly and very carefully decides to try and kill Angela first, mainly to test Demona's loyalty. Demona has little left to fight for, and while Thailog makes an ideal Goliath substitute, Angela is her actual daughter. She tried to turn her, but failed. Demona has been driven by hate all these years, but when Angela tells her mother point blank, "I hate you," there's a moment, a small moment, where Demona realizes she lost her, and all of this was for naught. Yet even in that moment, she still prevents Thailog from killing her.
Then Thailog reveals his most secretive prize: a clone of Demona mixing her DNA with Elisa's, as an added "fuck you," because Thailog, yo. If Demona's lowest point was Angela's hatred of her, than this is a figurative "kick 'em while their down" moment. This hybrid, called Delilah, adds an extra brand of creepiness to the proceedings, by being a female that only he can control. Thailog can control the clone gargoyles, yes, but they're kept stupid, more or less just flesh robots. Delilah is something else, the pure representation of male control, both blindly loyal and a literal-created sex object. Plus, she's a creation of everything Demona has lived for (herself) and everything she loathed (Elisa and her humanity). When Demona finally fights for something other than herself, it feels wonderfully, powerfully redemptive. "Goliath, save our daughter!" she bellows before freeing them, and the line-read is so perfect I am near tears.
This leads to the most badass battle this show has ever done. Koko gives the A-Team a run for their money, simply by keeping the three fights in clear and distinct contrasts: Demona/Goliath vs. Thailog, the Manhattan clan vs. the clones, and Talon vs. Fang (there's also a Delilah vs. Angela conflict, but we never see it, and Delilah never stood a chance). It's an intense fight, not because of the dynamic staging against the backdrop of the slowly destroyed carnival, but also due to the unique contrasts in battle. The Manhattan clan realize that key moments of collaboration are the best ways to take out the single-mindedness of the clone. Talon takes down Fang, mainly because Fang's a shitty fighter. And Demona is just going all out on her final fight for vengeance, and she and Thailog go at it, even as the fires of the roller coaster burn all around them. Goliath tries to save her, but is force to flee before the burning wood collapses all around them, leaving Demona and Thailog to disappear among the ruins. "Do you wish to perish?" Thailog asks, with a bit of a whimper to his voice. "My vengeance is all you left me," responds Demona responds, without a hint of irony: vengeance is all Demona ever had.
It ends with a bunch of lost clones needing a purpose, which Derek will provide (along with proper verb usage). It is purpose, though, that led to this tragic moment, that brought Demona down a road of pure hatred, only to have her first "goodness" in a long, long time. Whether she's dead or not is a moot point; Demona has found redemption, a new beginning, even if that new beginning was but for a few minutes. Angela may have told her he hated her, but maybe Demona saw in that statement, in that moment, a true reflection of herself (signaled by Angela's glowing red eyes), prompting a change that signaled a need to fight for something beyond avenging gargoyles. Demona, you lived a tough life, and while you never found peace, you've at least found a purpose.
[She's probably not dead. She's still cursed and connected to Macbeth. Still, the episode plays it so, so well.]
Gargoyles 2×49 – Possession

Vezi mai multe video din animatie
"Possession" is a solid episode too, although it gets a little cluttered in the middle. It kind of feels like it's reveling in its cleverness, but it's not letting the audience feel clever along with them. It also doesn't help that it involves Coldstone's internal brain demons, which has always been an Achilles' heel of the show, since those brain demons feel woefully underdeveloped. Two of them are in love. One of them is evil. The ultimate goal is clear.
Gargoyles never quite had a handle on the cyberspace elements, but that was just a general interpretation of cyberspace that existed in the 90s, and the show did the best it could with that interpretation, creating an interesting dynamic battling inside Coldstone's head. It's a fight for Coldstone's soul essentially, which is one of the many secondary themes of the show – struggles for some sense of control and/or independence. Coldstone left the Manhattan clan to try and win his internal battle, but Xanatos seems to have other ideas, after his robot gargoyles subdue him in the midst of the Himalayas and drag the cyborg gargoyle back home.
I like that Xanatos is still naturally a sleezeball. Even with his intentions noble and pure, he never actually tells Coldstone he's helping him, nor asks for his consent. He just fucking does it, or at least tries to, until it's clear that science alone won't purge Coldstone of his conflicting personalities. He then just leaves Coldstone's head all separated from his body, because that's the kind of guy he is. Gargoyles's message is clear. People don't change, even if their goals do.
It's all a little disappointing. The second that Oberon told Puck that he could only use magic when training Xanatos' son, it's clear that Puck/Owen would be using a training session with Alexander as a means to do some trickster magic. Of course, the episode does a good job of understanding that a training session with Puck would still be confusing and full of tricks and misdirections. I guess magical beings don't change much either, and what follows is a mindfuck of body transferences and high-level pretense.
Recapping the plot in detail would be a bit out of hand here, due to the sheer amount of body-swaps that take place. The gist is that Puck and Alexander first pretend to be Goliath and Hudson, and they use magic to draw out Coldstone's three personalities into Angela, Broadway, and Brooklyn. The fun part is that the writers, who always viewed Gargoyles as a heightened take on Shakespeare, takes the allegory up to eleven, with the three of them talking in amazingly delicious hyper-Shakespeare-esqu dialogue. The three voice actors of Jeff Bennett, Bill Fagerbakke, and Brigitte Bako just have fun with their ham-chewing lines, with Brooklyn playing the plotting, cantankerous villain, and Angela/Broadway as the tragic lovers. If anything, just watching the three of them do Shakespeare in the Park is just loads of fun.
Not to say there isn't a worthy amount of tragedy here. The episode is definitely committed to its characters, so there's a real concern on whether these souls will willingly stay trapped in the stolen bodies. Even the wholesome duo of Coldstone/his lover discuss this, in their desperation to physically feel each other again (and the sexual tension is not lost on this episode), which creates some scary overtones. Cooler heads do prevail, particularly once Puck-as-Coldstone introduce Coldsteel and Coldfire as potential conduits. The demon in Brooklyn sees Coldsteel in action and wants a piece of that, which Puck grants, and the figures inside Broadway and Angela acknowledge their fate, to which Alexander-as-Lexington (don't ask) grants by sending them into Coldstone and Coldfire respectively. Everyone is back to normal, Xanatos gets his noble wish granted, and Alexander gets his first lesson, courtesy of Puck's Rube Goldberg Method of Teaching.
It's a solid episode, if a bit messy when the head games really begin, but it's all done on purpose, a confusing episode meant to make all sense in the end. Still, while the character misunderstanding is fine, a bit of plot/pacing clarity would've worked in the episode's favor. It's no matter, though: the last four episodes have been fantastic overall, and with the season finale of Hunter's Moon next, we're looking at a fantastic endgame to an amazing show.
"The Reckoning" A/"Possession" B+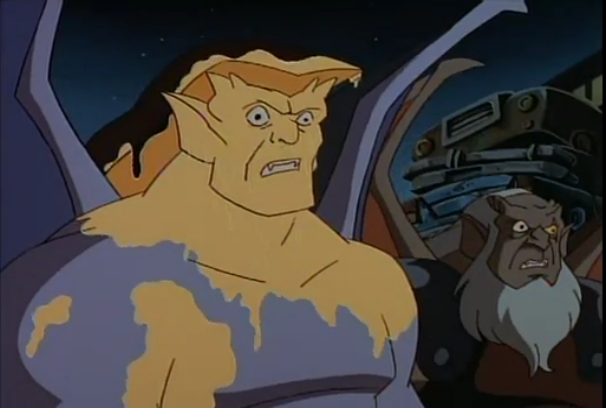 After the all-out brawl that "The Gathering" brought to us, Gargoyles slows things down and comically livens things up with "Vendettas," a mythology-relevant but mostly insignificant episode, and "Turf," a follow-up to "Protection" and "Golem" with a little bit of good 'ole fashion lust-based teenage competition. Gargoyles doesn't really do humor all that well, mainly because the overall narrative is so intensely serious, and the strict, solid animation prevents the show from being too wacky, but that doesn't prevent Gargoyles from having a little fun at its own expense, particularly as a thematic frame story around two relatively simple plots.
Gargoyles 2×46 – Vendettas

Vezi mai multe video din animatie
I'm not a super fan over self-aware episodes of cartoons. I don't mind when the show has a bit of fun at its own expense and the various stories and characters it developed, but putting out an episode that's just the writers and animators having a circle-jerk of in-jokes tends to put me right off, which makes me the only person who was not a fan of The Last Airbender "The Ember Island Players." Interesting enough, both that show and Gargoyles created semi-goofy episodes towards the "end" of their runs ("Players" was the fifth to last episode of The Last Airbender, "Vendettas" the seventh to last, if canon dictates the third season obsolete). That all being said, "Vendettas" works better as a episode because it of its focus on an intense, brutal fight between Goliath/Hudson and Wolf/Hakon, with the goofy motorcycle guy whom Lexington scared off way back in "Awakening" being mostly on the margins. Oh, and his name is Vinnie.
Gargoyles does crazy so, so well, with Matt Bluestone and Xanatos' dad being at the top of the list. Now we have Vinnie, a guy who has so little luck in his life since the gargoyles arrived that his vendetta against the beasts would seem understandable if he didn't come off so unhinged. I mean the guy purchases what appears to be a massive bazooka, names it Mr. Carter, and rants to it like a it's a bored bartender as he lugs it around New York. Jeff Bennett brings such a goofy, hilarious take on Vinnie's psychosis; such a silly approach to the script definitely required an actor who's familiar with more sillier roles. This allows Vinnie's plight to come off as comical, but at the same time, feel so real to him that when the episode reaches its climax, audiences are at the edge of their seats wondering what he'd do – then sighs a cathartic relief that he both achieves his "vengeance" and lets the gargoyles off the hook.
Like most Gargoyles episodes, "Vendettas" is dual-themed, both with Vinnie's ineptitude and Wolf's/Hakon's rage. The most aggressive member of the Pack, Wolf, returns to New York after being in Wyvern, Scotland, for some time, and he comes with a talking, magical axe. There's an undercurrent of goofiness to the whole thing, with Wolf and the axe laughing evilly together, before it gets deadly serious when Wolf finally comes into contact with Goliath and Hudson. What follows is basically a fifteen minute beatdown, and Koko handles the animation slightly better than in "The Gathering," mainly because there are fewer forced perspectives here. It's a little wonky here and there, but definitely workable for the most part.
It also helps that the staging of the battle is a bit clearer then the one in "The Gathering" as well. Even as Wolf gets the drop on Goliath, he and Hudson quickly turn the tables. Then Hakon, the spirit in the talking axe, possesses Wolf and levels up considerably, given the power of flight, super-strength, and transparency. He also gains the ability of mind-manipulation, and this is the only part of the episode that Koko (or the storyboarders) screw up on. At first, it looks like Wolf/Hakon is controlling Hudson, gesturing like a puppeteer to move Hudson around and attack Goliath; only with few re-watches did I realize that Hudson "sees" Goliath as Wolf/Hakon, and is mistakenly attacking him. Really, though, it's a little bit of both, kind of like a RAGE status effect in a RPG. Koko tries to symbolize this by matching Goliath's gestures with the fake-vision version Wolf's/Hakon's gestures, but they don't match up, particularly with the off-kilter editing. Add to it that it's unclear where the actual Wolf/Hakon disappeared to, and it makes for a confusing sequence.
It's not an episode killer, for sure. The intense battle is also intercut with Vinnie's efforts to blast the main gargoyle, which is also intercut with Vinnie's flashbacks to all the times he "got" into it with the winged beasts – first in the motorcycle incident in "Awakening," part three, then in the destruction of the airship in "Awakening," part four, then finally in "The Cage" as the security guard who "let" Goliath kidnap Sevarius (let's be fair – Vinnie never stood a chance). The guy keeps trying to get in one good shot but is always hilariously thwarted by the random elements that the Goliath/Hudson vs. Wolf/Hakon brawl produces. The best is when he's washed away by a crashing water tower. Oh, poor Vinnie.
Goliath and Hudson get no sympathy from the self-assured rage of Wolf and Hakon, though. It's revealed that Wolf is a descendent of Hakon (which is a bit too coincidental, even for a show built on coincidences), which allows them to work in spiritual tandem, but also keeps them at odds with each other; they each desire to kill Goliath on their own terms. This arrogant thinking leads to their downfall: together as one unit, Wolf/Hakon was wildly powerful, but separate, Goliath and Hudson are able to take on the two respectively, crushing Wolf under a pile of cars and crushing the axe in a trash compactor. Gargoyles is a show about finding your purpose, but also how misguided one's purpose can be, particularly concerning revenge; it's that blind rage that Goliath learned about many episodes ago, and it's that blind rage that does in both Wolf and Hakon.
Not Vinnie, though, as he gets the last laugh. Finally having the gargoyles in his sights, Vinnie fires Mr. Carter – and out blasts a pie, which smashes into Goliath's face. Satisfied, Vinnie whistles the show's theme as he walks off. It's an amusing moment, and the show acknowledges it as much, complete with the IRIS OUT on Hudson's face. It's great and a wee bit sad, considering that Goliath and Hudson have no idea who Vinnie is.
Gargoyles 2×47 – Turf

Vezi mai multe video din animatie
I mistakenly thought we'd seen the last of Dracon back in "Protection," but he pops up again here in "Turf," which pits his crew against the rising Tomas Brod, who's trying to make a name for his gang in New York. Brod, the gangster who assisted Halcyon back in "Golem," is muscling in on Dracon chop shop territory, which is starting to escalate. Elisa Maza is back in undercover mode, this time as a blond henchman in Brod's gang. She tries to organize a police sting to catch Brod in the act of attacking Dracon's operation, but she gets knocked unconscious and everyone manages to escape, which leaves the police spinning their own wheels.
"Turf's" dual-theme is in the form of Brooklyn, Lexington, and Broadway's squabble over who gets to hang out with Angela during all this. Now, in 2014, we as a society have become a lot more vocal (and rightfully so) about shutting such behavior down, hard. Back in the 90's, though, there was still a more looser, "boys will be boys" attitude, so while the episode portrays the young clan's actions as juvenile, the crassness is explained away as a "they're just horny since they haven't had any tail for a thousand years." I'm glad that the episode for demanded the "teens" to treat Angela with respect and not as "turf" to be control and won over by one of the three, I just wish the episode came down a lot harder on them and the behavior.
There isn't much to the episode in terms of mythology or backstory; like "Protection," it's more or less a one-off that just happens to involve two characters from the show's past. Still, it's a good, tense one; as mentioned before, I tend to be more of a fan of Gargoyles' one-offs than it's myth-heavy episodes. I like that we see Matt and the chief of police Maria Chavez in the throes of the case. Even with Matt caught up in the crazy Illuminati stuff, and the chief only appearing here and there (although every appearance has been awesome), watching them get their hands dirty with on-the-beat action is great, great stuff. It's these kinds of details that keeps Gargoyles grounded, even when things get too sci-fi or fantastical.
The thrust of the episode is about escalation. First Brod hits Dracon's chop shop, then Dracon's men burn down Brod's restaurant/front, then Brod tries to hi-jack a Dracon shipment, but it's revealed to be a Dracon trap, then, screw-it, Brod goes off to break into prison and kill Dracon himself. Sunwoo has a slightly better handle on  visuals than Koko, which makes the action scenes clear and concise; still, there are some awkward moments, particularly the pushes-and-shoves of Broadway, Lexington, and Brooklyn. There's some repeating frames and it kinda blobs together, but all the exasperated expressions from Angela are fantastic. The show made it point to note how perspective Angela is, and I like that she's not portrayed as clueless as to the boys' behavior. She's a lot more focused on the mission then they are, which is probably why she didn't blow up at them earlier.
Elisa and Angela even have a small discussion about this, and I kind of wish this was longer and a tad bit more productive. In fact, Elisa is the one who suggests that the competition between the boys is simply them blowing off steam, and that it's up to Angela to put her foot (claws?) down. Elisa, being a female cop, should be a tad more assertive, I think, and a lot more supportive of Angela's concerns, especially after everything they've been through, but this is a modern way of thinking. In keeping with the times, the episode address the matter well enough, and Angela's final diatribe towards the boys is a great moment, and the line "Stop calling me, Angie!" is just fantastic. Once that gets through their thick, horny skulls, Broadway, Lexington, and Brooklyn finally are able to come together and take down Brod's airship, as well as save Elisa right before she gets decked by Brod himself.
Even though it's wildly unlikely, the episode ends with the police putting Brod and Dracon together in a cell, basically so they can kill each other. It's a bit of "comeuppance" amusement, a final "boys will be boys" beatdown that makes a great foil to the renewed bro-ship between Lexington, Broadway, and Brooklyn. They apologize for their actions, and Angela not only forgives them but mentions that she likes all of them, which, well, is a story for tumblr to finish. She also mentions that Avalon has a number of female gargoyles waiting and willing, to which Brooklyn asks, "So, when do we get our World Tour?" Now I know where the fan-name of the World Tour arc comes from.
"Vendettas" B+/"Turf" B+
Dreamworks' current business struggles exist because it's too busy spreading brands instead of building them.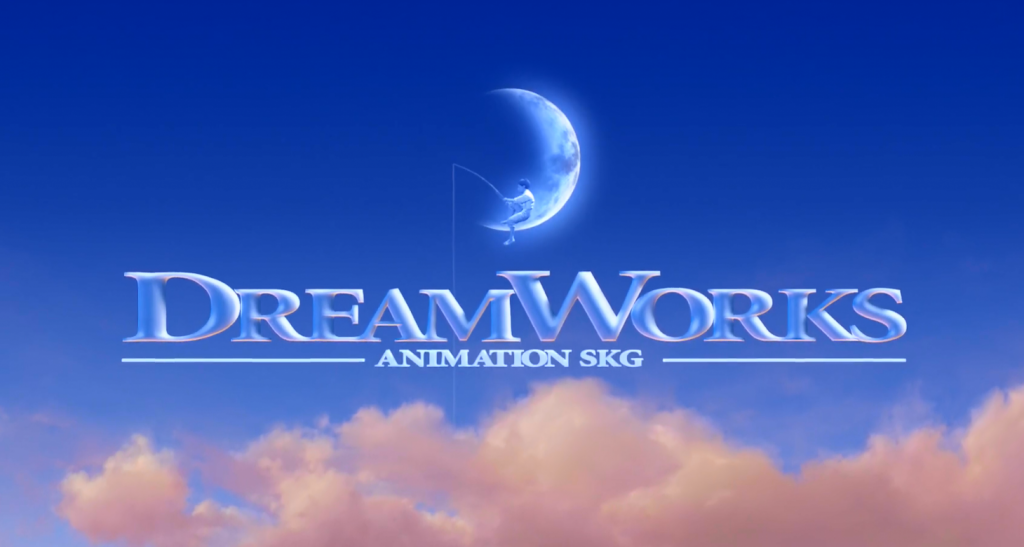 This NYTimes' writeup reads like a parody of a press release of a press release. Dreamworks Animation is rolling out a "comeback campaign" of the iconic character of Lassie, pushing the canine not as a rebooted movie star, but as a merchandise icon – a face that, most likely, will be plastered on several toys and backpacks and studio backlots and canine-related goods. Lassie, who hasn't been significantly in the public conversation since the 70s, will be forced upon us in a prepackaged mold along the line of Grumpy Cat and Doge, and of course, we all know how well corporate-backed memes work out, no matter how much money you put behind them. Time will tell if this is an effective strategy, but this pretty much a striking example of everything that Dreamworks is doing wrong.
As the article notes, Dreamworks Animation has lost money in the last two quarters, due to its underperforming films, which has also led to a wave of firings. Arguably, it forced the studio to switch the premieres of Home and The Penguins of Madagascar: the belief being that the more well-known property will do better financially than the original one, thus helping its bottom line for at least the end of the year. Beyond that though, if one were to actually look at the more specific dealings that Dreamworks have been engaging in, collectively, it reeks of desperation. No one would fault the company for its desire to put itself into as many avenues of content production as possible, producing series for broadcast networks, Netflix, and Youtube – the future of entertainment is there, somewhere, and it's good to have a foot in the ground floor of all of them – but it makes Dreamworks seem distracted and chaotic, spreading its resources thin to produce mediocre, sub-par content.
To get into the company's current mistakes, we should begin years ago, when the successes of Madagascar, How to Train Your Dragon, Kung Fu Panda, and even Monsters Vs. Aliens, put Dreamworks Animation up there along side Pixar as a studio that pushed the boundaries of animated cinema. Prior to that point, Dreamworks was a laughing stock, that silly company that made Shark Tale and Shrek, a franchise that is increasingly looked upon as a joke (in fairness, its declining-in-quality sequels contributed to that). The successes of those later films didn't give Dreamworks the kind of critical consensus that Pixar had at that time, but it proved that the studio could produce enjoyable content not stewing in pop culture references, content with large worlds, rich ideas, and, most importantly, visual variety. (Madagascar brought decent Looney Tunes-esque quality to CGI, a feat almost thought impossible; How to Train Your Dragon created soaring, breath-taking flight visuals; Kung Fu Panda made incredible, thrilling fight-sequences. Monsters Vs. Aliens was just coasting: it's a pretty terrible, forgettable film.)
Deals were put in place to create TV series out of them, which is nothing new, of course. Disney was doing that with great success in the late 90s. Penguins of Madagascar was the first one out, followed by Kung Fu Panda: Legends of Awesomeness, and while the quality of these two shows varies (Penguins of Madagascar had more good than bad episodes; Kung Fu Panda: Legends of Awesomeness, more bad than good), there was a tight focus of pushing these properties through the Nickelodeon partnership, and they were helmed with talented animation producers, who worked on classic shows like Kim Possible and Darkwing Duck. With Monsters Vs. Aliens and Dragons: Riders of Berk coming up the pipeline, a Nick/Dreamworks block of animated shows seemed both ideal and inevitable, like Marvel's deal with Disney and DC's deal with Cartoon Network. The truest form of synergy in action.
Then a lot of things broke down. Disney bought Marvel, which meant the original Marvel shows had to be cancelled and "redone," which threw fans for a loop. CN gave up on DC's properties so haphazardly, with only Teen Titans Go! being the only thing left. Nick was going through its own quiet mini-transition, doubling down on its live-action properties, which left Penguins languishing and Kung Fu Panda only intermittently aired. They were already committed to Monsters vs. Alien, which received a mild marking push, and only netted a single, mediocre season. It didn't help that Monsters. Vs. Aliens is a weak film, with characters that weren't strong or appealing enough to carry a series. But Dreamworks was committed; we could arguably say the company's current "throw it at the wall and see what sticks" mentality when it comes to branding began here.
Curiously, Dragons: Riders of Berk was sold to CN, which should've been given to Nick to push for that "Dreamworks Animation Block". The thing is, CN was going through a very rocky period, with Stu Snyder causing havoc. (His dismissal didn't help Dragon's cause, as the current slate of CN's lineup and TV show pickups clearly indicate the network is going for a signature look.) That being said, Dragons: Riders of Berk is a visually nifty show, even for TV, but is lackluster and dry, lacking any sense of character development. Its emphasis on creating "new" dragons was less a way to explore the world of Berk and more an excuse to line toy stores with new dragon action figures. Add to it the network's mild marketing push as well, and it's a wonder anyone watched the show at all.
Dreamworks first two forays into network TV animation had quality control standards, but it's clear that their minds were elsewhere. The company was, and still is, fascinated with spreading its brand(s) around, without meticulously improving them. In particular, the company has been investing heavily into online acquisitions, like this purchase of AwesomenessTV and its own Dreamworks TV initiative. The number of views these videos have are middling, but what strikes me is how greatly unnecessary they are. Random classic clips from old cartoons that the company acquired the rights to are sprinkled in with really strange "character chats," where Dreamworks characters like Po and Puss in Boots and Shrek blandly talk "to the audience" about goofy topics, topics that would appeal to seven-year-olds. Indeed, it seems like Dreamworks is treating these characters like extras from Sesame Street, but at least that show was willing to talk about jail, death, and war.
The company's flailing TV and Youtube properties are one thing, but the string of poor-performing movies after that truly hurt the company's stocks. Dreamworks' lack of focus has led to disappointments like Rise of the Guardians, Turbo, and Mr. Peabody and Sherman. Only The Croods did decent, which only garnered it a sequel (I assume it's not getting a TV show because none of the major kids networks are biting into the "movie-to-TV-show" trend anymore). How to Train Your Dragon 2 only just made significant revenue (by the studio's standard) due to global box office performances, but its weak domestic opening threw a lot of financial predictions into disarray (and Dragons: Riders of Berk's mediocrity couldn't have helped – but that's the issue. Dreamworks clearly doesn't see the property as something to build upon, collectively, like Marvel does, but more as a name brand that should just be "out there" and generate money.) It's hard to say if the studio really cares through, since the only result was several layoffs and an even more aggressive push to spread the Dreamworks brand around. By this point, they had set their eyes on Netflix.
Agreeing to produce 300 hours of content for Netflix, Dreamworks is aiming to fill that content with series based on King Julian from Madagascar, Puss in Boots, and Veggie Tales. Add to the list Turbo FAST, based on the lackluster Turbo, which currently has fifteen episodes on Netflix right now. It's a grand experiment. Netflix is only releasing this show five episodes at a time, partly due to kids eagerness to rewatch shows, partly due to the massive time-sink in producing the episodes. Titmouse does a fantastic job with a thoroughly mediocre property; I should also give props to the writers for dropping any pretext from the film and creating a goofier, looser show from the ground-up – a "Rescue Rangers meets Amazing World of Gumball" type of program. The most recent five, though, were more scatterbrained and felt a bit lazier, like weaker Regular Show episodes. Is this part of Dreamworks continued inability to focus on one thing at a time? Maybe.
After all, Dreamworks is now developing a film for Hot Stuff, which may be the most inexplicable idea from Dreamworks to date. The company is also reworking Felix the Cat into a marketing brand, which sounds slightly smarter but twice as cynical, similar to the Lassie "branding". There are rumors circling though that there may be a Felix the Cat TV show in the works, which at least gives this idea some weight. Dreamworks is doubling down on its TV animation division, which makes sense for its upcoming Netflix properties, but also adds to the growing sense that studio is culling talent less to cultivate its properties and more to just create content to simply produce and release out into the aether. The company also bought the Trolls property for unknown reasons, and is completely retooling Me and My Shadow, a film that was originally supposed to be released in March of 2014 and seems to be besieged by a host of problem, most likely more so due to the company's recent string of poor box office returns.
Which brings us back to Lassie. Reading that Times article, along with the various articles linked in this post, it's uncomfortable to read the sheer amount of corporate advertising/marketing verbiage spouted about such properties instead of any creative insights into them. That's Dreamworks' current business strategy though, and it's the studio's current dilemma – using its growing acquisitions to create brands without little consideration of their quality or how that lackluster quality would affect the bottom line of their future output. (Pixar knows that feeling; once a name associated with quality, it now has a mark against it, with critical disappointments like Cars, Brave, and Monsters University – and for the record, I liked the first two). By focusing way too much on spreading its brands around instead of working to make a few brands actually worth following, the company is hurting itself way more than it needs to be. If Dreamworks keeps it up, creating actual good work will be nothing but a dream.