Archive for category Uncategorized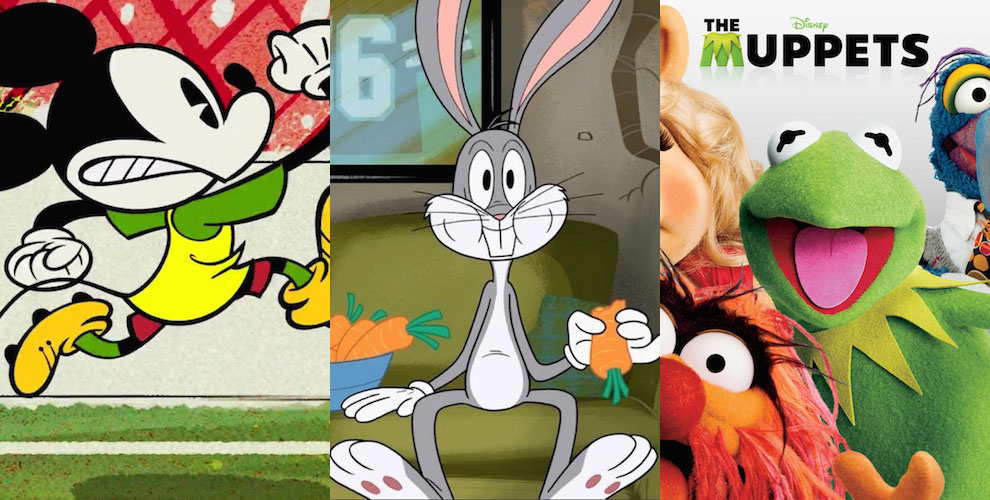 Back in the early 2000s, game designer Warren Spector announced he was working on Epic Mickey, a new game from his brand new video game company, Junction Point Studios. Spector's early remarks about this new venture included a lot of commentary about returning Mickey to his more mischievous roots, a comment that, not surprisingly, got taken out of hand by the most of the public. The term "mischievous" was, for some reason, interpreted as "dark and adult," and it didn't help that a lot of the early press about Mickey "controlling life and death" seemed to imply that Mickey was to be some Grim Reaper arbiter of mortality. Spector never quite denied the thrust of this out-of-control hype; an early idea included Mickey sporting an "angry" look when you made "bad" choices. Oh, that's right – Epic Mickey included a morality system, a game design that, outside Mass Effect, Dragon Age, or Fallout, shouldn't exist in any game ever.
And certainly Epic Mickey. While the first game did okay financially (while not being as dark or adult as the hype made it out to be), the second game did so poorly that Disney cancelled all future iterations of the game and closed down Spector's studio. Part of that, of course, is due to the gameplay and camera issues being problematic and unfixed, but beyond that, there's something blatantly disingenuous about that hype – the idea of Mickey Mouse, of all people, being some kind of tortured, complex anti-hero. What's worse is the fact that so many people believe that this was part of Mickey's identity before Disney "sanitized it," an idea that completely misinterprets both Mickey Mouse and the company that birthed him; clearly, no one actually bothered to re-watch the old Mickey shorts. How the idea of mischievousness became some kind of hardcore miscreant is a perfect example of writers and creators struggling with bringing classic characters to modern audiences – your Supermans, your Bugs Bunnies, and, currently, your Muppets. It's not the personalities, and the so-called dated ideals those personalities represent (an idea that's overly-cited as to why these characters struggle to capture today's audiences). The problem is one hundred percent in the execution, in the writers' and creators' unambitious, restrained settings and premises that prevent these characters from thriving.
——–
The strangest thing I've read in the last year was when Erik Kuska, a producer on Cartoon Network's new Bugs Bunny cartoon, Wabbit, wanted to avoid cliches like the anvil gag, preferring to utilize "modern heavy objects to cause pain." I'm not even sure where to begin to respond to this. Should I start with the fact that anvils were dated even back in the 40s/50s, when they were first used as animated comic props? Should I emphasize their datedness even back then was part of the entire joke? Should I point out "modern objects" were always used to cause pain regardless? (Safes, cars, tanks, TVs, computers, and ships all have been used to flatten/hurt cartoon characters.) Or, perhaps most confusingly, should I mention that Wabbit doesn't exactly use that many "modern heavy objects" in the first place?
Bugs Bunny has been going through a struggle himself. For all the problems in Space Jam – and there are a lot – that probably was the most accurate take on a modern Bugs in years. Bugs is passable in Back in Action but is drown out by the rest of the animated figures and an overly-frantic human cast. He spends too much time trying to figure out other people in The Looney Tunes Show, a cartoon that loved circuitous dialogue for some reason, the kind of dialogue where people would talk at each other and poke holes in the very exchange that was happening (whenever it broke from that, it was occasionally watchable). And in Wabbit, Bugs spends a bit too much time being confused, even, strangely enough, when he's confidently in control of the situation.
The thing is, personality ticks aside, these modern takes on Bugs aren't inherently a problem. Bugs' original incarnation was a wacky loon, an instigator of chaos before being toned town into a more snarky, self-aware jerk whose power is defined by unleashing his comedic wrath at anyone who slights him. His more recognizable personality is a take on the Marx Brothers (with a smidgen of Clark Gable), so it makes sense to evolve it in a new perspective, particularly for an audience that isn't familiar with 1950s Hollywood. (Yet, personally, I do question Bugs' laid back, semi-pushover personality in The Looney Tunes Show, if only because he's defined not by a specific personality but a complete lack of one.) But the bigger issue isn't him; it's the kind of stories he (and the rest of the cast) are involved in, which were no more then slightly elevated sitcom cliches. Pets that acted differently in front of various people. Annoying neighbors. Trouble with women and dating. The DMV being shitty. Only when the episode allowed its inherent cartoonness to do its thing did the show finally exhibit some life, something to stand out beyond its sitcoms cliches (which is odd, since The Simpsons, Family Guy, and American Dad managed to do what The Looney Tunes Show never bothered to embrace, and they came before that show).
That's what makes it all the more baffling. The Looney Tunes characters were not only defined by their own personalities, but by their personalities as inserted within an insane, absurd, wacky plot, which The Looney Tunes Show lacked. Wabbit, god bless its soul, attempted to be more ambitious, but still seem to struggle with making its scenarios truly loony. It's at this point I could get into a whole thing about basic animation principles, including exaggerations, anticipations, and squash-and-stretch techniques, but the gist of it is that Wabbit fails to really employ any of those techniques to full effect (a result of an overall industry adverseness to those kinda of visual tricks). But those tricks are paramount to what makes the Looney Tunes characters and scenarios work, and denying them will only lead to a bland, unambitious show – a show where its characters, no matter how you adjust them, can't actually do anything to make them stand out.
It's a lesson that ABC is learning with the sudden drop in ratings with their recent take on The Muppets, a drop so significant that one of the showrunners left the show in anticipation of a new-new reboot. There's a lot of issues with the show, and there's plenty of pieces out there attempting to point to the core problem: was Kermit/Piggy too mean? were the other characters wildly underused? was it too sitcom-y? did it need to be more variety-based, even though variety shows are no longer viable forms of entertainment? Part of that, again, has to do with how we (mis)interpret the original show. There's a lot of arguments out there, for example, that Kermit was always mean, but there's very distinct difference between "variety show" mean and "sitcom" mean. (There's a very lengthy argument to be made about how "meanness" on TV has become this weird, confusing sticking point among audiences, but I digress).
But, again, personality changes to the Muppets isn't the core problem. Pepe, Gonzo, and Rizzo had some minor tweaks, and they came out quite good. In fact, I'd argue that by the final three episodes, the show itself made just enough adjustments to right the ship: the weirdly controlling Kermit became a softer, more endearing frog, and the show overall had hit the right notes between its sitcom trappings and its more loony aesthetics, with more absurd situations and antics in the mix. Still, I feel as if it's still a bit too sitcom-y, as forced through ABC's primetime slot. Here, I would suggest they might take a cue from Mongrels, and open up the characters and their experiences outside of the central locale of the Miss Piggy show. Something that could allow the puppetry and the rich cast comprised of that puppetry to shine. The variety show may be dead, but the musical show is making a comeback, and it might help the show to push more puppet routines into the sitcom narratives, to really let the Muppets thrive. It's not just the Muppet characters that people liked, it was the whole, whiz-bang showmanship of Jim Henson's creations in action.
We can end this here by comparing the Epic Mickey failure to the success of the new batch of Mickey shorts. In fact, it might be good to look at the three rounds of these shows – the originals, the shorts culled from Mickey Mouse Works/House of Mouse, and the current batch that's winning Youtube. (We could also examine the various ways in which Disney remixed, re-issued, and re-purposed its shorts for various generations). Each iteration worked very well, not only by placing Mickey (and the gang) into situations that connected to the current audience, but also by never losing sight of the gang as who they truly are (also, adjusting the look and designs to match current visual standards helped). It's all of that, really: Mickey has always been loose and broad enough to fit within any template, but the truth is, so have the Muppets and the Looney Tunes characters. It's just that certain templates have restraints that don't always work in the characters' best interests, like sitcoms or morality-based games. If current creators look past those restraints, they'd be able to combine what made these characters shine in the past, re-contextualize them in new situations for the present, and allow them to succeed in the future. I assure you that anvils are not the problem.
Buzzfeed got the animation world talking quite a bit with its recent article "Inside the Persistent Boys Club of Animation." And while it fits perfectly within the contemporary, aggressive call for more women (and PoC) creatives in the entertainment business – a call I agree with one hundred percent – it's Lange's exploration of how certain genders depict certain types of narratives that has my interest piqued. She writes:
And that difference shows up on our screens. According to a 2012 study from the Geena Davis Institute, female characters made up 31% of speaking characters in primetime children's shows — less than a third. Only 19% of children's TV shows had an approximately equal number of male and female characters.
Later:
And this mentality is drilled into women studying animation. In a class at CalArts, Cotugno recalled, an instructor lectured on the difference between "feminine" and "masculine" story elements — "which is a little hard to describe, mostly because it's fucking bullshit," she said. Elements such as linear storytelling and big external stakes were "for men," while relationships and emotional storylines were "for women."
The whole thing is a must-read, but those two paragraphs struck me because it clarified a lot of thoughts I had about how women characters function in cartoons. As you can tell, I watch a lot of animated "stuff," and what's weird is how, overall, male characters are fairly developed from the start while women characters tend to fluctuate. This is in extremely broad terms, but part of me wonders if the kinds of stakes that we've inadvertently gendered is a bigger issue than just poor, outdated teaching ideas. It's a top-down problem worth exploring in deeper detail.
---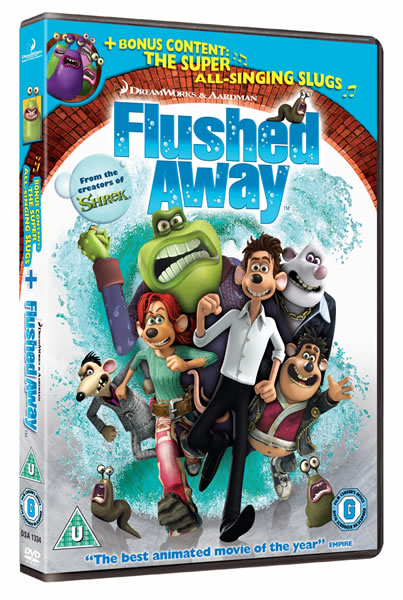 A few weeks ago, I watched Flushed Away, an Aardman/Dreamworks collaboration that did mediocre at the box office, so as to assure that Aardman and Dreamworks would never work together again. It was a film that garnered mixed to poor reviews, but with my current run to catch up on animated films, I thought I'd give it a go, with the requisite that I would Twitter rant about its flaws. And while it was flawed, I was struck by how fascinating the "secondary" character, Rita, was. Rita was an extremely strong, well-developed presence, much more than Roddy, the titular main character. She was voiced by an extremely game Kate Winslet, and had the tenacity of Lara Croft with a warm, engaging emotional appeal like Pearl from the early episodes of Steven Universe. With a few tweaks, Flushed Away could've been an precursor to Mad Max: Fury Road – a generic film masking a strong, almost-feminist bent, in which Rita was the real star and Roddy, at best, an annoying sidekick. I can't tell if it was Dreamworks or Aardman who missed that narrative, but it goes to how we perceive certain narratives and gendered character roles within a piece of entertainment.
I'm not sure how anyone, within the pre-production period of a film, not look at the development of Rita and recognize that she is the star, full stop. She possesses the "big external stakes" and the main thrust of the film is built upon her goals. Yet placing Roddy as the film's lead is just part of the overall trend with large-stake narratives (he's front and center on the DVD cover). There are plenty of great female characters, but they feel isolated, the lone feminine figure in weirdly, excessively male-driven worlds. Yet there's a little bit more going on here, because opening up certain types of characters to the feminine sphere might cause a bit of hand-wringing. In the past 35 years, how many villains, or even antagonists, in films have been female who aren't mothers? And what about the henchmen?
(The role of henchmen is worthy of a talk of its own. From second-in-commands to the lowly grunts, being a henchmen is a seriously male-driven occupation. How much of this is Standard and Practices, though? How much of this is the overall fear of placing female characters in positions that is primarily set up for bumbling and red-shirting? Because animation has become a medium driven to appeal to kids, the fear is that placing women in roles that usually get abused would be disrespectful and cause kids to follow suit, but that's damaging to both boys and girls, since it ignore girls completely as well as encourages that kind of disrespect among boys. But I digress.)
One of the most important aspects of the early Disney Afternoon cartoons was its general focus on appealing to a broad, mixed fanbase. Both The Wuzzles and Gummi Bears clearly were looking to appeal to both boys and girls, but the focus shifted as Ducktales hit the airwaves. The shows that came after – Rescue Rangers, TaleSpin, Darwking Duck – had enough content to keep young women hooked, but they were mostly the fare of boys. In addition, the grouping dynamics of the primary cast of cartoons shifted. Girl-to-boy ratios went from 2:3 to 1:3; if a show present a group of mixed-gendered characters as the show's leads, it has never provided more girls characters than boys. Mostly all kids networks mimicked this, despite hit shows like The Powerpuff Girls showing the potential of female character-driven shows. And really, not since Hey Arnold! have a show really explored a rich, varied group dynamic.
It's clear that gendering narratives is both harmful and lazy. But what is insidious is how ingrained this idea has become. Not only are certain "types" of stories have to be told from the perspective of boy characters, but the minute details of those stories have to fit certain parameters. There's very little focus on emotions or vulnerability, although that is getting better: Wander (Wander Over Yonder), Steven (Steven Universe), and Gumball (The Amazing World of Gumball) are much more prone to wearing their emotions on their sleeves, and acknowledging that those explicit feelings are valid.
Female characters are getting better as well. From the Mane6 of My Little Pony to the spunky silliness of Star from Star Vs. The Forces of Evil, TV animators are not only allowing women characters to star as leads, but to engage in their audacious adventures while also letting their emotions out for all to see. The wall limiting what types of stories one can tell with gendered characters is changing, albeit slowly, without necessarily falling into the kind of traps that hurt other narrative forms – restructuring the "Strong Female Character" as "Masculinized Female," for example.
The biggest problem seems to be that in our attempts to push down gendered limits in entertainment, we're pushing more and more into segregated content. Strong, singular leads are great, but shows that demand broad, mixed casts struggle intermixing gendered characters, from the testosterone-driven brotherhood that is the Teenage Mutant Ninja Turtles, to the female-coded Gems of Steven Universe. Which, inherently, is fine, but it hinders creative insight into how a full group of boys and girls can manage a situation and keep true to themselves. It's a top-down problem, again – there's an upcoming all-female Ghostbusters and an all-male one coming soon. There's an all-female Transformers on the way, along with an all female DC-superheroes series coming as well. Genevieve Koski over the (sadly now-defunct) wrote about the problem with the "distaff counterpart," but at the level of younger viewers, it implies that not only are the two genders markedly different, but that they can't even interact without some kind of problematic "Mars/Venus" dilemma, as if two different genders thrive in two different parallel universes.
These ideas, taught to us as kids, have become de facto lessons, that the decision of creating a certain character male of female automatically define the basic beats of a story – beats that cannot embrace multiple genders in any narrative way. An evil force that wants to destroy the world has no ties to male or female characteristics, but more often than not, male characters are the heroes, thematically linked to paternal-leadership-protector themes. For the few women heroes that save the day, they're linked to more emotional-maternal-caregiver themes. And it's that core, basic thinking is more troubling than we realize. Thematic resonance is important to all narratives, but not when they're built on vague stereotypes and gendered segregation.
In an unexpected way, Aladdin may possibly be the Disney Afternoon's best work. Better than Ducktales? Better than Darkwing Duck? Even better than Gargoyles? That's a deeper question than you'd might think.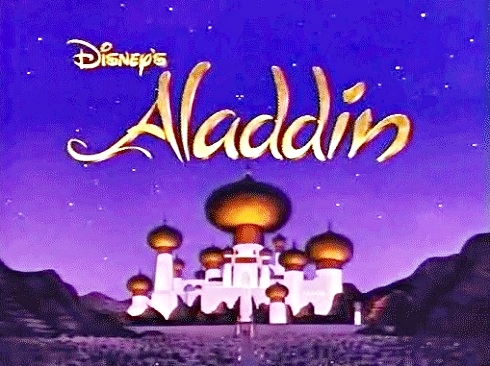 The animation bubble was just starting to test its limits by 1994. At this point Disney sought to control pretty much every direction that animation could go. It snatched up the compilation Saturday morning theme with Raw Toonage and Marsupilami, it gobbled up the action genre with Gargoyles, and it began exploiting its hit films by pushing a TV-adaptation agenda with Aladdin and Timon & Pumbaa (not to mention continuing with original afterschool programming with the problematic Bonkers show). It's easy to roll one's eyes at the very concept of television adaptations – particularly now, with everything being adapted or given a sequel – but people forget that it was done pretty regularly in the late 90s as well. But if given a solid handle on the material, along with minimal interference with executives, an adapted work can be incredible.
I definitely had my doubts when coming into the Aladdin TV show. The original movie is fun if slight, its Bonkers contemporary is full of problems, and I remember distinctly not being particularly enamored by the show as a kid. I'd certainly watched it, but it lacked the lunacy or wackiness of earlier Disney Afternoon works (this is a significant point which I'll get into later). I had reservations when starting this re-watch, as anyone would when attempting to dive in into a show that's clearly a knockoff cash-grab. What I found was something fascinating: an highly entertaining, exciting 86-episode run that was way better than it should've been. In fact, it might be the Disney Afternoon's best show.
What I wrote on Facebook: "It's not the best objective cartoon of them all, per se, but the Aladdin TV feels like the purest distillation of the Disney Afternoon aesthetic, culling the best aspects of its previous shows and placing them here. I sort of had low expectations, being an adaptation of a film, but it's so organic and entertaining, and the storytelling is almost perfect, rarely wasting its 22 minutes with obvious animated padding. It takes the core storytelling engine of Ducktales, the great character work of TaleSpin, the sharp cartoon lunacy of Darkwing Duck, the tight group dynamics of Rescue Rangers, the adventurous spirit of Gargoyles – hell, even the grounded-wacky ratio of Bonkers – and reworks them into a solid bit of animated entertainment. I'll get into more detail when the official review comes, but basically I love it."
It's true, and it's tricky to get into exactly why the show works so well, but I'm going to try. It primary has to do with its storytelling. Aladdin just tells really good stories really, really well. Animated shows often get caught up in their visuals (as they should), using the medium to mess around with the form a lot, with extended wacky scenes or song cues or elongated chase sequences, all centered around comedic attempts. These are not inherently bad things, but they're most effective when they prop up a fun, tight story. Often they're used as bridges between scenes or excuses to prolong a moment, and not quite used to buffer the actual plot. Aladdin is different. Aladdin builds its stories through all 22 minutes, with significant plot shifts before act breaks, complex narratives, and a willingness to keep the mystery of a story hidden up until the climax.
A perfect example is "Strike Up the Sand." It's just a fully complete episode, in which newcomer Sadira, a female analogue of Aladdin, falls head over heels in love with the show's lead. But after his rejection, she falls into a mysterious hole and discovers the power to control sand-based magic. This sounds forced, but the episode handles it extremely well, taking the time to establish the discovery of the hole and Sadira's exploration of her new-found ability. It gives her and the magic itself a sense of depth and history (and imbues it with a comic aside in the form of a talking worm who's "so done"), building up the events to the point that she creates what seems to be a typical one-note henchman. And yet, in a shocking bit of cleverness, that one-note henchman is revealed to be Sadira's (and the cast's) main antagonist, turning the "smash-first" brainless badguy into the episode's true villain. It's such a brilliant switch-up that I'm shocked this hasn't been done before:
That thin layer of self-awareness, that basic understanding of its storytelling tropes and expectations is one of the many things that keep Aladdin on point. It doesn't lean on that self-awareness as a driving factor for its comedy or narratives – unlike a lot of today's current films – but there's a very keen understanding of how classic cartoon narratives work, and the show plays into them without them being overbearing. It focuses one hundred percent on the story, and the characters within it, using that self-awareness sparingly and to pointed effect – primarily through Iago and Genie.
In fact, how Aladdin uses Iago and Genie should be studied by animation writers everywhere. Iago and Genie are both primarily the comic relief and the outlet through which the writers mess around with meta-commentary, but the show never alienates them. Not only does Aladdin keep these two tightly engaged in the story (while calling out the generic tropes of the story), the other characters accept their antics, and sometimes even embrace them. Unlike Lucky from Bonkers, who spent all his time being utterly disgusted by his toon partner, Aladdin is comfortable with letting these two fuck around, and even encourages them. When Iago complains about Aladdin constantly rushing headlong into danger with a weary sigh, Aladdin chuckles at this, shrugs, and agrees (then rushes into danger). When Genie unloads a heap of anachronistic magic tricks and meta-verbiage, the show and the characters go along with it a casualness that's both endearing and appealing. This allows for the team dynamics to stay in tact as well as keep the audience engaged. Watch how effortlessly Iago and Genie comically but eventually deduce where Aladdin and Jasmine disappeared to (by around 1:30) – note Iago's passion towards Aladdin's typical behavior and Genie's not-so-subtle method of figuring it out via a winking plot hole:
It's such a small thing but it's incredible how often cartoons screw this up. Group dynamics are so, so important, the idea that a team of characters, despite distinct differences, are actively working together towards a common goal – and aren't just a loose compilation of cliched personalities (I'm looking at you, Motorcity). Aladdin is having fun with itself, letting its characters loose within a tightly-controlled, often-clever plot, and that isn't regulated to the good guys. The villains are also fun and diverse, and while they don't quite match up to Darkwing Duck's delightfully twisted rogue gallery, they do hold their own. They're genuine threats (particularly the big guns like Mirage and Mozenrath) but have strong and/or goofy personalities to make them feel multi-dimensional.
Then there's the setting itself. Agrabah and the surrounding locations, like Odiferous and Getzistan, feel like real places populated by real people with a real social structure in place.  While a place like Odiferous feels more like a joke (centered around smelly cheese), the show commits to that joke, making it real enough that they even go to war over it. Agrabah itself is vibrant and diverse, with good/bad areas, an economy that's an actual source for a few storylines, and a class division that Aladdin isn't shy about discussing. The writers certainly aren't getting into a in-depth exploration of Middle Eastern socioeconomic issues but Aladdin does acknowledge the struggles of its poorer citizens and keeps Jasmine and the Sultan abreast of the plight of its lower-class people. Again, way too many shows, even today, ignore the people of its locales, making them into quick joke machines that somewhat lean a bit on the insulting side (I love Star Vs. but I do hope that show fixes that issue soon).
And as much as I love the show, I do have to bring up the inevitable weaker elements. The female characters, up until the appearance of Mirage, don't really get their due. There's a lot of talk about Jasmine being the cliched sweet-but-spunky adventurous princess, but the execution of that doesn't quite gel – not until the third season (and even then, the third season is an unfortunate disappointment overall, as the clever storytelling falls prey to weird amounts of exposition and tedious executions). Sadira and Saleen are mostly driven by weak "pining for Aladdin" stories, but at least Sadira gets a pretty good redemption arc in her third appearance. Anything involving Odiferous is inherently off-kilter, as the village is portrayed too jokingly, despite the show being aware of it. And while the show tempers Genie most obnoxious behavior perfectly for 90% of the time, he does go overboard in a few episodes, making them particularly unbearable. "The Game" and "Night of the Living Mud" should be avoided.
Yet when Genie is tempered properly, especially tied to storylines and plots that rival the more complex and audacious plotting one gets from Doctor Who, Aladdin works in ways that surpasses every Disney Afternoon show before and after it. Most episodes are so fun and so involved that you'd find yourself failing to question the extent of Genie's powers, or examining the minute details of the more intricate plotting (the episode "Lost and Founded" rips through a time-travel story so quickly and effortlessly that you don't even have time to examine potential paradoxes!).
As such, the inevitable question will arise: "You thought this show was better than Gargoyles?" Which is a valid question, but also more complex than you'd think. As I tackle Timon & Pumbaa in the next few weeks, I am going to attempt to explore an overall view of the Disney Afternoon in general, its expectations and its limits, and why Disney seems so reluctant in re-introducing perhaps its greatest era in animation history. For the record, I do think Aladdin is a stronger show than Gargoyles; part of that is personal preference, but part of that is Disney's ultimate visionary goal, which was more strongly realized in desert sands of Mesopotamia than it was in the urban sprawl of New York City.