Archive for category Video Games
A piece of concept art I had commissioned from the talented nanook123 (Trish Forstner) at Animated Visions:

One of the elements that will be strongly encouraged in the webtoon is the inclusion of smart video game based gags, jokes that go beyond the simplistic and almost insulting types of VG jokes used on most TV shows. (They tend to keep jokes focused on the overall video game aesthetic (running and jumping) and keep to obvious parodies of Pac-Man, Super Mario, Asteroids, Sonic the Hedgehog, and Frogger.)
Since we know that a large percentage of the population play games MODERN games like Fallout, Left 4 Dead, Uncharted, Bioshock, and Kingdom Hearts – I hope to allow plots and stories that homages/parodies these very well-known games, without coming off as pandering.
Beyond that, though, it's cute, and I think the piece is amusing without fully understanding the game this piece is parodying.
I hope to make one more regular blog update before the New Year.
Okay, this needs a lengthy introduction.
I mentioned this briefly on my write-up of the Super Mario Bros. movie, but I was, and still am, an unabashed Super Mario fan. I've been behind on the games as of late, although I did play Super Mario Bros. Wii and I am currently on-and-off with Super Mario Galaxy. But the premise, background, and history of the Super Mario Brothers universe is almost like a second world to me. I love its whimsical freedom along with its dark undercurrents; it's really a lighter form of the Harry Potter universe without the genocide.
While my fanship waned (somewhat) over the years, I have amassed a small collection of the available Super Mario Bros. (SMB) comics that were published in the early 90s. There was two overall anthologies: The SMB comics under the Nintendo Comics System, published by Valiant Comics in 1990 and 1991 (which also produced a run of Legend of Zelda and Captain N series), and the Super Mario Adventure volume, which was the compilation of the Nintendo Power series published when that magazine was the best thing out there, back in 1992.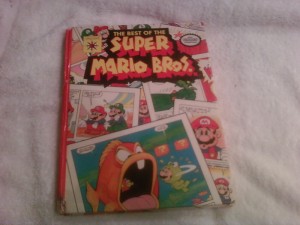 The SMB Valiant series was released in a hardcover edition in 1990, which contains the "Best of" of the lot, not so much all of them. Owning that, and Edition #1, I think I only failed to read 2 others that may exist out there in the void, and these comics are not easy to find. Still, the fact I still have them gives me a sense of… shameful pride? Prideful shame? Something.
I happened upon this blog here, a fellow blogger who reviews and analyzes various Ducktales/Scrooge McDuck Disney comics, and I truly enjoy the write ups, so much so that I decided to do something similar with the collection of SMB comics I have, in addition to the CHILDHOOD REVISITED series, the various updates to the webtoon, and what ever entertainment issue I want to write about. Truth is, I wanted to do this for a while, and mister Geo X just gave me the kick in the pants I needed to start.
I will try to impart as much info as I can about the writers and artists for each of the comics that I can find; truth is, it's a bit tricky since it was so long ago and it's difficult to find and confirm that some of these current comic book creators indeed worked on this series. In all honesty, some of these comics are of various quality, and save for one or two, you… wouldn't really want them in your portfolio. But I'll try my best to blend together a general recap of the story, a light review, a bit of analysis and information, and some good ol' fashioned nerd-love for the SMB world.
I'll go in the order of the hardcover anthology, starting with the first offered comic: "Just Deserts".
——————-
"Just Desserts" is actually a great comic to begin with, as it's both a good mix of what could be great about this series, as well as what could be flat-out abysmal. Here, the art is fairly decent all around, and the story starts off cute and intriguing, but ends with a "What the fuck" (I don't do WTF, as W is not a great letter to use as an initial) type of twist that would make Shyamalan look at it incredulously.
We start of with what looks to be the precursor to Super Mario Kart as well as the introduction of who will be a recurring character: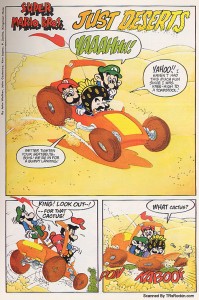 I'll talk more about The King, King Toadstool, the father to Princess Toadstool, at length in a future comic where he's much more prominent, but the basic gist is that he's a bold, lazy, slightly-arrogant and simple-minded fool. You get the sense that Princess Toadstool does all the real royal duties, but it's surprisingly clear that 1) she's her father's daughter and 2) isn't as smart as another future recurring character. I'll talk about him, as well as Princess Toadstool, later as well. I'll tell you right now, though: I LOVE how the comics portray her.
I digress. Our sibling heroes and king are on their way somewhere – and they get stuck when they run over a cactus and get a flat tire. It's important to note that here, SMB takes a very cartoony approach to its storylines, unlike something like Sonic the Hedgehog, which is more mystically serious.
The king lazily forces the brothers to fix the flat. Meanwhile, Bowser is watching their struggle in a hidden, underground pyramid/hideout: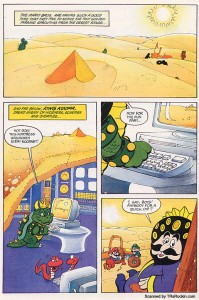 (That is the old design of Bowser, AKA King Koopa, in the days when games were still 8-bit. He's even called King Koopa in this comic run as well. I'll get into the revamped villain design later as well.)
Our king sudden spots a pool nearby, and dives right in. The brothers are skeptical that it might be a mirage, but after watching the king have fun, Mario and Luigi join in —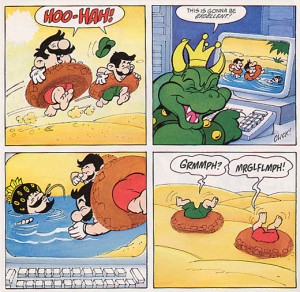 — only to be duped by the entire scenario being a mirage. The king's been taken while the brothers been busy, which sets up something pretty creepy: Mario and Luigi have to find him in the HUGE expanse of a barren desert. In theory, this could be a pretty tight adventure. Expect not: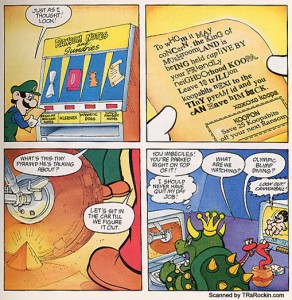 Okay, while the convenience of the ransom note vending machine is pretty lame, it doesn't kill the plot completely. But where is this tiny pyramid?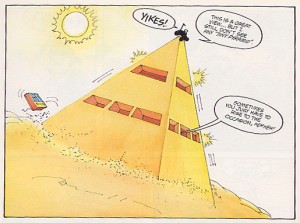 I included this panel because it's a really awesome canted perspective shot. And Luigi's right: the pyramid's big now, so they still don't know where this "small pyramid" is!
Only one thing to do now: just book it!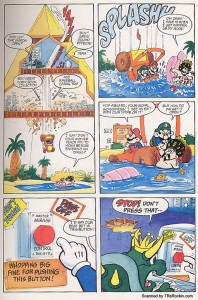 This is pretty amusing – the progress cut short by gravity. I really dig how the first panel portrayed that. Also, very convenient, as they find the king AND a nice pool to cool off in. The escape, however is where the problem arises. I mean, the emergency button near the pool is ridiculous but plausible in a far-fetched kind of way, but: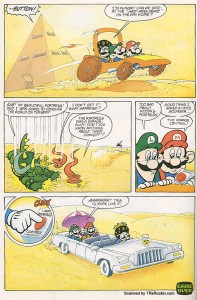 — the idea that the entire thing, pyramid, plan, and all, was a mirage is just too far out there. If it all was a mirage, then how was it originally created? I get that the device didn't create mirages so much as create realistic holograms, but there's no way to play the "hologram created the hologram" card without going cross-eyed. It's a chicken-and-egg problem.
Still, I will say for the most part this is a fun little comic and the art is fairly great all around (although, the settings tend to be better and more consistent than the character designs), with little bits of visual flair here and there to make this issue stand out. Vibrant colors is key to any SMB outing, and here, the artists do a decent job. The writers miss the boat (or should I say limo?) at the end there, but for a primer entry into this series, it's a decent one.
I should also mention that most of these and the future screenshots and crops are from this site: http://trsrockin.com/ncs_smb.html. I thank them for the scans so I don't have to scan my edition, which is almost falling apart at the seams anyway. You can read most of the comics there.
I saw Inception three weekends ago and, for the most part, it rocked. In fact, I mentioned on a comment board that Inception "(intellectually) rocked."
It got me thinking, and I'm not talking about the multiple layers of what was a dream and what was real in the movie. It got me thinking about the oft-debated role of entertainment in the world today, of the power of pop culture and the supposed responsibility it has towards the viewing public at large. Should it be a purely-entertaining spectacle, a visual and narrative means to appeal to the "lowest common denominator" (a phrase which I loathe to the core, in that it belittles the worth of the average person – to the point that they lash out into, oh, let's say, Tea Partier-like mentalities)? Or should it be a thought-provocative, challenging piece of work that really forces its audience to ponder the world around them?
After hits like Inception and The Matrix, can it be both?
Short answer: of course not. Financially-speaking, it's impossible. You need the best screenwriters, the best directors, the best action-choreographers. You need to spend time tweaking the script to have all the depths necessary to push narrative boundaries, yet maintain enough comfort food (action! explosions! hot womens!) to keep regular audience members entertained all the way through. It's known as a high-concept film, and you can't finance all of them at such a high level of quality. That kind of money just doesn't exist.
Yet, even with small budgets, I would think a certain amount of intellectual-to-entertainment value could be maintained. Look, I'm all for explosions, fart jokes, gratuitous sexual scenes, and all those silly moments films and TV shows have to hook viewers. I'm a guy. But it doesn't take a million dollars to put all of that into a framework or layer of content that seeks to say something about the world or human nature. Even if it's nothing new or ground-breaking, a form of entertainment can really hit upon a certain truth that affects its viewers at a deeper level, even if that depth is skin deep.
Part of it is on audience members. Alan Sepinwall is partially credited for the new wave of TV criticism that focuses on close analysis of television shows, which corresponded perfectly with this "golden age of TV" that we're apparently experiencing. There is much to be said of the kinds of great, heavy moments that TV is indeed producing, but let's not be coy – these shows are also immensely entertaining. Breaking Bad has all the rich, wonderful elements worthy of dissecting: issues of identity, influences, family, violence, and so on. But it's also the most entertaining, exciting, balls-to-the-walls hour on television today.
Sepinwall's style of analysis is approachable and clean, and has been embraced by so many critics and spread across so many fields; video games and comics and music now have episodic, closer readings of their contents, as well as still maintaining their basic core. In time, cartoons of every level will begin to have something like that (outside of Pixar films), something that I'm hoping to be a part of. [Hint, hint.]
I digress. Part of the sudden fall of the indie wave in the post-Tarantino landscape was because of the number of boring indie films. These filmmakers lacked the training and experience to maintain clear pacing and exciting stories (melodramas can be exciting!), and only get caught up in their intellectual exercising. Contrast that with the vapid yawn-fest of this summer's flock of movies – all spice, no substance. And financially, it showed.
(Note, I'm still believe there is a place for fun, silly movies like The Expendables and deep, thematic movies like There Will Be Blood. There's always room for both types, and depending on the mood I'm willing to watch them both. However, in terms of increasing the quality to the current-television, 90s-animation, or 80s-comics level, it's possible to do both.)
Education and critical thinking don't have to be pretentious, maudlin, platitudinous acts. Which classes do you best remember in high school and college? The lame ones? Or the ones where your teacher or professor tried to bring life into the curriculum? It's not that average audience members ignore smart material. It's simply that you can't present just the smart material. You need to jazz it up. It has to be presentable, fun, and engaging. It's something schools should be trying, and it can't stop once you reach the theaters.
With this new wave of TV, and the sad summer save for the hits like How to Train Your Dragon, Toy Story 3, and Inception, entertainment, even high-budget summer blockbuster, will hopefully try to be smarter, more grounded with its stories, and really seek to prefect that blend of high-octane excitement with narrative substance.