Archive for category Writing
In an industry built on nepotism and favoritism, why does Affirmation Action always get portrayed as the shitty concept?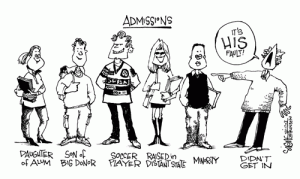 So there is an episode of 30 Rock called "Lee Marvin vs. Derek Jeter" where an African-American writer (nicknamed Toofer) of the "show within the show" learns that he ultimately got his writing position due to Affirmative Action. Upon realizing that the network hired him only to fit a quota (paid by some ridiculous side business fund no less), the character quits, because he doesn't like the idea that he was hired simply to bypass a law, not by the merit of his work.
What makes this so odd is this character has been working, I assume, quite successfully at his job up until this reveal. A job, mind you, that's so ridiculously hard to achieve that the very field of writing ENCOURAGES to use every advantage one can get to achieve such a position. So for Toofer to quit, despite having proved himself and seemingly having strong relationships with the crew, is a direct example of the white (well, Euro-centric) misappropriation of Affirmative Action, its reasons, and its implications. It falls into the same trap that Affirmative Action detractors often do – the implication of reducing minorities to incapable have-nots forced into positions they don't deserve (and they don't believe they deserve), which results in another (presumably white – because in this example, the competition is ALWAYS presumably white) capable person not getting the job. Hollywood always perpetuates this myth, and it needs to stop.
I don't watch 30 Rock. I tried to get into the show, but I always found it comically lacking. I'm very hit or miss on Tina Fey – more miss than hit – but the show itself seems to try and mine comedy from the eccentricities of show-biz and the characters within it, without committing to its silliness. It may be smart, but it's an "in the know" kind of smart, an esoteric satirical criticism that I level at Tropic Thunder. It's funny, but in a "THAAAAAAT'S SHOWBIZ!" kind of way, and that tends to put me off.
This Affirmative Action episode tends to epitomize why. Hollywood (and earning success within it) is couched heavily in nepotism and favoritism, the results of lavish spending in regards to meetings, lunches, parties, get-togethers, mixers, and so on. This isn't just Hollywood though – it's the nature of the collegiate/employment beast. Networking is harsh, a commitment of hours and handshakes, sucking up and partying down with the people you wish to know that can help you get that one position, that one assignment. It forces you to do things you don't want with time you don't have to please the right people, and if you have any advantage over some other schmo vying for the same position, you take it. Is this fair? No. But this is America, and this is what capitalism hath wroth.
So to see a minority character genuinely get offended because he was hired through Affirmative Action is misguided, primarily because it implies 1) the network hired him solely because he WAS black and never bothered to also check his resume and references, and 2) that he's well-off enough to dismiss one of the most sought-after jobs in Hollywood because of pride. It's, to be blunt, a white person's worldview of the universal truth of pride (and I sure have my issues with "universal truth" when it comes to writing), in relation to a concept that is much more complex and historically contextual than "quotas".
Chris Rock summed it up best. Paraphrasing here: "I'm not saying to hire me over a white person who's more qualified than me. But if we're both equally qualified? Fuck him!" It's harsh, but then again, so is the job market, where unemployment is ridiculously high, and especially in Hollywood, where rumors abound of writers taking up extra work, for free, to keep hold to their positions. Being vicious and mean may be an extreme way of looking at it, but in the struggle to get that one job, ignoring one's competition is the norm. I do not like this, but until the system changes, it's the sad truth.
Affirmative Action has become the egregious, out-and-out example of this. After all, it's a legal mandate enforcing that unqualified minorities are put into strong, real positions of merit, all as a response to slavery as work-based reparations. Actually, nothing in the previous sentence is true. Both white people and black people so often misunderstand and misappropriate this policy that it becomes embarrassing, a taint so often narrowed down INEXPLICABLY to a fight between two people, who ALWAYS is the unqualified black person vs. the qualified white person, which is inherently racist in itself. We, in Hollywood's so-called "universal truth," like to think that the inherent merit of one's talent is strong enough to overcome this embarrassment – strong black men standing up for themselves against the the scourge of Affirmative Action's belittling nature and quitting – but surely we'll never see that kind of strike-out against, let's say, daughters of producers or friends of directors. How many writers refused a job when their mediocre scripts were read but got the job because "they got a famous actor on board"? As Kendra James over at Racialicious put it:
"By your logic if a white girl with your background doesn't get into an Ivy League college it's because there weren't enough spots for white students that year. But if a non-white girl with an identical profile is rejected who do they blame? No one. They don't have the excuse; they simply weren't good enough."
Affirmative Action, for all the bullshit said about it, is a law that's really about government employers to hire people not based on race, creed, color, gender, religion, or sexuality. While it encourages employers to actively seek out qualified people within that framework, it doesn't not force them to hire a certain number of minorities. There is no quota. It's a legal response to ensure that minorities were not fired or passed on because of their race, creed, color, gender, religion, or sexuality. Private companies may have their own internal policies, but they're not legally required to have one.
Affirmative Action – at least the idea of which – is best thought of as a networking policy for minorities, who have historically had problems networking their way into positions, even low-level ones. Think about it. How many friends do you have? How many minority friends do you have? Now, how many of them are in the same field of work as you? How many of them would you recommend to your employer for a certain position? How many of you would put your own position at stake vouching for this person? The number can't be high, and therefore, the number of minorities in certain positions continue to be low.
We like to really think of jobs and mobility as the true representation of meritocracy in action, but it's simply is not the case. Job hunting is, and has always been, cut-throat and cruel. It's favoritism and nepotism; it's going to classes and and cross-country moving and paying to perfect that resume; it's impromptu meetings and sucking up and song-and-dancing through interview after interview after interview. The whole process is, and for the most part, has always been bullshit. Yet Affirmative Action is the comic boogeyman, the ugly policy that demeans Toofer to the point that he can quit on a dime? That 30 Rock, among other shows, portray it like this is insulting. This is not something that pleases me, but at least have the foresight to see it as part of an entire culture of employer-based nonsense. Don't single it out. Make it part of the full nature of the falsity of meritocracy, not an embarrassing racial issue.
So yeah, episodes like this do not really give me much more of a reason to bother with the show, and it kinda surprised me to see a number of critics praise it and the show in general so much by attacking race head-on. Maybe it does, but it does so just like The Blind Side and The Help does (albeit in wackier fashion); through a white person view of what should be, without historical context, socioeconomic relevance, or comparative discussions.
Is IronE Singleton aware that the internet's support for him is ironic in nature? Hell, is the internet aware? (SPOILERS for the TV show The Walking Dead, the movie Chronicle, and the video game Binary Domain.)
Perhaps the support is part comic, part pity, and part ironic. Perhaps there is legitimate respect in Singleton's portrayal of T-Dog, the now-deceased African-American character on the hugely popular but extremely flawed The Walking Dead. Perhaps the internet – showing a surprising amount of critical savvy in the realm of developed characters – supported Singleton because he was working with so little of a character, with so little worth. T-Dog, metaphorically, was awesome because T-Dog, literally, was not, and Singleton did the best he could.
This is nothing new. African-American characters dying in horror films (and in all forms of entertainment nowadays) have been normalized to the point way past parody. I'm not even concerned about that, per se, as problematic as it is. The Walking Dead, however, seem to have codified it into something uncomfortably explicit – practically a rule of the show. To be specific, when another African-American male was introduced in an episode, they would kill off the previous one. They killed T-Dog when they introduced Oscar. They killed Oscar when they introduced Tyreese. They barely even let an entire episode pass by without two African-American males alive and well, and they never even spoken to each other at any length. (To be fair, there are two African-American females – Michonne and Sasha [and they have not talked to each other yet either]. I don't have too much hope for Sasha, but as of right now, progress is progress.)
T-Dog's death was particularly sloppy. A character whose development was as detailed as a sponge, T-Dog suddenly had a religious epiphany as he sacrificed himself to save Carol, which left Glenn alone with the wonderful, completely-out-of-nowhere exposition of detailing T-Dog's background (he apparently drove old people to church). I'm willing to give a little benefit of the doubt though. The Walking Dead has had a number of issues behind the scenes, with creatives and executives alike. It has a number of issues with its female characters as well – a point that deserves its own essay and has been written about extensively. But being alive, they can redeem themselves – or at least redeem themselves in death, which Lori in some ways had done (lesser so with Angela, but writing isn't the show's strong point). The Walking Dead has made its black men disposable to the point that two black characters can't even talk to each other, without a dramatic reason why. The Token Black Man Death has gotten so uncomfortably common that I can't even laugh at it anymore.
I was watching Chronicle, a short but interesting film that takes on the emotional struggle of mentally unstable teens through the thematic use of burgeoning super powers. It was a taut, surprisingly thorough film that kept me quite interested… up until the point that they killed off Steve (Michael B. Jordan). I wish to god that didn't effect me like it did, but my heart sank and I had to leave the room for a moment. Steve was nice, charming, and genuinely helpful towards the end of his life. He tried to really help the troubled teen Andrew as he grew more angry and antagonistic. The film clearly used that death to spur the impetus to get Andrew's cousin, Matt, to deal with Andrew once and for all. But the "death as motivator" trope is already overdone. Adding that racial component only speaks to the systemic issues within the creative field.
How overused has this become? When reading a list of underrated video games of 2012, many people mentioned Binary Domain as one of them. And it was a surprisingly solid game, with tight mechanics, great graphics, and a delicious and deep sci-fi plot bolstered by very unique, personality-filled characters. It didn't take itself seriously, and the VO was perfect for the tongue-in-cheek dialogue. Boss fights were tough and huge. Everything was running smoothly… until the end. The black character, Bo, sacrifices himself to save the love interest of Faye, in service to protagonist, Dan. There's a dramatic, touching scene of Dan talking to Bo as he lay dying. It's well done, especially in context with the series of big reveals that came before it. But of all the characters – and there are a lot of them – did it have to be Bo? And why only him? There's five other perfect characters that could have been the lamb.
Here's the kicker. Three completely different pieces of entertainment from three entirely different media all killed off their only black male characters solely in service to the white protagonist. This is ridiculous. And yes, people of all races, generally speaking, were killed (not so much in Binary Domain, but it's a moot point since mostly everyone were robots). And I'm not claiming that creators should be forced to do something they do or do not what to do, creatively. The problem is that there are already so few black characters in our media, fewer of them developed beyond a single note. (Odd, since The Walking Dead is located in Atlanta with a high black population, and Binary Domain often deals with military groups, groups that often have large African-American numbers.) Why can't they live happy lives? Why can't they survive? Why are they seemingly always killed to ensure the happiness/survival of their white peers? Why did THREE totally different development teams all make this same decision?
Women in media are killed for white, male protagonist to go on revenge sprees (add in a little rape or refrigeration to make it "serious"). Black men, on the other hand, are killed in sacrifice to save their Caucasian others. Both are awful, but at least now there seems to be an attempt to really make it a point to bring the treatment of female characters in media to light. African-Americans and other minorities need to definitely speak up and campaign strongly against this, and demand better from writers and creators.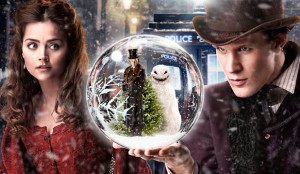 Of all the events that transpired in the Doctor Who episode "The Rings of Akhaten," the one thing that stuck with me was the moment that the Doctor and his newest companion Clara talked with an alien about renting a space moped. In lieu of cash or credits, the aliens on the world of Akhaten wanted objects of sentimental value. The more sentiment behind the object, the Doctor explains, the more its value, its worth. The episode continues then with all these other concepts like gods, stories, memories, songs, meaning, and "the most important leaf in human history" (and we'll get to this in a second), but for the most part I kept thinking about this concept of buying a tangible object with another tangible object that has intangible meaning to a single individual. Then it hit me – this really is fucking stupid.
Why? The idea of an alien species valuing an object with meaning behind it is not even science fiction. It's not even LIGHT science fiction. It's the hacky, emotional reject of an young adult fiction novel. Of all the goofy, fun moments in The Fifth Element, no one said that the idea of "the fifth element being love" was one of them. As dark as Harry Potter gets, Harry surviving Voldermort's attack when he was a child due to his parents love is not exactly well-respected.  So when Doctor Who trades Clara's ring (which was passed down from her "mum") for the moped, we're way past a soap operatic science fiction show. We're entering allegory territory. The problem isn't that science fiction can't have allegorical concepts; it's that the overall show as an philosophical allegory is just not interesting. We're not watching a show with real characters and crazy plots that build around a theme; we're watching a show about concepts, ideas, and themes, embodied in random characters and plots. Doctor Who is all about meaning now, and it's bothering me.
Moffat seems strangely obsessed with myths, concepts, and intangibles. He's weirdly taken to ideas, ideas so specific that it's off-putting. His clever-by-half take on the series embodies this, where characters seem perfectly quippy and quirky, speaking in Lost-ian like language that no human (or alien!) would actually, or even theoretically talk like. It's getting to House-like levels of silliness now, when in it's final three or four seasons, every character talked like observational theorists, able to suss out the essence and emotions of every other character. Everyone became a fucking detective of human life.
The entirety of Doctor Who is now a "fucking detective of life". This would explain everything – the lack of urgency, the labyrinthine story arcs, the obsession over the "Doctor Who?" question (which was always played for a joke… until now!), the questionable presentation of Manic Pixie Dream Girls as companions, the ideas of fear and love and song and memory being catalysts for plot contrivances, the nonsensical EVERYTHING involving River Song, the ruination of potentially great monsters like The Silence and The Fallen Angels. All of these plots and characters are nothing but vessels for Moffat and his writing staff to muse on life and the universe's greatest mysteries, like the meaning of love and fear and friendship and death. Moffat probably decided to avoid returning to Daleks because he couldn't make them into a metaphor for anything. The Cybermen, though? The cold, mechanical robots with no feeling? Oh, yeah, we'll see them again.
Beyond this all being questionable sci-fi, the bigger issue is that these themes and his opinion on them are NOT universal. He doesn't seem to present a nuanced side to these things, nor seem to delve to much into various opinions of it. His arc concerning the Doctor's death could have been a powerfully dramatic moment for the character. Matt Smith sells it well, but it ultimately leads to nowhere, branching out into bizarre one-note areas, like in "Let's Kill Hitler," where he was poisoned and, for some reason, ran back to the TARDIS to talk to an image of a young Amy Pond to… express regret? It's a nice moment but had absolutely no bearing in the actual plot of the episode and felt rather extrameous. Or in "Vincent and the Doctor," a dramatically powerful episode to many, but its clear that Moffat wanted to talk about depression and loss, not necessarily create an actual plot-driven episode of TV that supposed to last 52 minutes. (And the less said about "Closing Time," the better.)
And so we're back to the "most important leaf in human history," which – what? The most important leaf in human history gave you a raccoon tail and ears and allowed you to fly. Clara, your leaf being apparently stronger than the history of the Doctor's travels is nonsense. Even worse, his metaphorical nonsense doesn't even hold under scrutiny. Moffat (or in this case, writer Neil Cross) holds that history is finite but the future is forever, and somehow the leaf represents infinity but the Doctor's life doesn't, despite the fact that the Doctor, presumable, will be living a LOT longer (and his experiences bare more for the future), but the leaf actually represent past events (the marriage of Clara's parents) and kinda doesn't bare anything to the future, save for what Clara would believe and — do you see what I'm getting at here? A whole lot of run-around bullshit. And it's bullshit that lacks the foresight of contrarian and differentiating viewpoints, so it's not even WELL-THOUGHT bullshit.
I was somewhat pleased with "Cold War," which gave purpose and agency to the characters, and even allowed Clara to feel vulnerable and unsafe for once. I wasn't too pleased with the deus ex machina of the Ice Warrior's arriving ship, and it seemed like Clara's fears were tossed aside in the end. But at least those critiques come from elements of substance, writing, and character, instead of the broad swath of allegorical ideas that seem to be present nowadays. Here's hoping that we can see Doctor Who become more character and plot based as the season winds to a close.