Archive for category Writing
5. All Hail King Julian – "Crimson and Clover"
All Hail King Julian attempting to mine observational commentary on the relationship between science and religion was a colossal failure, but that didn't make the entire show from falling apart. In fact, it had a better (if not perfect) handle on more grounded topics, like the ridiculousness of fashion trends, or the absurdity of capitalism at its most callous. It's difficult to cull that commentary out of something so wildly wacky, though; but character work is another matter.
What makes "Crimson and Clover" such a surprise is how it managed to explore and deepen the silly, but solid, relationship between two wacked-out characters: the nonsensical King Julian and his loose-cannon bodyguard, Clover. Crimson, Clover's sister, arrives and hits it off with Julian (leading to a not-at-all subtle, off-camera sexcapade), whom Clover suspects is using for nefarious purposes. In a clever use of a narrative twist, Crimson and Julian's relationship IS genuine (Julian's unbounded energy matches Crimson's constant need for entertainment), up until the the latter's fear for commitment comes through. Sure, it ends with a cliche "men hate commitment!" climax, but the episode manages to delve into some real truths about its characters, from the broken bond between Crimson and Clover themselves, and the clear, friends-only (as in, non-loving) connection between Clover and Julian themselves. It's the only episode with that level of emotion in the entire run so far, but it's note-worthy.
4. The Mr. Peabody and Sherman Show – "Peabody's Parents/Galileo"
Bet you didn't expect this! Well, honestly, neither did I. The Mr. Peabody and Sherman Show, Netflix's "updated" take on the original segment from Jay Ward's Rocky and Bullwinkle Show, hardly had much of a marketing push, and to be clear it's not really that great show. But it is fascinating, primarily how it establishes itself: as a late-night talk show with an assortment of insane characters, variety show bits, and mid-show shenanigans. It's inspired, for sure, if not always effective, but it works better than it has any right to, especially if you factor in how it both matches and improves on the original show's animation style.
"Peabody's Parents/Galileo" takes all that into consideration with rich episode of visual niftiness and narrative intuitiveness. The normally confident Mr. Peabody becomes flustered when his parents – two regular, non-talking dogs – come to visit, their generic barks interpreted as a series of forceful, embarrassing comments. The seemingly "flat" visuals, culled from Ward's original designs, get some delightfully clever upgrades, like a 360-camera shot around Mr. Peabody as the audience laughs at him, and some John K.-esque expressions as the normally-composed canine professor goes crazy. It's funny and inventive, with a bit of character-study to boot. The entire show doesn't match that level of sharpness, but it's definitely an episode that showcases it at its full potential.
3. Gravity Falls – "Not What He Seems"
It'll be sad to see this show go, but Gravity Falls has been such a funny, inviting show that, in its own way, going out on its second season feels like the right choice. Part of me is disappointing – for as great as this show is, it never really managed to reach its full potential (a lot of side characters never got past "cliched comic figure" and about forty percent of the episodes, while fun to watch, are mostly irrelevant). Still, nothing will take away from Alex Hirsch's signature, influential show.
"Not What He Seems" is probably the show at its best, in which a shifty Grunkle Stan finally comes "clean" after a season and a half of secrecy. The full explanation of his actions occur in "A Tale of Two Stans," but "Not What He Seems" has the smart-mouth senior citizen kicking ass and taking names (particularly in a fantastic animation fight sequence in a gravity-shifting interrogation room) as he desperately tries to convince his wards – Mabel in particular – that his behavior is all for a truly important reason. Stan's sketchy antics all season are put to the test against genuine, familial trust, and viewers are the winners.
2. Steven Universe – "The Test"
I know this is going to turn some heads but hear me out. Steven Universe has been a revelation, not just in its massive, universe-expanding world-building, but in its exploration of gender/sexual identity and relationships. Choosing a "best" episode of Steven Universe is like choosing a "best" slice of pizza from a whole – it depends on the a host of personal reasons and really, it ultimately doesn't matter. Still, I tend to be less interested in the overall storyline and more interested in the small, individual explorations of coping with new, unidentified feelings (Peridot's story has been a highlight.)
So, yes, "Jail Break," "Sworn to the Sword," and "Cry For Help" are excellent, but "The Test" felt truly transitional, the moment the show acknowledged a lot of rich, bubbling tensions to the surface. Steven is sent on a mission by his Gem guardians only to realize it was a can't-fail farce. Upset, he manages to sneak a view of the Gems discussing their actions, which dovetails into a honest, complex admission of their utter cluelessness on how to handle someone like Steven. These Gems are complete novices to raising a half-Gem, half-human kid, let alone the full concept of love itself, with Amethyst admitting in full honesty how terrible they are. Parenting is hard, a complicated act made all the more confusing with aliens involved – which Steven realizes when he plays into their farce in order to lift their spirits. It's just a perfect moment, which, in its own way, leads to more trust, more missions, and more epicness.
1. The Amazing World of Gumball – "The Egg"
I've been singing my praises of The Amazing World of Gumball for ages now, as its pure, audacious animation, it's pin-point humor, and its surprising forays into genuine emotional/social commentary are quite frankly some of the best narrative/visual choices on TV today. It takes its cues from The Simpsons and South Park, but channels them through its own unique, insane visions, unafraid to be cartoon-y and wacky, while thoroughly exploratory on its central family, lower-class living, the absurdity of suburbia, the inane school politics, the artifice of TV cliches, and so-on. It can do anything, which tends to clutter other shows, but Gumball has been, for the most part, on point.
"The Egg" is essentially everything I mentioned above distilled into one 11-minute episode of hilarity and pathos. Gumball can be as sad, depressive, and as dark as any other "Golden Age of TV" show can be, but not only does it keep one sure foot in the realm of positivity, it actively pushes back against those depressive forces. Nicole's desperate acts to showcase her family as perfect to the eyes of a snooty mother named Felicity is immediately crushed by said mother's pure, direct, vitriolic read of Nicole's darkly sad life. The thing is, Felicity isn't wrong, but instead of wallowing in the sad truth of questionable life choices, Nicole turns into a dragon and eats her. It's pure cartoon aesthetics but representative of the family's (and the show's) refusal to reflect in regret, especially on the backs of one's family. In other words, "Fuck that sad sack noise." Add to it some genuinely great jokes and a sweet, if kind-of screwed up, connection between Anais and William, and you have a great episode that manages to say so much in so little a timeframe.
5. All Hail King Julian – "He Blinded Me with Science"
All Hail King Julian is a cluttered, messy show, but its commitment to its ridiculous cast and concept keeps it chugging along, even if not many of the jokes work. It struggles with any character beyond its main four (Julian, Mort, Maurice, and newcomer Clover), however, and it can be tough to support the show when an episode is working with a bad idea that it can't completely wrap its narrative around. It's also a show that seems to struggle with filling a full 23-minutes, with awkward pacing and clear narrative stumbling blocks.
Take for instance, "He Blinded Me with Science," an episode that tries so hard to engage with the interplay between science and religious. Far be it from this show to attempt such a risky topic, but All Hail King Julian handles it so sloppily, especially considering how silly the show handles topics in the first place. Masikura, the religious-figure stand-in, is just not-compelling, and it's clear from the onset the writers hardly take her proclamations with any type of seriousness – the kind of seriousness that would be needed to make this thing work. Timo isn't a great character either but the show is a lot more sympathetic to him, and its ultimate thesis – that religion and science can indeed work together – barely holds up at the end, when it's Timo's scientific know-how that really saves the day, way more than Masikura's prophetic visions. It's the type of issue that needed some sense of nuance, and there's no way King Julian would be equipped to handle it.
4. Dreamworks' Dragons: Race to the Edge – "Reign of Fireworms"
Nothing is more disappointing, overall, that the TV show spinoff of the How to Train Your Dragon franchise. Cartoon Network was always sketchy, but even they had to know that Riders of Berk and Defenders of Berk were not good shows, what with barely advertising or airing them. Netflix picked up the slack with Race to the Edge, but it's bizarre they also didn't get the other two seasons for viewers to catch up. (Maybe they know it's not a good show as well, as I expound upon all the problems here.)
Really, most if not all the episodes are fairly terrible and/or boring, but "Reign of Fireworms" is arguably the worst. The twins, Tuffnut and Ruffnut, are comic relief idiots as best, and at no point during all three seasons are they provided with much depth or nuance. (Which is fine if they were funny, but they're not.) But to give them fake "real" power when they find themselves the rightful ruler of the island the riders find as their home base? It's an exercise in patience, watching these two morons become assholes as they boss the others around and ruin everything until – surprise, surprise, they realize that they need help and shouldn't be dicks. There's nothing too this lesson or the episode: the twins don't really grow from the experience, we don't learn anything more about them, and the episode isn't narratively or visually interesting. It's just not good, which is representative of every issue this series has.
3. My Little Pony: Friendship is Magic – "Party Pooped"
My Little Pony has always, always struggled with how it handles groups outside its Mane6, and this season didn't really do much to show it has gotten any better at it. There were some highlights in MLP's fifth season (I think "The Cutie Map" two-parter is stronger than most people feel it is, especially when connected to "The Cutie Re-Mark" two-parter finale, and "Crusaders of the Lost Mark" is genuinely great), but some episode were just weirdly… random. Since when was Rarity such a bookish nerd?
"Party Pooped" is pretty much garbage, though. In an attempt to connect diplomatically to a new society of Yaks, the show pretty much portrays them as destructive, spoiled monsters. It's gross to watch the ponies not only tolerate this behavior, but actively try to find a way to appease the Yaks' nonsensical requests. Pinkie-Pie, who strangely received a heaping helping of development this season, bore the brunt of this task, and the episode opted to focus on her commitment to making people satisfied at the expense of their own health and well-being. The true lesson of the episode should have been to tell those Yaks to piss right off, but it's yet another example of MLP's weird self-satisfaction of being morally and knowledgeably right (and therefore superior) over everyone else.
2. Teenage Mutant Ninja Turtles – "Turtles in Time"
Has any television show had a bigger drop in quality than Nickelodeon's Teenage Mutant Ninja Turtles? It's first season wasn't great but it showed promise, but it squandered that promise with some of the laziest and dumbest episodes in a while. "Pizza Face" was a previous low point, and managed to make last year's worst of list, but at no point did the show get better. The "April's Farmhouse" episodes are some of the worse examples of television in a while. "The Croaking" is an awful parody of Napoleon Dynamite for some reason, and "Race of the Demon" is crappy knock-off of Christine. Arguably that latter episode would have definitely made the worst-off list this year if it wasn't for the fact it aired in 2014 ("Pizza Face" was worse though). With its ambivalent use of "My ninja" jokes, it's practically unwatchable. (Seriously, how did those "my ninja" jokes not get called out?)
2015 episodes were not better, and while "Meet Mondo Gecko" made a hell of a case with a terribly annoying portrayal of a teenage skateboarder weirdly cool with his horrifying transformation to a 90s-era, video game gecko mascot, "Turtles in Time" wins by ruining an intriguing premise (and, by proxy, the name of one TMNT's best games). The 2003 version of TMNT handled Renet's time-twisting screw-ups with an epic scope and an endearing wink; while Renet herself was annoying, it worked because she redeemed herself, especially against a truly terrifying, motivated Savanti Romero. "Turtles in Time's" take on the story callously tosses Renet into the Turtles' time on a whim, makes her annoying without a sense of redemption, completely makes Romero a stilted, unmotivated, weirdly-bored bad guy, and overall just tells a crappy story. (There's a part where the Turtles ride horses into a skeleton army battle and the horses run off, scared. Then… the horse just come back.) It doesn't lead to anything in the long term and it doesn't really make for a good episode in and of itself. It has a potential romance between Mikey and Renet, which is shit because literally every female character is reduced to this dynamic (Donny and April, Leo and Karai, and apparently, Ralph and Mona). Instead of opening up knew avenues of storytelling, it does nothing with it, which probably why this fourth season is delving into an epic space venture. At least that's something.
1. The Adventures of Puss and Boots – "Duchess"
I wrote here about how inessential The Adventures of Puss and Boots is. It's kind of a strange show that didn't even bother to cull much from its source (itself a spin-off of the mediocre Shrek franchise),  opting to focus its premise on a mysterious town that's pretty much filled with jerks and idiots. Still, it could work if those jerks and idiots were compelling or interesting. They are not. Its biggest issue, though, is that it clearly struggled with filling a full 23 minute time frame, spending way too much time with clunky joke-telling, bad characterization, poor art direction, and, quite frankly, just bad writing.
"Duchess" exemplifies everything wrong with this show. First of all, The Duchess is voiced by Maria Bamford, a huge waste of a comedic actress and voice talent. Secondly, the episode spends an exorbitant amount of time explaining her plan in perhaps the worst, most exposition-filled scene in television history. Seriously. It's long, it's repetitive, and it's bad. It's almost shocking that they let it go. It's not like the episode gets better from there, as the episode then pairs her up with Artephius, who is just too stupid a character to work. The two have a conflict but it's pretty irrelevant and, once again, lasts way too long. Not a single character is compelling in anyway, and it's not until the second half of the season do things get interesting, if not necessarily better. The season finale literally blew things up for the future, but "Duchess" was a hot mess from the past.
Buzzfeed got the animation world talking quite a bit with its recent article "Inside the Persistent Boys Club of Animation." And while it fits perfectly within the contemporary, aggressive call for more women (and PoC) creatives in the entertainment business – a call I agree with one hundred percent – it's Lange's exploration of how certain genders depict certain types of narratives that has my interest piqued. She writes:
And that difference shows up on our screens. According to a 2012 study from the Geena Davis Institute, female characters made up 31% of speaking characters in primetime children's shows — less than a third. Only 19% of children's TV shows had an approximately equal number of male and female characters.
Later:
And this mentality is drilled into women studying animation. In a class at CalArts, Cotugno recalled, an instructor lectured on the difference between "feminine" and "masculine" story elements — "which is a little hard to describe, mostly because it's fucking bullshit," she said. Elements such as linear storytelling and big external stakes were "for men," while relationships and emotional storylines were "for women."
The whole thing is a must-read, but those two paragraphs struck me because it clarified a lot of thoughts I had about how women characters function in cartoons. As you can tell, I watch a lot of animated "stuff," and what's weird is how, overall, male characters are fairly developed from the start while women characters tend to fluctuate. This is in extremely broad terms, but part of me wonders if the kinds of stakes that we've inadvertently gendered is a bigger issue than just poor, outdated teaching ideas. It's a top-down problem worth exploring in deeper detail.
---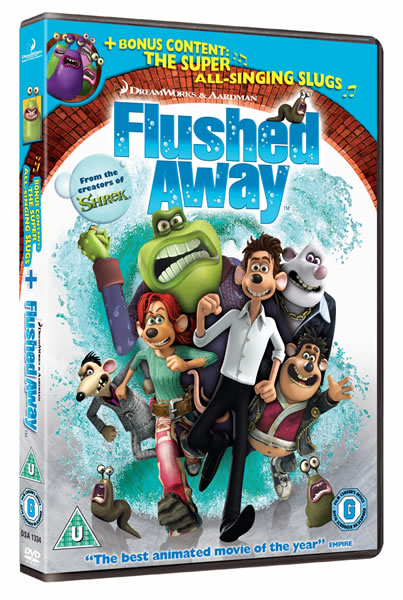 A few weeks ago, I watched Flushed Away, an Aardman/Dreamworks collaboration that did mediocre at the box office, so as to assure that Aardman and Dreamworks would never work together again. It was a film that garnered mixed to poor reviews, but with my current run to catch up on animated films, I thought I'd give it a go, with the requisite that I would Twitter rant about its flaws. And while it was flawed, I was struck by how fascinating the "secondary" character, Rita, was. Rita was an extremely strong, well-developed presence, much more than Roddy, the titular main character. She was voiced by an extremely game Kate Winslet, and had the tenacity of Lara Croft with a warm, engaging emotional appeal like Pearl from the early episodes of Steven Universe. With a few tweaks, Flushed Away could've been an precursor to Mad Max: Fury Road – a generic film masking a strong, almost-feminist bent, in which Rita was the real star and Roddy, at best, an annoying sidekick. I can't tell if it was Dreamworks or Aardman who missed that narrative, but it goes to how we perceive certain narratives and gendered character roles within a piece of entertainment.
I'm not sure how anyone, within the pre-production period of a film, not look at the development of Rita and recognize that she is the star, full stop. She possesses the "big external stakes" and the main thrust of the film is built upon her goals. Yet placing Roddy as the film's lead is just part of the overall trend with large-stake narratives (he's front and center on the DVD cover). There are plenty of great female characters, but they feel isolated, the lone feminine figure in weirdly, excessively male-driven worlds. Yet there's a little bit more going on here, because opening up certain types of characters to the feminine sphere might cause a bit of hand-wringing. In the past 35 years, how many villains, or even antagonists, in films have been female who aren't mothers? And what about the henchmen?
(The role of henchmen is worthy of a talk of its own. From second-in-commands to the lowly grunts, being a henchmen is a seriously male-driven occupation. How much of this is Standard and Practices, though? How much of this is the overall fear of placing female characters in positions that is primarily set up for bumbling and red-shirting? Because animation has become a medium driven to appeal to kids, the fear is that placing women in roles that usually get abused would be disrespectful and cause kids to follow suit, but that's damaging to both boys and girls, since it ignore girls completely as well as encourages that kind of disrespect among boys. But I digress.)
One of the most important aspects of the early Disney Afternoon cartoons was its general focus on appealing to a broad, mixed fanbase. Both The Wuzzles and Gummi Bears clearly were looking to appeal to both boys and girls, but the focus shifted as Ducktales hit the airwaves. The shows that came after – Rescue Rangers, TaleSpin, Darwking Duck – had enough content to keep young women hooked, but they were mostly the fare of boys. In addition, the grouping dynamics of the primary cast of cartoons shifted. Girl-to-boy ratios went from 2:3 to 1:3; if a show present a group of mixed-gendered characters as the show's leads, it has never provided more girls characters than boys. Mostly all kids networks mimicked this, despite hit shows like The Powerpuff Girls showing the potential of female character-driven shows. And really, not since Hey Arnold! have a show really explored a rich, varied group dynamic.
It's clear that gendering narratives is both harmful and lazy. But what is insidious is how ingrained this idea has become. Not only are certain "types" of stories have to be told from the perspective of boy characters, but the minute details of those stories have to fit certain parameters. There's very little focus on emotions or vulnerability, although that is getting better: Wander (Wander Over Yonder), Steven (Steven Universe), and Gumball (The Amazing World of Gumball) are much more prone to wearing their emotions on their sleeves, and acknowledging that those explicit feelings are valid.
Female characters are getting better as well. From the Mane6 of My Little Pony to the spunky silliness of Star from Star Vs. The Forces of Evil, TV animators are not only allowing women characters to star as leads, but to engage in their audacious adventures while also letting their emotions out for all to see. The wall limiting what types of stories one can tell with gendered characters is changing, albeit slowly, without necessarily falling into the kind of traps that hurt other narrative forms – restructuring the "Strong Female Character" as "Masculinized Female," for example.
The biggest problem seems to be that in our attempts to push down gendered limits in entertainment, we're pushing more and more into segregated content. Strong, singular leads are great, but shows that demand broad, mixed casts struggle intermixing gendered characters, from the testosterone-driven brotherhood that is the Teenage Mutant Ninja Turtles, to the female-coded Gems of Steven Universe. Which, inherently, is fine, but it hinders creative insight into how a full group of boys and girls can manage a situation and keep true to themselves. It's a top-down problem, again – there's an upcoming all-female Ghostbusters and an all-male one coming soon. There's an all-female Transformers on the way, along with an all female DC-superheroes series coming as well. Genevieve Koski over the (sadly now-defunct) wrote about the problem with the "distaff counterpart," but at the level of younger viewers, it implies that not only are the two genders markedly different, but that they can't even interact without some kind of problematic "Mars/Venus" dilemma, as if two different genders thrive in two different parallel universes.
These ideas, taught to us as kids, have become de facto lessons, that the decision of creating a certain character male of female automatically define the basic beats of a story – beats that cannot embrace multiple genders in any narrative way. An evil force that wants to destroy the world has no ties to male or female characteristics, but more often than not, male characters are the heroes, thematically linked to paternal-leadership-protector themes. For the few women heroes that save the day, they're linked to more emotional-maternal-caregiver themes. And it's that core, basic thinking is more troubling than we realize. Thematic resonance is important to all narratives, but not when they're built on vague stereotypes and gendered segregation.