Pirates of Dark Water made one last attempt at a fantasy-themed cartoon as the appeal of the genre died out – and went out in in spectacular fashion.
Part of the reason I've been watching shows like Men in Black: The Series, Project GeeKeR, and Road Rovers is because I'm curious about the rise and fall of the (serious) action cartoon. The Legend Of Korra's move to online pretty much signaled the end of it, and only Disney seems to have any type of commitment to the genre – safely channeled through their acquired Star Wars and Marvel properties, of course. Between the early 90s to the middle of the 00s, though, creative and original action 'toons dotted the landscape, and it's been a treat (of varying degree) to watch them and ponder their influences and status on animated programming. The DCAU has been written about extensively, which is also why I've been searching for the one-offs, the shows that came and went with little fanfare.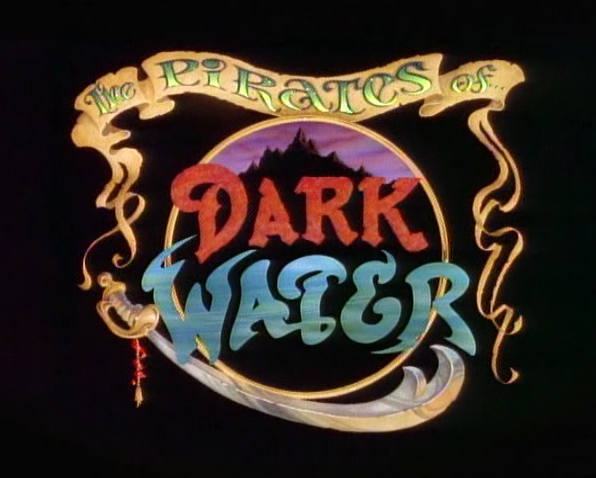 Pirates of Dark Water was one such show. Released in 1991 on both Fox and ABC (it looks as if there was some inter-network tweaking), creator and showrunner David Kirschner presented show about three disparaging personalities on a global quest to stop the mysterious "dark water" from engulfing the planet. This world, called Mer, was meticulously designed and detailed, heavy on its self-created mythology and world-building, evoking an almost-Tolkien level of fascination. The 80s were filled with fantasy-based content, which was incredibly popular with young audiences – movies like Labyrinth, The Secret of NIMH, and The Never-Ending Story, and shows like The Adventure of Gummi Bears – and Kirschner sought to bring that genre's best and most creative elements to the show.
Unfortunately, the budding new genre of the 90s were superheros and futuristic cyberpunk, which the DCAU thrived at. Fantasy died out, which left Pirates of Dark Water fending for itself. Even so, Kirschner, with his team of writers and animators, created an amazing program, with the kind of tight, inter-connected plotting that would make Joss Whedon jealous. Mer and the characters within it are well-developed and wildly appealing, with the appropriate amount of backstory to give them all a strong sense of motivation.
Pirates of Dark Water tells the story of Ren, a young boy who discovers he's a prince after his father crashes on his home island of Octopon. A pretty crazy set of events leads Ren to discover questionable allies in Ioz, Tula, and Niddler on a massive quest across the planet to find the Thirteen Treasures of Rule, while being chased by a massive pirate ship called the Maelstrom, headed by the one-eyed scourge named Bloth. It would be easy for the show to simply throw the cast into conflict with Bloth in various episodes, but Pirates of Dark Water sets up, little by little, a fully fleshed out world of creatures, species, civilizations, characters, and locations that gives the show a flavor not often seen in even live-action shows.
All of this is cleverly laid out in the first five episodes. Essentially a full-on TV movie, "The Quest" through "Victory" is a remarkable bit of storytelling. Unlike the four/five-parters of the Disney Afternoon series, which were more or less stand alone episodes with an overall plot connecting them, the Pirates of Dark Water TV movie pilot builds with important bits of information which informs characters actions and behaviors in previous and subsequent episodes. We learn about the Maelstrom and its own internal, chaotic "world" of prisoners and monsters (known as the Bilge). We also learn about various characters like Teron the ecomancer, Zoolie the playful but tough gamehouse manager, and Joat, the former owner of the Wraith (which is stolen by Ioz). The pilot is filled with great reveals and secrets that keep the action movie and the plot lively. Events like Ioz's constant greed and Tula's betrayal ensure that internal conflicts among the crew is as constant as the external ones.
The Pirates of Dark Water 01

Vezi mai multe video din animatie
First and foremost, the plotting of the show is fantastic. It's not deep, like Gargoyles, or even Project GeeKeR, so there's little thematic relevance. Pirates of Dark Water's primary concern is bringing its world and its characters to life, so we learn about things like Tula's home and its destruction. We learn Ioz's relationship with Teron. We learn about Niddler and his race of monkey-birds, a species treated as low-class citizens at best, and slaves at worse. One of my favorite details is how the show handle the titular "dark water." It's not even mentioned until the third episode, in a casual throw-away line from Ioz, and it's in the middle of the first season where we learn about true nature of the dark water – which is controlled by a powerful creature called the Dark Dweller. Yes, even villains are given history. Bloth's henchman, Konk, lost his leg to the dangerous creature of the Maelstrom, and apparently was the only pirate to survive an encounter with it. Later in the series we learn about Morpho, an alchemist who tried to study dark water but became a monstrous slave to it. There's also Cray, a woman wracked with jealousy over a failed relationship with Ren's father. This implies that Primus, the heroic king of Octopon, was not exactly on the up and up, as some relationships between him and others are shown to be toxic, which introduces a grey area to an already multifaceted show.
The characters give all that plotting the weight to carry it. Primus' history isn't the only thing that gives the show moral ambiguity. Ioz, for example, has a sense of loyalty but lacks commitment. He's the literal embodiment of "honor among thieves," as he's willing to go after Tula after her betrayal (later clarified), and avenge her presumed death later in the series. Still, he still will risk his life and reputation chasing after errant gold, like in "The Ghost Pirates," when he's held captive by some female pirate spirits after boarding a ghost ship for its booty. (An aside: I love that the leader of the ghost pirates keeps Ioz only on basically fuck him for all eternity.) Tula, too, is no saint, despite being essentiallythe love interest. Her betrayal is a real shock, but well-established, as she's revealed to be a warrior sent to save Teron from Bloth's clutches. There's Niddler, who is probably the most loyal to Ren, and has a real tragic backstory, what with his treatment as Bloth's former henchman and his race being treated so poorly. The show, unfortunately, really struggles with balancing the tragic elements of the monkey-birds with Niddler's comic behavior. It reeks of network interference, emphasizing Niddler as a goofball and a glutton to appeal to kids. (I think Kirschner didn't mind a little bit of comic antics from Niddler, but the overbearing-ness of it seems to be pressured during the Fox/ABC switch. Niddler is perfect in the TV movie, but becomes an annoyance for the most part during the actual series).
The animation is a bit stilted, with stiff movements and clunky action, particularly during action sequences. But the art direction and strong music cues create a strong impression of intensity during those scenes. The backgrounds are the show's real selling point. Places like Octopon and Andorus are extremely well detailed, given a sense of history just by how they look. (These two places also make great contrasting visuals, as they transform from ruinous to vivacious due to the actions of the main crew). Even the inside of the Maelstrom feels alive, beyond the crazy monsters and desperate prisoners that thrive beneath it. If anything, just the look of the show is fantastic, and worth watching just to witness the vibrant art and unique blend of classic pirate fantasy with a slight science-fiction jolt (the Constrictus is such a H.P. Lovecraft-based design that it's impossible to deny).
The show does have some flaws, beyond the animation and Niddler. Some of female characters fall flat, particularly in the first season. Once Tula is revealed to be an ecomancer (more on this later), she becomes very passive, despite the reveal that she was a warrior from Andorus. The extremely interesting Avagon, who knows more about Ren then she lets on, is unfortunately killed off. And despite being a fairly decent episode, the depiction of Cray could've used some work. Luckily, these flaws seemed to have been noticed by the Pirates of Dark Water team, and most of them are fixed within the second season. Tula's warrior backstory returns, making her both an effective fighter (again) and a decent mage, of sorts. More female characters are introduced – mostly villains, but effective ones. Niddler's comic antics are also toned down somewhat, making him a lot more tolerable. This might be the first animated show to really "fix" the show with a second season, instead of doubling down on the more kiddie aspects.
The Pirates of Dark Water 13

Vezi mai multe video din animatie
In some ways, Pirates of Dark Water is really a show about environmentalism, about the idea of caring for the planet, handled in a more creative and entertaining fashion, more so than something like Captain Planet. While a lot of shows wore the message of planetary protection on its sleeve, Pirates of Dark Water tied it directly to a legitimate adventure. The connections are clear: dark water is pollution, tied into the corruption of the "world," and it's up to the people, despite their differences and diversities, to come together in some way to fix it. The show strongly suggest that people like Ren – individuals – indeed have the power to save the world. There are those forces who seem uninterested ("The Game Players of Undaar" is a good example), and there are those actively encouraging it (Bloth, the Dark Disciples), but keeping the planet pure is an effort worth pursuing. Committing to that effort can restore the world's natural beauty, like with Octopon and Andorus, and end the corruption of the planet and its people.
Unfortunately, neither FOX or ABC was committed to the show. After two solid seasons, the show was cancelled, with only seven treasures discovered and some major mysteries still left explored (the biggest disappointment? Definitely Bloth's threat to Ren way back in "Victory," suggesting that he isn't human, but something else entirely). While it's sad that the animation world moved on, paving the way for the excellent Batman: The Animated Series and the DC cartoons spawned from it, Pirates of Dark Water made a rousing, final effort to show that fantasy was still a viable genre. It took until the first Lord of the Rings movie to bring fantasy back into the public conscious, and with The Hobbit films currently going strong, perhaps one day more people will give this series a second chance.