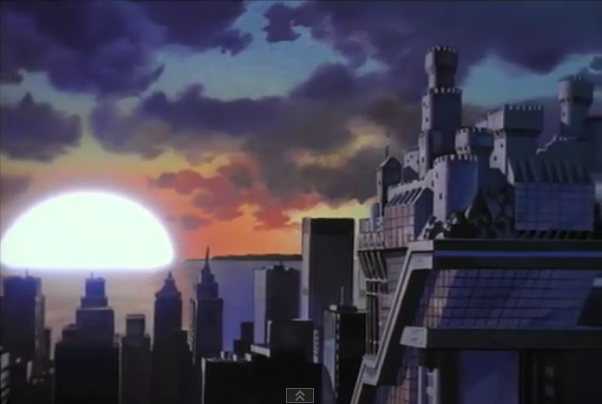 And thus ends the second season of Gargoyles (canonically the series finale), and it ends on a fantastically written, wonderfully paced, beautifully animated three-parter. "Hunter's Moon" is really working on all cylinders, an episode that calls back to the series premiere "Awakening," and engages firmly into one of the many dangling threads of the series – the Hunter. The episode tells such a strong story, a tale practically removed from the entire run of the show thus far, about Goliath and his grief, anger, and fear parlaying him into the monster of vengeance he was way back in 994 AD. There are a few missed opportunities, odd moments, and awkward characters beats that hold it back, though; while it's no "The Reckoning," which felt like the "true" narrative series finale, "Hunter's Moon" is more of a thematic season finale. [I'll be jumping around explaining this episode and its themes, instead of a straight-forward recap.]
Gargoyles 2×50 – Hunter's Moon – Part 1

Vezi mai multe video din animatie
Part of made "The Reckoning" so strong was how it seamlessly pulled in so many disparaging characters and plot threads into one, tight cohesive whole, with Demona briefly coming to terms with her rage and thirst for revenge, essentially dying for someone beyond herself – her daughter. It was a brief but notable change, but it was a powerful one. So it's a little bit of a disappointment to see Demona revert to her old ways, with little of the empathy towards Angela she portrayed back then (it's there, in spurts, but very little of it comes out). Apparently the gargoyle has been biding her time, gathering some items to make a deadly chemical enhanced by magic to kill every human on the planet. This plot is meaty but definitely feels tacked on, especially how anti-climactic and tossed-aside the ending to it is.
That's not the story here. The story is about the Manhattan clan coming to blows with three new Hunters, well-armed and battle-tested. A lot of the episode, at least the first part, is based on wondering who they are. I'm reminded of the Batman animated movie Mystery of the Batwoman, a not-great film that introduce three women to confuse audiences, only – SURPRISE [and SPOILER] – that the Batwoman was all three working together. Here, they introduce a news reporter gathering data from Xanatos' castle, a woman working for Dominique Destine, and a new cop named Jason Conover, partnered with Elisa. Not at all a surprise, these three are revealed to be the Hunters, all siblings with varying degrees on how to approach the gargoyles extermination problem.
The news reporter doesn't do much during most of the running time other than express doubt in the blind thirst for the gargoyles' blood, and get the public on their side after they destroy the police building – which, by the way, is a crazy ballsy move. I do like that Xanatos sees right through his ploy, and I also love that Xanatos does nothing in this episode until the very end. Xanatos is shrewd and rich. He could have easily assisted the gargoyles, whether via resources or gathering information, but he does nothing but observe. Even with a few brief shots, Xanatos continues to be both fascinating and frustrating. His change of heart does nothing to change his character; I'm actually kind of shocked he gave the gargoyles an exit at the end of third part, taking them home to their rightful place at the relocated Castle Wyvern. With no real purpose to drive Xanatos, he rightfully (at least character-wise) stays out of the picture.
This episode gives a clearer sense of Demona's/Destine's relationship to Nightstone Unlimited. She and Thailog created it back in "Sanctuary," but in "The Reckoning," it seems like Thailog called all the shots. Now we see the human Demona run things, and it's quite awesome, although there's an interesting question on how these two titans had no idea what the other was doing within their company. After all, Thailog managed to plot Demona and Macbeth against each other quite easily, and he also managed to create Delilah without Demona's knowledge. Likewise, Demona was creating a virus that could wipe out the world, and Thailog seemed clueless to its existence. As mentioned, it seems like a tacked on plotline, but I can buy it mainly because both Thailog and Demona are so insanely full of themselves, so much so that their left hands would have no idea what the right ones were doing.
What I can't buy, however, is Elisa going bedroom eyes at the first sight of Jason. Elisa's romantic pursuits just never worked for me on this show; Elisa's just too great of a character, too strong of a character, to go speechless at a pair of baby blue eyes. I could perhaps see a romance budding during the pretty great car chase in the first part: despite completely breaking police procedure by shooting at an explosive canister and causing thousands of dollars in damage (Elisa flipped out at Matt Bluestone for less), the "Bonnie and Clyde" flirting works a bit better mainly because she and Jason are working at the same level. I can see them connecting over losses and their desperation in finding a connection that can never be. Still, after everything Elisa has been through, particularly with Goliath, I just feel like the whole forced pairing came off as such, ultimately to shock Elisa in the end when she realized he was a Hunter. The romantic stuff just never flew for me. Even though she finally kisses Goliath in the end, it just comes off as the writers not knowing how else to finalize her story except with love.
Gargoyles 2×51 – Hunter's Moon – Part 2

Vezi mai multe video din animatie
Perhaps, though, it's a love more in Goliath's favor than it is in Elisa's, since the entire story is build essentially around the idea of Goliath losing her romantically as well as almost losing his daughter fatalistically. This, along with the relentless pursuit of the Hunters, triggers Goliath to revert to his old, original ways, the ways of monsters being hell-bent on revenge. In terms of finding a purpose, the central theme to Gargoyles, vengeance is a strong one, a value that gargoyles (and the characters within the show's massive narrative) can easily attach oneself to. It's not about vengeance in terms of a misguided belief that this will bring back the destroyed clock tower, or Elisa's (misinterpreted) life. It's about ending the battle, about finalization. So much of the dialogue here centers around lines like "this ends now," but what everyone fails to realize was that vengeance-based endings are never concrete. Hunters thrive. Gargoyles thrive. Justice thrives. Humanity thrives.
In the series' most fascinating moment, this desire for revenge even temporarily connects Goliath and Demona, when they both find themselves captured on the Hunters' airship. Demona still is committed to her plan of global genocide, but watching her and Goliath terrifyingly bond over their desire to finish off the Hunters is tense and palpable. Even Lexington and Brooklyn are rightly concerned. I don't think Demona was inherently utilizing that moment to get Goliath back on her side – they both know it's too late for that – but I think it was an example of the ideas and feelings that once did unite the two so many years ago (coupled with the belief that he lost Elisa romantically). In a parallel universe, Goliath and Demona are indeed the perfect pair, and their inherent need to stop the hunters and escape is strong enough to bring them together, even if their motives are (not entirely) different. Purposes can bond even the most diehard of enemies, and can certainly blind them to the real issues. "Enemy of my enemy" applies here, but so does "Be wary of the enemies you make, for you will become them."
The nature of revenge driving people apply to the Hunters as well, the three murderous siblings after the gargoyles. Similar to Demona, there's a tragedy to their pursuit, particular when the most reluctant of the three accidentally shoots and almost kills his brother. So wildly misguided, making the kinds of "blame the victim" theories that leaves him (and the randomness of shit happening) inculpable of his responsibility, the one person who could truly end the cycle is pushed further to continue it. Likewise, the one most driven by revenge, Jason, is the one who finally understands the chaotic nature of how such an insane pursuit can ruin so many lives – almost killing Elisa (twice!), leaving him paralyzed from the waist-down, etc. We should also note, again, that the Hunters, particularly the sister, who seems the most neutral in this (she's too is driven by revenge but in a somewhat more logical manner), ends up blowing up a police station. The episode doesn't quite note how utterly serious this is, but there's definitely a sense of how cold her straight-forward manner is, even if it leads her to figuring out Demona's plan first.
Gargoyles 2×52 – Hunter's Moon – Part 3

Vezi mai multe video din animatie
The series is definitely most concerned with the destructive nature of revenge, and the thin line between it and justice. That's where the greatness lies – various discussions between letting feelings go and constantly pursuing the enemy, and how things just get worse and worse. It's obvious that the finale is more concerned with that than Demona's plot, which indeed ends in such a throwaway fashion. Why Demona would tell the gargoyles that the small gargoyle statue is what will protect them is beyond me; I mean, Goliath just destroys it and then it's over. The whole thing could've been removed and the finale might've been stronger for it. I'm also a bit concerned the show seemed to completely drop the Macbeth/Demona connection? Macbeth's final outing in "Pendragon" was fairly weak, and somehow not having him here gives the impression that the show kind of forgot about it? I'm not saying it's necessary – "Hunter's Moon" is strong enough to push past it – but as a finale, if feels like an important aspect to not at least kinda comment on it.
Overall, though, "Hunter's Moon" feels like it's own thematic capper, which involved the series' best animation by far. The A-Team brings perfection to last two episodes, which beautifully choreographed aerial battles and brilliant close-ups of characters' expressions, where even a straight-forward piece of exposition by Demona can look and feel scary. As the for the first part, the animation company Animal Ya provided the visuals, and it doesn't seem like they did any other episode (although if they did please correct me), but as for their first and only foray, they did a great job, mimicking the A-Team fairly well and improving upon the work of companies like Koko and Jade – particularly in complex scenes like Demona's transformations and the fight sequences between Demona and the Manhattan clan. All three parts are television animation set pieces at their prime; my personal favorite tic by far are the unique and various takes on Elisa's hair, whether wet, disheveled, or blowing in the wind. Is those details that make this episode shine, even if it's not narratively the show's best work.
Regardless, "Hunter's Moon" is a perfect set of episodes to end the series, a small, tight TV-movie to give Goliath (and to a lesser extent, Elisa) a moment to reach their lowest, most vulnerable moments, only to learn, shine, and connect again. And while I'm not a fan of the romantic angle, I can't deny that it worked. Gargoyles final five episodes are fantastic, and minor quibbles aside, the show ended as strongly and as smartly as it began.
I have decided to indeed tackle "The Goliath Chronicles." I know they are not canon, but I don't like the idea of massively dismissing a work because it's handled by a different team (see, Community, season four). I want to give it a chance, to at least see if there's some sort of merit or "E for Effort" value in the third season. Does the new team completely screw things up, or is it really more of a different approach to everything? It'll be a few months before I get to it, though. Thanks for sticking with me through all this!
Hunter's Moon A-