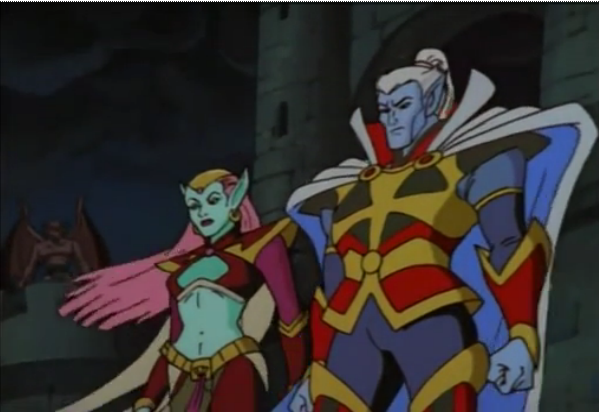 And there you have it.
I'm somewhat reminded of the first season of Marvel's Agent of SHIELD, which also hard an extremely rocky start until things heated up with the massive [REDACTED] reveal. That immediately came to mind when I watched "Ill Met by Moonlight" and "Future Tense." Any minor quibbles I had with these two episodes are less quibbles and more fan pondering and cliche acknowledging, but these episodes are so amazingly strong, both visually and narrative, that my criticisms are pretty much moot. It's clear we're starting to enter some kind of endgame, as disparaging threads are starting to come together. Kind of.
Gargoyles 2×42 – Ill Met By Moonlight

Vezi mai multe video din animatie
We finally get to meet good ol' OB! That is, Oberon, the father of, like, a million magical children. A blue-skinned Final Fantasy villain, Oberon's story is told less as a Shakespearean homage and more like a Roman myth, with gods speaking in in lofty manners while mortals look on helplessly, and Titania and the Weird Sisters acting somewhat like a chorus, guiding the narrative beats in an observational manner. But the gist of it is simple: Oberon's back, and he's come claim what's his. Avalon.
The World Tour crew discover this when they return, by Avalon's graces, to Avalon, and while the gargoyles try to make the most of it, Elisa is obviously homesick. No chance at a respite, though, as Oberon arrives and almost damn well near kills everyone to get his home back. As the mortal creatures sink into the magic mud, Oberon and Tatiana have a little chat. The chat is interesting. We learn that Oberon forced Titania (and their children) to live among mortals for a thousand years to learn humility and garner an appreciation for them, and now Titania claims that Oberon should also be humble and at the very least give the humans and gargoyles a fighting chance. He agrees (less because he cares about his humility and more because he'll get to be Titania's husband again), gives a portion of his powers to Tatiana, and the game is afoot.
What stood out for me was the layers of contradictions in that conversation. Oberon sent his family out in the world to teach them a lesson, a lesson he gives little thought to when he damn near kills everyone on Avalon. Also, interesting that a thousand years prior, he lived among mortals himself! I get it, though. He sees these mortals as invaders on his home, which in and of itself a disrespectful act, and never really considers his own thousand years absence as a problem. That's how gods are, though: arrogant and hypocritical, like so many Greek/Roman/Shakespearean tales, like so many of the tales told within Gargoyles' lore. Add to that the fact that time is meaningless to such beings, and it makes sense that Oberon would see his progeny needing to learn about mortals but utterly dismissing them himself. We see this kind of behavior with politicians, businessmen, and leaders all time time. Multiply that by a billion for gods, and you get OB. Oh, I like calling Oberon "OB."
So the majority of this episode is basically a Gargoyles version of The Most Dangerous Game, yet this time the gargoyles chosen – Goliath, Angela, and Gabriel – really have no chance against Oberon, even in a weakened state. It's mostly a chase sequence – but what a chase! There's action through forests, across mountains, and even inside an active volcano (even though, at no point, was deciding to fly through this a good idea), and the A-Team of animation is here, making the dynamics of the visuals look easy in their greatness. In particular, the layouts of the gargoyles flying through the tunnels, shot in different, striking angles, over the molten lava, are stunning. The A-Team will be there for the next episode as well, which I'll talk about very soon.
Goliath, Gabriel, and Angela put up a heck of a fight, but they can't even put in a dent on the guy. Oberon wins easily, and when he arrives with his prey back home, he discovers the remaining mortals have been up to no good. Specifically, they melted some magic iron and made a bell that, when rung, rendered Oberon weak and almost dying. (The iron came from Magus which he used to hold the Weird Sisters in custody. I'm not sure why iron is weak against Oberon, unless there is some classic tale I'm unaware of. It seems arbitrary.) They almost kill Oberon, but think better of it – Tom says, "I'll kill no one on his knees," which is a great line read from Tom's voice actor Gerrit Graham. This act of mercy wins over Oberon, allowing the mortals to stay and granting Goliath some "super guardian" award (which goes, again, to Oberon's constant contradictions).
The question remains: why did Titania assist the mortals? After all, it was her riddle within that earlier chat with Oberon that clued them in on the bell. Titania mentions that they have helped her in the past; the event she's referring to isn't clear, but we all know there are plenty of them. I think Titania has something else up her sleeve though, what with that chat o' manipulation and her assistance. She takes Oberon as her husband and they go off together, calling forth their children to "The Gathering." We're an episode away from that, which looks extremely promising now the stakes are so high. "Ill Met by Moonlight" had some tiny issues – the volcano, the contradictions, the question of what Oberon's been up to all this time – but with great action scenes and great dialogue (particularly with the voice work of Oberon's Terrence Mann and Titania's Kate Mulgrew), you can't even fault them.
Also in the chat, Oberon and Titania mention Puck by name, implying that he was a particularly problematic child. This conversation prior to "Future Tense" is no coincidence.
Gargoyles 2×43 – Future Tense

Vezi mai multe video din animatie
I feel foolish. I should've know something was off with "Future Tense." Seeing Xanatos as a pure mustache-twirling villain, who, upon finally receiving immortality through "vague" means, turns New York into a dystopia in which he assumes full control, while culling more power to take over the world in his name, is completely against everything Xanatos is, as a character. For one thing, Xanatos has enough wealth and power; global conquest would seem silly. I suppose it follows that, after achieving immortality, that such a thing would be the next step, but keen viewers would know that's bullshit; most likely he'd be invested in teleportation, space travel (especially after "Sentinel"), or looking into alternate universes (similar to the Avalon stuff). I finished watching Project GeeKeR, and even that show acknowledged the ridiculousness of such an idea, so of course Gargoyles couldn't really entertain it.
Still, even with a silly idea, Gargoyles brings it. It's a dark, deadly episode – nightmarish stuff, with Xanatos assuming all the power and sending robot/clone gargoyles to do his bidding. Goliath and his team arrive in the ruined Manhattan, some forty years into the future, where Angela and Elisa are taken by the robots while Goliath and Bronx are saved by Claw (!) and… wait for it… Matt Bluestone! Looks like the rebel alliance took all the Illuminati fight out of him. He's still awesome though.
He takes Goliath to their home base, where he runs into Brooklyn (who decks him since he was gone for so long), Broadway (who lost his eyes, in the show's most cruel moment, making the events in "Lighthouse in the Sea of Time" tragically ironic), and Lexington (who has become a dead-inside cyborg). It's powerful stuff, just to see, and the A-Team animation crew make every reveal and every line count. We learn that Hudson began the rebellion and lost his life for it, that several of the mutates and human allies have died in the process, and… Brooklyn and Demona are lovers.
Demona, even with her brief lines, have perspective now, and while it's jarring to see her speak with clarity (on the goal at hand, on her commitment to protecting her daughter), it's amazing, amazing work. Gargoyles smartly ignores any sense of jealousy between Goliath and Brooklyn, because that would be fucking stupid. Instead the show is focused on the obviously doomed execution of an assault on Xanatos' pyramid complex, and it is a doozy. They watch Xanatos kill his own son in some kind of cyberspace battle, then Bluestone, Bronx, and Claw are killed in the first wave on the complex, then we see Lex taken, Broadway killed (his "see the sun" speech is cliched but goddamn does Bill Fagerbakke sell it), then, in cyberspace, Demona and Brooklyn killed as well. It's insane stuff, but every single moment is powerful and horrific and wonderful.
The episode plays very close to the chest though, because there are definitely some questionable moments. Besides Xanatos being out-of-character, there's the "dying in cyberspace = dying in real life" concept that's not explained, and the various characters asking for Goliath to give them the Phoenix Gate (how do some of them even know about it, and why wouldn't they ask for Goliath to use it himself?) Goliath wisely avoids it, knowing full well that it's pointless, since history wills itself into the future it eventually becomes. He fights Xanatos valiantly though, and even though he beats him, saves Goliath, and escapes with Elisa, it's too late – we see that Lexington was the true mastermind of this entire global, which is both a mindfuck and a "wait, what?" moment. Goliath straight up kills him, though, but the global takeover program has begun its work.
In a weakened state, Elisa mentions that he HAS to use the Phoenix Gate now, and Goliath obliges. Placing it on the ground, he tells Elisa to grab it. But she can't? Goliath realizes that, finally, this is some crap, and in a flash, the entire scenario disappears, only to reveal that all of this was conceived by Puck! The trouble-maker that Oberon and Titania mentioned in "Ill Met by Moonlight" put this all together just so he could get Goliath to give him the Phoenix Gate, per Oberon's rules, basically so he could fuck around some more and not go to the Gathering. My only quibble here is that Goliath wasn't ENRAGED by the deceit, but I can't fault that too much. Most likely he was relieved it was all a dream, but worried that it may be a sign of things to come.
Goliath sends the Gate out into the timerift, so no one can find it, and regales his nightmare to his tour mates. I suppose we'll learn of Puck's fate in "The Gathering," but for now we have a bit of a rest before then. Everything being a dream was probably the only way Disney let this episode go, but it's also important to remember that Disney had a lot riding on the show, as the studio was apparently geared to build an entire franchise off it, which gave Gargoyles quite a bit of latitude. That latitude allowed "Future Tense" to work so well, which has me excited for "The Gathering" in ways you can't imagine.
"Ill Met by Moonlight" A-/"Future Tense" A