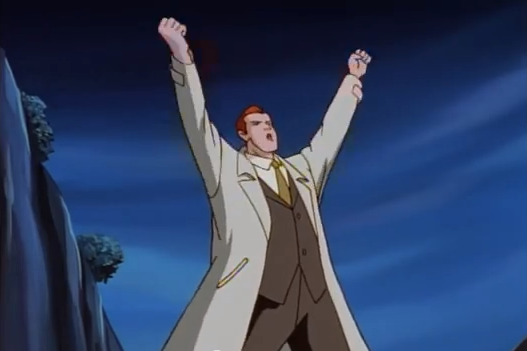 HELL YES MATT BLUESTONE.
I am an unabashed fan of Matt Bluestone. I truly, honestly love him, with his ginger hair and his bright, baby blue eyes, spouting Illuminati nonsense and running around looking for connections and secrets and red herrings. I love that when he does indeed find answers, it only makes him crazier and more unhinged. I wouldn't ship him with Elisa though – Elisa would try and calm him down, and the last thing we need right now is a relaxed Matt. Screw Gargoyles; Matt Bluestone needs his own spin-off. His partner could be Xanatos' dad! Matt could be flying an alien spaceship into the sun, playing space chicken with some Martians to get them to divulge their world domination plans, while Xanatos' dad is sipping martinis in the back of the spacecraft, complaining about the "ruckus and whatnot".
I'm getting ahead of myself. "The Price" and "Revelations" are two fairly run-of-the-mill episodes. Nothing too exciting or surprising, nor terrible or upsetting. They don't quite push things along ("Revelations" does, kinda, but it's hard to tell if it's significant), but they don't really hurt the show in anyway ("Revelations" does have a part in the middle that feels way too forced). The hiatus has put a bit of distance between me and some of the events of the episodes, but then again, after the whole "City of Stone" saga, coming down from that high feels like a let down. Still, we learn about some characters in new and interesting ways, which is always nice.
"The Price," in particular, feels perfunctory. It doesn't do much really but give a bit more insight into Xanatos and Hudson, although the biggest surprise involves Owen. Here, the gargoyles are attacked by Macbeth while on patrol, and we get a cool, if not particularly exciting fight scene. Macbeth is "killed" in the fight, but not before smashing a bag of pink powder over Hudson's face. It seems innocent enough, but when the gargoyles awaken the next evening, they find that Hudson is still stuck in his stone slumber. Assuming it was the magic dust, Goliath and Lex head off to Macbeth's mansion to find a cure while Brooklyn and Broadway stay behind to watch Hudson.
All of this is just a massive distraction, as the real Hudson is locked away in a laser cage, held captive by Xanatos and Owen. Once again, Xanatos has an ancient Macguffin, the Cauldron of Life, which grants mortality after boiling a piece of a gargoyle's stone skin for twenty-four hours. You see, there was a bit of a misdirect – as the gargoyles were sleeping, Xanatos and his crew grabbed the real Hudson and replaced it with a fake stone model. The dust was just a red herring. I gotta be honest. This is a reach of a plan. For one thing, after the gargoyles awoke from their stone slumber and flew off, I'm sure there would be a lot of stone skin pieces lying around to choose from. Second, how could a sculptor know the exact pose Hudson would be in when changing to stone "weeks in advanced" to fool the other gargoyles? That's a bit of a nit-pick, but that is also a fairly big flaw in the planning of this episode.
I won't harp on it too much, though, as this gives Hudson and Xanatos the opportunity to shoot the shit. The Cauldron grants immortality, something that someone like Xanatos would want, of course. Hudson advises against it. After all, he's seen so many things and lost so many clansmen, so he knows full well what immortality is – a curse. Xanatos doesn't buy it. In a rare moment of vulnerability, he plays his card when he overreacts to Hudson's claim that he fears death: by crying out he's not scared of anything, Xanatos pretty much admits he's scared of dying. At the same time, Xanatos accuses Hudson of being an old, useless waste of space, contributing nothing. We know that Hudson has his insecurities – we learned that back in "Long Way to Morning" – but he's too prideful and loyal to give in to age, which is important. Xanatos completely underestimates Hudson in that regard, which is how the gargoyle escapes his fate.
I do like these kinds of conversations. You don't really see it a lot in cartoons, adult or not. It comes off a bit clunky, but Ed Asner (Hudson) and Jonathan Frakes (Xanatos) sell it well. As I mentioned before, Gargoyles has always been about purpose, finding ways to move on and keep going, despite tragedy or riches. Xanatos' has pretty much everything, yet his whole motivation is about wanting more. Hudson sees him as a rich fool who thrives on greed and power, which is true to an extent, but Xanatos' real desire is to WANT that greed and power. Which is why he never really commits to going after the gargoyles, or simply taking out Elisa or Renard. The multiple threads in the air allows him to function off these characters for whatever end goal comes his way, and death would be the end of that high. So, yeah, he fears death, because it would completely take away his edge.
The weirdest and potentially most significant thing to take away from this episode is Owen. Much is made in the way of his service and dedication to Xanatos here, with Xanatos making some passive-aggressive digs at Owen's loyalty, responsibility, and accountability. It's sort of a strange development. Xanatos never really expressed any doubts about Owen before. In fact, the two seem to connect a bit during the "City of Stone" debacle. So to see Xanatos praise his fake Macbeth over Owen is rather surprising (and out-of-character if this doesn't lead anywhere). In order to prove his worth (and he doesn't really have to, which makes the moment even that much creepier), he dunks his hand into the Cauldron to test it, no questions asked, turning his arm into stone. You see, the Cauldron grants immortality by way of stone transformations, because sorcerers love misdirected wordplay in their magic spells.
Hudson makes it back to his clan after they thought he was dead, and they learn that Macbeth, who kept coming back and repeating the same lines over and over, was a series of robots. It's a nice reunion to a rather straight-forward episode.
"Revelations" is just as mainstream, although since it stars MY MAIN MAN MATT, I have to give it extra points. Good ol' Matt is still on his tear about the Illuminati, desperately wanting to break that entire group wide open. Here he gets close, but not after a whole lot of crazy and paranoia, which works so well for this kind of show. I wish Gargoyles had more unhinged, slightly-bonkers characters. Maybe if Malone escapes his hotel prison we'll get a few episodes of that.
"Revelations" is aggressively the most comic-book-like of the series so far, beginning with a sequence of a captive Goliath crushing his way through a series of deadly funhouse traps inside a horrific hotel. Matt Bluestone and Mace Malone watch Goliath struggle from surveillance cameras, which then triggers Matt to recollect the events on how they even got in this situation. I'm almost convinced this WAS a comic book that they decided to make into an episode, with Matt's running commentary equivalent to captions. While I'm normally not into narration and in media res formats, I think it works for Matt because he's so nutso, but also because his craziness is combating a sense of guilt and betrayal. His recollection of events is his way of determining if he wants to save Goliath or let him be killed so he can delve deeper into the halls of the Illuminati.
Matt is being pulled at all sides. He pushes his former FBI partner to give him info on the whereabouts of Mace, while Elisa constant disappearing into the attics of the police station confuses him. Elisa starts to act flirty towards Matt to throw him off, but even though she's faking it, flirty Elisa does not work for me. It doesn't seem like something she'd do, falsely or not. Good thing it happens briefly, although the episode implies a romantic pairing between the two. I hope that doesn't happen. I REALLY hope that doesn't happen.
"Pulling the wool over your eyes" is the core of this episode, with Matt being the guy struggling to see. Even though everyone around him is trying to throw him off the trail, he bullies and forces his way to find answers. There's a nice moment in the episode where he mentions to Elisa that his crazy pursuits give him purpose (there's that theme again!) and makes him stand out. And even though it causes people to distrust him and ignore his claims, it keeps Matt driven, and that's all that really matters.
Matt tracks down Mace Malone, who indeed offers Matt access to the Illuminati if he can bring in a gargoyle. The scene that follows, in which a psycho Matt speeds along a cliff to force Elisa to divulge information on the gargoyles, is great and quintessential Matt, but it's also really, really forced. Elisa was driving. It was her car. Matt asks to drive and Elisa, rightly, tells him no. But then she pulls over and lets him drive anyway? I was really thrown off by this. I'm aware the Youtube episodes are edited, so did I miss something? Why would she tell him piss off, only to give in into his pointless request? Elisa seem wildly out of character here, and for a chunk of the episode as well.
It works though, and soon Elisa shows him the gargoyles. They quickly become friends, kinda, which allows Matt to lure Goliath to Mace and the hotel-of-death, with a million rooms of deathtraps and other psychological torture devices. I mean, this is as comic book as you can get – the only good thing that came out of DC's New 52 was The Court of Owls, who basically did the same thing to Batman. We return to the present as we watch Goliath struggle through the rooms, up until he reveals a hotel key he snatched off Matt. The episode kinda glosses over this – apparently if you have a hotel key you can shut off all the traps – by specifically not showing Goliath actually use the key and work his way safely through the hotel. It's silly, in that comic book kind of way, but I buy it because if you're going to do silly, you got to do it by way of Matt Motherfucking Bluestone.
In the end Matt Motherfucking Bluestone saves Goliath by attacking Mace before the latter pumps the beast full of lead. He rather keep his new beastly ally instead of expose the Illuminati, at least for now. Mace Malone now is slowly losing his mind in the hotel, trapped inside its walls without his key. Matt and Elisa bond some more over the gargoyles, and their partnership is restored – and hopefully kept that way. Not all is lost on the crazy front though, as Matt's former FBI partner outs himself as an Illuminati member assigned to throw Matt off the secret society's scent. Both he and Elisa tried to push Matt in the wrong direction, but you can't fool crazy for long, especially "yelling nonsense at the sky after damn near committing a murder-suicide" crazy. I love you, Matt. May the Illuminati completely and utterly regret bringing your brand of insanity into its fold.
Oh, and apparently Xanatos is a low-level member of the Illuminati. Nice one, Gargoyles crew.
"The Price" B/"Revelations" B