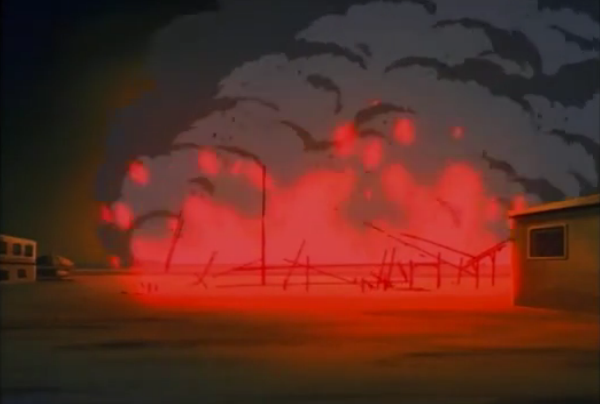 The World Tour has its critics, me among them, but by using the global journey structure, Gargoyles has been able to let individual and specific stories breathe on their own, such that when the gargoyles and Elisa returned home, there would indeed be a reckoning. "The Reckoning" and "Possession" are two great episodes that really tie the most important and "still up in the air" questions of the season. "Possession" has some minor flaws but overall is a pretty solid episode; it's "The Reckoning" that is beyond reproach, by far the best episode of Gargoyles' run. Barring the events of "Hunter's Moon," the three-part finale, Demona's tragic and difficult life story ends here, in the most powerful way possible.
Gargoyles 2×48 – The Reckoning

Vezi mai multe video din animatie
"The Reckoning" cheats a little, teaming up Goliath, Brooklyn, and Angela at first, all three of whom has specific agendas against Demona, so of course they all find her first. It's a fairly quick battle, but interesting to note that Brooklyn attacks first, the one character who hasn't had the chance yet to work through his anger – and is punished for it. Goliath and Angela take Demona down within her battlesuit, and, in determining where to take Demona's unconscious body, they figure the best place to send her is to the Labyrinth.
It's all coming together now. The events after "Kingdom" has created an alliance among the Manhattan clan and the Mutates, and they come to an agreement to stand watch over the captive Demona every night for… I assume, ever. This I found absolutely fascinating. Gargoyles pride themselves – natch, live for – protection, for keeping a watching over the things they love. So with minimal hesitation, they agree to take shifts to watch one solitary figure, in a dark, dank room, all night, for eternity. They make it into a second job, they do this for over three months, and there's nary a complaint. I can only imagine how tedious that must've been, but there's a resolve to their task that's undeniable.
Angela takes the first watch. Goliath tries to talk her out of it, but it's Hudson who stops him. The show continues to establish Hudson's wisdom in quiet, understated ways, and it's always a treat. This leads to a one-on-one conversation between Angela and Demona, and it's fantastic. Koko Animation, which handled expressions fairly well in the past, is pitch perfect here, nailing the expressions and framing needed to convey the pain, anguish, and sadness that Demona is feeling, and VO actress Marina Sirtis is on point with every line read. It's depressing, to see Demona, for a brief moment, express what might be happiness at seeing her daughter, only to jump right back into her rage when Angela tells her about Katherine and her protection of the eggs. Stark proof right there that humans can be helpful, saving her own daughter, but Demona can't accept it. She won't accept it.
All this time, however, Demona has been secretly sending out mechanical bugs to suck the blood out of various Gargoyles' characters. I was a little reluctant about another sci-fi plot – mainly because the conversation stuff between Demona and the various members of the clan was so, so good – but this led to some unexpected developments; namely, the bugs being sent back to a Nightstone Unlimited, where Dr. Sevarius is using the DNA to construct… something, for a well-paying Thailog! Giant genetic "things" in a vat can only mean clones, and Thailog is raising them to be brutish but loyal. Thailog, voiced by a sassier version of Keith David, is just fantastic, as always, and Thailog is really just having fun as the tensions mount.
After a few months, the shit hits the fan. Thailog crashes into the Labyrinth and frees Demona, and the two reunite in love… per se, since Demona still isn't aware of Thailog's attempt at his betrayal way back in "Sanctuary," so we're witnessing yet another layer to her tragedy. The two escape, freeing Fang in the process, who was there, captured as well, making lame quips and being a nuisance, but it's okay, since he's much better as a side villain than the main antagonist of an episode. Goliath and Derek chase them down to an abandoned theme park – a classic showdown location, so kudos, Gargoyles. Goliath gathers the crew, and it's about to go down.
It's Thailog who has the jump on them, though. Unleashing his creepy clones onto the unsuspecting crew, the Manhattan clan and Derek are ambushed by multiple doppelgangers and held captive. Thailog is so great, only he can get away with classic evil monologuing, as he regales everyone his massive clone plan and the necessity to keep them stupid. What I like about this part, though, is Thailog very subtly and very carefully decides to try and kill Angela first, mainly to test Demona's loyalty. Demona has little left to fight for, and while Thailog makes an ideal Goliath substitute, Angela is her actual daughter. She tried to turn her, but failed. Demona has been driven by hate all these years, but when Angela tells her mother point blank, "I hate you," there's a moment, a small moment, where Demona realizes she lost her, and all of this was for naught. Yet even in that moment, she still prevents Thailog from killing her.
Then Thailog reveals his most secretive prize: a clone of Demona mixing her DNA with Elisa's, as an added "fuck you," because Thailog, yo. If Demona's lowest point was Angela's hatred of her, than this is a figurative "kick 'em while their down" moment. This hybrid, called Delilah, adds an extra brand of creepiness to the proceedings, by being a female that only he can control. Thailog can control the clone gargoyles, yes, but they're kept stupid, more or less just flesh robots. Delilah is something else, the pure representation of male control, both blindly loyal and a literal-created sex object. Plus, she's a creation of everything Demona has lived for (herself) and everything she loathed (Elisa and her humanity). When Demona finally fights for something other than herself, it feels wonderfully, powerfully redemptive. "Goliath, save our daughter!" she bellows before freeing them, and the line-read is so perfect I am near tears.
This leads to the most badass battle this show has ever done. Koko gives the A-Team a run for their money, simply by keeping the three fights in clear and distinct contrasts: Demona/Goliath vs. Thailog, the Manhattan clan vs. the clones, and Talon vs. Fang (there's also a Delilah vs. Angela conflict, but we never see it, and Delilah never stood a chance). It's an intense fight, not because of the dynamic staging against the backdrop of the slowly destroyed carnival, but also due to the unique contrasts in battle. The Manhattan clan realize that key moments of collaboration are the best ways to take out the single-mindedness of the clone. Talon takes down Fang, mainly because Fang's a shitty fighter. And Demona is just going all out on her final fight for vengeance, and she and Thailog go at it, even as the fires of the roller coaster burn all around them. Goliath tries to save her, but is force to flee before the burning wood collapses all around them, leaving Demona and Thailog to disappear among the ruins. "Do you wish to perish?" Thailog asks, with a bit of a whimper to his voice. "My vengeance is all you left me," responds Demona responds, without a hint of irony: vengeance is all Demona ever had.
It ends with a bunch of lost clones needing a purpose, which Derek will provide (along with proper verb usage). It is purpose, though, that led to this tragic moment, that brought Demona down a road of pure hatred, only to have her first "goodness" in a long, long time. Whether she's dead or not is a moot point; Demona has found redemption, a new beginning, even if that new beginning was but for a few minutes. Angela may have told her he hated her, but maybe Demona saw in that statement, in that moment, a true reflection of herself (signaled by Angela's glowing red eyes), prompting a change that signaled a need to fight for something beyond avenging gargoyles. Demona, you lived a tough life, and while you never found peace, you've at least found a purpose.
[She's probably not dead. She's still cursed and connected to Macbeth. Still, the episode plays it so, so well.]
Gargoyles 2×49 – Possession

Vezi mai multe video din animatie
"Possession" is a solid episode too, although it gets a little cluttered in the middle. It kind of feels like it's reveling in its cleverness, but it's not letting the audience feel clever along with them. It also doesn't help that it involves Coldstone's internal brain demons, which has always been an Achilles' heel of the show, since those brain demons feel woefully underdeveloped. Two of them are in love. One of them is evil. The ultimate goal is clear.
Gargoyles never quite had a handle on the cyberspace elements, but that was just a general interpretation of cyberspace that existed in the 90s, and the show did the best it could with that interpretation, creating an interesting dynamic battling inside Coldstone's head. It's a fight for Coldstone's soul essentially, which is one of the many secondary themes of the show – struggles for some sense of control and/or independence. Coldstone left the Manhattan clan to try and win his internal battle, but Xanatos seems to have other ideas, after his robot gargoyles subdue him in the midst of the Himalayas and drag the cyborg gargoyle back home.
I like that Xanatos is still naturally a sleezeball. Even with his intentions noble and pure, he never actually tells Coldstone he's helping him, nor asks for his consent. He just fucking does it, or at least tries to, until it's clear that science alone won't purge Coldstone of his conflicting personalities. He then just leaves Coldstone's head all separated from his body, because that's the kind of guy he is. Gargoyles's message is clear. People don't change, even if their goals do.
It's all a little disappointing. The second that Oberon told Puck that he could only use magic when training Xanatos' son, it's clear that Puck/Owen would be using a training session with Alexander as a means to do some trickster magic. Of course, the episode does a good job of understanding that a training session with Puck would still be confusing and full of tricks and misdirections. I guess magical beings don't change much either, and what follows is a mindfuck of body transferences and high-level pretense.
Recapping the plot in detail would be a bit out of hand here, due to the sheer amount of body-swaps that take place. The gist is that Puck and Alexander first pretend to be Goliath and Hudson, and they use magic to draw out Coldstone's three personalities into Angela, Broadway, and Brooklyn. The fun part is that the writers, who always viewed Gargoyles as a heightened take on Shakespeare, takes the allegory up to eleven, with the three of them talking in amazingly delicious hyper-Shakespeare-esqu dialogue. The three voice actors of Jeff Bennett, Bill Fagerbakke, and Brigitte Bako just have fun with their ham-chewing lines, with Brooklyn playing the plotting, cantankerous villain, and Angela/Broadway as the tragic lovers. If anything, just watching the three of them do Shakespeare in the Park is just loads of fun.
Not to say there isn't a worthy amount of tragedy here. The episode is definitely committed to its characters, so there's a real concern on whether these souls will willingly stay trapped in the stolen bodies. Even the wholesome duo of Coldstone/his lover discuss this, in their desperation to physically feel each other again (and the sexual tension is not lost on this episode), which creates some scary overtones. Cooler heads do prevail, particularly once Puck-as-Coldstone introduce Coldsteel and Coldfire as potential conduits. The demon in Brooklyn sees Coldsteel in action and wants a piece of that, which Puck grants, and the figures inside Broadway and Angela acknowledge their fate, to which Alexander-as-Lexington (don't ask) grants by sending them into Coldstone and Coldfire respectively. Everyone is back to normal, Xanatos gets his noble wish granted, and Alexander gets his first lesson, courtesy of Puck's Rube Goldberg Method of Teaching.
It's a solid episode, if a bit messy when the head games really begin, but it's all done on purpose, a confusing episode meant to make all sense in the end. Still, while the character misunderstanding is fine, a bit of plot/pacing clarity would've worked in the episode's favor. It's no matter, though: the last four episodes have been fantastic overall, and with the season finale of Hunter's Moon next, we're looking at a fantastic endgame to an amazing show.
"The Reckoning" A/"Possession" B+