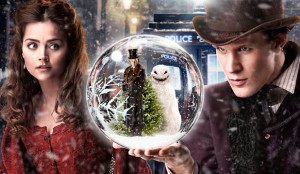 Of all the events that transpired in the Doctor Who episode "The Rings of Akhaten," the one thing that stuck with me was the moment that the Doctor and his newest companion Clara talked with an alien about renting a space moped. In lieu of cash or credits, the aliens on the world of Akhaten wanted objects of sentimental value. The more sentiment behind the object, the Doctor explains, the more its value, its worth. The episode continues then with all these other concepts like gods, stories, memories, songs, meaning, and "the most important leaf in human history" (and we'll get to this in a second), but for the most part I kept thinking about this concept of buying a tangible object with another tangible object that has intangible meaning to a single individual. Then it hit me – this really is fucking stupid.
Why? The idea of an alien species valuing an object with meaning behind it is not even science fiction. It's not even LIGHT science fiction. It's the hacky, emotional reject of an young adult fiction novel. Of all the goofy, fun moments in The Fifth Element, no one said that the idea of "the fifth element being love" was one of them. As dark as Harry Potter gets, Harry surviving Voldermort's attack when he was a child due to his parents love is not exactly well-respected.  So when Doctor Who trades Clara's ring (which was passed down from her "mum") for the moped, we're way past a soap operatic science fiction show. We're entering allegory territory. The problem isn't that science fiction can't have allegorical concepts; it's that the overall show as an philosophical allegory is just not interesting. We're not watching a show with real characters and crazy plots that build around a theme; we're watching a show about concepts, ideas, and themes, embodied in random characters and plots. Doctor Who is all about meaning now, and it's bothering me.
Moffat seems strangely obsessed with myths, concepts, and intangibles. He's weirdly taken to ideas, ideas so specific that it's off-putting. His clever-by-half take on the series embodies this, where characters seem perfectly quippy and quirky, speaking in Lost-ian like language that no human (or alien!) would actually, or even theoretically talk like. It's getting to House-like levels of silliness now, when in it's final three or four seasons, every character talked like observational theorists, able to suss out the essence and emotions of every other character. Everyone became a fucking detective of human life.
The entirety of Doctor Who is now a "fucking detective of life". This would explain everything – the lack of urgency, the labyrinthine story arcs, the obsession over the "Doctor Who?" question (which was always played for a joke… until now!), the questionable presentation of Manic Pixie Dream Girls as companions, the ideas of fear and love and song and memory being catalysts for plot contrivances, the nonsensical EVERYTHING involving River Song, the ruination of potentially great monsters like The Silence and The Fallen Angels. All of these plots and characters are nothing but vessels for Moffat and his writing staff to muse on life and the universe's greatest mysteries, like the meaning of love and fear and friendship and death. Moffat probably decided to avoid returning to Daleks because he couldn't make them into a metaphor for anything. The Cybermen, though? The cold, mechanical robots with no feeling? Oh, yeah, we'll see them again.
Beyond this all being questionable sci-fi, the bigger issue is that these themes and his opinion on them are NOT universal. He doesn't seem to present a nuanced side to these things, nor seem to delve to much into various opinions of it. His arc concerning the Doctor's death could have been a powerfully dramatic moment for the character. Matt Smith sells it well, but it ultimately leads to nowhere, branching out into bizarre one-note areas, like in "Let's Kill Hitler," where he was poisoned and, for some reason, ran back to the TARDIS to talk to an image of a young Amy Pond to… express regret? It's a nice moment but had absolutely no bearing in the actual plot of the episode and felt rather extrameous. Or in "Vincent and the Doctor," a dramatically powerful episode to many, but its clear that Moffat wanted to talk about depression and loss, not necessarily create an actual plot-driven episode of TV that supposed to last 52 minutes. (And the less said about "Closing Time," the better.)
And so we're back to the "most important leaf in human history," which – what? The most important leaf in human history gave you a raccoon tail and ears and allowed you to fly. Clara, your leaf being apparently stronger than the history of the Doctor's travels is nonsense. Even worse, his metaphorical nonsense doesn't even hold under scrutiny. Moffat (or in this case, writer Neil Cross) holds that history is finite but the future is forever, and somehow the leaf represents infinity but the Doctor's life doesn't, despite the fact that the Doctor, presumable, will be living a LOT longer (and his experiences bare more for the future), but the leaf actually represent past events (the marriage of Clara's parents) and kinda doesn't bare anything to the future, save for what Clara would believe and — do you see what I'm getting at here? A whole lot of run-around bullshit. And it's bullshit that lacks the foresight of contrarian and differentiating viewpoints, so it's not even WELL-THOUGHT bullshit.
I was somewhat pleased with "Cold War," which gave purpose and agency to the characters, and even allowed Clara to feel vulnerable and unsafe for once. I wasn't too pleased with the deus ex machina of the Ice Warrior's arriving ship, and it seemed like Clara's fears were tossed aside in the end. But at least those critiques come from elements of substance, writing, and character, instead of the broad swath of allegorical ideas that seem to be present nowadays. Here's hoping that we can see Doctor Who become more character and plot based as the season winds to a close.