Posts Tagged Art
PLEASE NOTE: Normally, I wouldn't do this – it's usually in bad taste, makes the author seem wishy-washy, and suggests things could change at the drop of a hat. But missing Miss Piggy I felt was too big a mistake to let go. So I threw out all the results, revised the brackets (sorry Pig from Back at the Barnyard!), and reposted the polls again, to really find out who the best pig is. Sorry for this, but I definitely thought it was a necessary change. So, if you wouldn't mind, please vote again!
Dear internet: the flamewars need to stop, now. I hate going to various websites and seeing the comment section erupt into a battle of… non-wits over this. It sickens me. I know we can do better, but until this thing is put to rest, we will continue to belittle and bemoan everyone and everything they stand for.
This ends now.
THE GREAT PIG-OFF OF 2013.
Finally, in our great history of noteworthy pigs, boars, warthogs, and pig-boar-warthog-men, we will determine beyond a shadow of a doubt, which pig is the best pig of all time. OF ALL TIME. The results of this bracket cannot be contested. The final outcome will be law, the next amendment to our great and wonderful Constitution. Any and all protest will be dealt with immediately. Void where prohibited.
Vote now. Get your friends to vote. Your family. By gunpoint if need be. Because this is the end of all things. Of all PIG things. RECOGNIZE.
I) Literary/Allegorical Edition
1) Wilbur (Charlotte's Web) – The venerable star of this classic children book is a comely, fat oinkster who comes dangerously close to being chopped up into bacon and perhaps some ham. Luckily, plucky spider and blood-sucker arachnid Charlotte uses her extreme spelling skills to shock humans into thinking that Wilbur is terrific and radiant. What does she get for her efforts? An overly-dramatic death scene. Still, Wilbur ends up taking care of her three sickly spiders children (of the millions that hatch and haul ass). Some pig indeed.
2) Napoleon (Animal Farm) – I regret admitting I have not read this book, so I will let Wikipedia sum it up: " 'A large, rather fierce-looking Berkshire boar, the only Berkshire on the farm, not much of a talker, but with a reputation for getting his own way'. An allegory of Joseph Stalin, Napoleon is the main villain of Animal Farm. In the first French version of Animal Farm, Napoleon is called César, the French form of Caesar, although another translation has him as Napoléon." So yeah, COMMUNISM.
Wilbur or Napoleon?
Wilbur (67%, 33 Votes)
Napoleon (33%, 16 Votes)
Total Voters: 49

Loading ...
II) Animatronic Edition
1) Babe (Babe) – Babe, the curious piglet that seems to have a knack for bizarre adventures, earned an unrequited amount of love by treating sheep with respect and winning a sheep herding contest by being nice. He may be incredibly stupid (at least to some dogs), but his warm heart and carefree innocence can win over even the most headstrong wool-producing animal. And to think, Farmer Hoggett almost shot him!
2) Maxwell (Geico commericals) – Geico never met a commercial marketing gimmick it DIDN'T beat mercilessly into the ground (the cavemen, the gecko, the money with the googly eyes, Mike McGlone and his creepy look, the two string-instrument players on that shitty stage), and good ol' Maxwell is yet another victim. The screaming, pinwheel-loving-turned-playa porker seem to be everywhere nowadays, inescapable but still as cute as a button. Hate him? Tough luck. Get used to it.
Babe or Maxwell?
Babe (80%, 37 Votes)
Maxwell (20%, 9 Votes)
Total Voters: 46

Loading ...
III) Animated Movie Edition
1) Pumbaa (The Lion King) – Ah, Pumbaa, what a wonderful pig! The flatulent but loyal warthog that sticks by Timon's side may not have all the rocks in his head when it comes to common sense, but he definitely showcases a surprising amount of specific knowledge at random times. He's big, strong, and easily confused, but when scrounging around for bugs, he's the best in the business – although he will definitely gorge on his fair share of them.
2) Harry Plopper (The Simpsons Movie) – This extended, 12-dollar-to-see Simpsons episode dropped in this random Homer Simpson gimmick to, basically, use for their commercials. But hey, Harry Plopper is adorable and innocent in all this. And his alter-ego, SpiderPig, is seriously badass with a seriously badass theme song. As much as The Simpsons may have wore out its welcome, Harry Plopper deserves his one spin-off and over-reaching merchandise.
Pumbaa or Harry Plopper?
Pumbaa (86%, 43 Votes)
Harry Plopper (14%, 7 Votes)
Total Voters: 50

Loading ...
IV) Animated TV Show Adorable Pet Edition
1) Waddles (Gravity Falls) – A pet pig that Mabel won at a carnival (after a complicated time travel situation), Waddles is clearly the love of Mabel's life, and often seems to be a great life coach and a remarkably impartial judge. Soos even got to be inside him at one point, and seemed to love everything about him – save for nearly being the meal for some crazy man with a beard.
2) Abner (Hey Arnold!) – Arnold's pet pig was "bestowed" upon him by his parents, who received him as wedding gift, then promptly disappeared. Abner is an adorable little tyke, seemingly able to tough it out with the other animals in the building. His favorite food is garbage, which is kinda stereotypical, but hey, it returned him to his rightful owner when he went missing.
Waddles or Abner?
Waddles (63%, 30 Votes)
Abner (38%, 18 Votes)
Total Voters: 48

Loading ...
V) Video Game Edition
1) Pey'j (Beyond Good and Evil) – The uncle to the plucky protagonist reporter Jade, Pey'j is a brilliant tinkerer and mechanic. He has a gruff, grumpy side but definitely cares for those close to him. He also has a badass leadership side to him, as it is revealed that he is the leader of the IRIS network, the station attempting to expose their DomZ overlords of alien corruption. With a guy so busy, how is it that he's so fat?
2) Ganon [pig form] (Legend of Zelda games) – Sooooo… Ganon, broadly speaking, seems to be a master of different forms, which more or less depends on which "timeline" of Zelda were dealing with. But classic Ganon was, for the most part, portrayed as a blue vicious pig beast that rained down terror across Hyrule. Which is really odd, since killing him takes a few sword swipes and an arrow. THIS is the scourge that we saved the land from?
Pey'j or Ganon?
Ganon (68%, 27 Votes)
Pey'j (33%, 13 Votes)
Total Voters: 40

Loading ...
VI) Wacky Cartoon Edition
1) Porky Pig (Looney Toons) – There was one time that Porky was a fat, stuttering mess. Since then, it seems that he got his life together – he lost weight and got his stuttering under control, transforming it into more of a minor speech impediment. He also went to school and became an accountant, even helping Bugs out on occasion, the same rabbit he often tried to kill and eat. Boy, how times have changed, eh?
2) Hampton J. Pig (Tiny Toons) – Porky's miniature doppleganger in Spielberg titular foray into after-school animation was a delightful, charming scaredy-cat and neat-freak, who was best friends with the dangerous schemer and manipulator Plucky Duck. Hampton, overall, was not a hugely influential character, but his family (and their outlandish road-trip) single-handedly makes him worthy enough to follow.
Porky or Hampton?
Porky (81%, 38 Votes)
Hampton (19%, 9 Votes)
Total Voters: 47

Loading ...
VII) Unimaginative Name Edition
1) Miss Piggy (The Muppets) – The infamous large swine from one of Jim Henson's greatest creations is a large mouthed pig dedicated to grabbing attention and the affections of her unrequited love, Kermit D. Frog. Her love for the limelight makes her the most delightful and disturbing diva of the entire Muppets clan, but you can't really call her out on it – she will "HI-YAH!" you clear across the stage. Say what you want about the gal – she can definitely hold her own.
2) Piglet (Winnie-the-Pooh) – Now this was a book worth analyzing – before Disney cleaned it up with songs and color. Winnie-the-Pooh was a goofy, quiet tale of a boy's in-depth imagination of his stuffed animals – a British Calvin and Hobbes. Piglet himself was an easily scared stuffed piglet, cute as a button, but kinda clumsy and useless when things got hairy. Still, he's dependable and fairly loyal, whatever that might be worth.
Miss Piggy or Piglet?
Miss Piggy (68%, 34 Votes)
Piglet (32%, 16 Votes)
Total Voters: 50

Loading ...
VIII) Military-Ranked, Air Pirate-Fightin' Edition
1) Porco Rosso (Porco Rosso)- An ex-military WW1 flying ace, Porco Rosso was cursed into pig form after fleeing/surviving an aerial dog fight. The talented "Crimson Pig" battles air pirates and cocky American douche-bags, all while staying away from the Italian Air Force who wants him tried for desertion. Porco was just in a bad situation, made worse by inexplicable divine magic, a shot-down plane, pirates that want him dead, and an Air Force that wants him in jail. He sure seems to take it all in stride.
2) Colonel Spigot (Talespin) – The midget military leader of Thembria's Air Force is kinda pathetic but exerts his power to the fullest nonetheless, mostly in service to please The High Marshall of Thembria himself (in so much that he isn't sent to the firing squad). His loyal assistant Sgt. Dunder gets most of the abuse, but Spigot can't avoid all of it, considering his every move is scrutinizes on the threat of immediate execution.
Rosso or Spigot?
Colonel Spigot (53%, 20 Votes)
Porco Rosso (47%, 18 Votes)
Total Voters: 38

Loading ...
—————————
Vote early and tell your friends. It's time to find out which pig is the epitome of anthropomorphic swine in all of entertainment! First round voting will end next Thursday, and results/round two will be revealed on Friday!
The television landscape may be doing some pretty great forms of entertainment, but the severe lack of diversity has been more problematic than critics seem willing to admit. Why?
I feel bad for Lena Dunham. The creator and showrunner for HBO's Girls has gotten a lot of flack for the lack of racial, social and/or sexual diversity in her critically-lauded show, and it's not really her fault. She has no responsibility to speak for an American society that now has more minority babies than Caucasian ones, or for the scores of homosexual people concerned over the future of marriage. The onus is really on the executives to greenlight and schedule shows that involve minorities, as well as promote them with the same rigor that they would their flagship shows. Girls have been receiving the backlash primarily on two fronts: 1) its very premise and characters make it impossible to deal with the real – and complex – issues plaguing the modern twenty-something, and 2) its pedigree have been exalted so much by both creators and critics that they seem unwilling or incapable of criticizing the very problem that the so-called Golden Age of Television represents. It's a self-fulfilling prophecy that borderlines on conspiratorial; critics praising shows of a singular and narrow vision for their jobs encourage creators to create shows of a singular and narrow vision for critics to praise, and so on. This problem has extended from the AV Club to even our beloved Hulk.
Points 1) and 2) are noticeable in the promo photograph for Girls: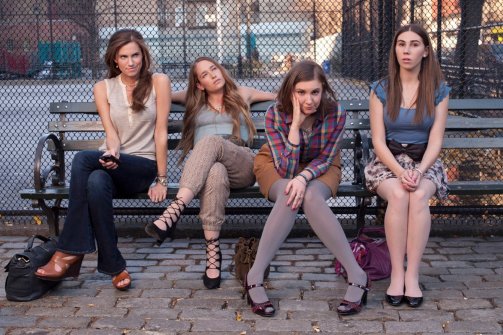 (Check out the parody here, which touches upon the larger point, even though I don't quite agree with it.)
Look at it. Just look at it. Not a single person of color or minority – and this show takes place in New York, so no one will deal with the pressures of casual racism. Not one of them is gay, so they'll never deal with the issue of coming out (or "passing"). Hell, not one of them is geeky or fat or even different in anyway, which are all real issues twenty-somethings deal with. This photo alone showcases such a strange and narrow vision of expectations, and the show, from what I've heard, only confirms it. Please don't get me wrong. Denham has no responsibility to "speak" for those outside her singular vision (although this is a serious problem with auteur theory that critics fail to address – more on this later). But everything that is endemic about TV today is encapsulated right there.
We're not in a Golden Age of Television. We're in a Gilded Age of Television, an era that professes a greatness that masks the numerous issues that are facing the TV landscape. There is great television out there – from Mad Men and Breaking Bad, to Community and Happy Endings, to even shows like My Little Pony and Adventure Time and Regular Show. It's stuff I truly enjoy watching, but even with this sample we can see how the "macronarratives" lean towards the heterosexual, WASP vision of the world.  (Yes, even MLP – Take a look at the comments section on Youtube for any showing of the episode "Over a Barrel." And I know that a Youtube comment section is the seventh level of hell, but I still recommend looking because it did foster a debate worth having.)
The issue, as I see it, has always been concerning auteur theory, an ideal but extremely flawed method of thinking about collaborative forms of art that ties distinctive styles and techniques to a singular person. In the broadest form, it's a fine way of thinking about film or TV, but over the years the inherent flaws of auteur theory – the danger of discounting those "other people" who worked on the film; the limits of tying inherently "free" techniques to one (often straight, male, white, and American) person; disparaging different forms, styles, ideas, and media as having intellectual merit over others – completely fell by the wayside. Critics were careful to note these problems at the beginning of auteur theory formulation; now, it's as if these dangers were mere trifles. There are those creators that are defined "great" and those that aren't, and it's odd that those "great" people are mostly, well, similar to their physical and sexual traits, defined within intellectual paradigms.
Nothing represents that most distinctly then Roger Ebert's takedown (and subsequent non-apology) of video games as art. It's not that I agree or disagree with him, but it's sad, borderline embarrassing, how Ebert frames his argument, then follows all that up with some arbitrary poll when his readers can vote whether they would rather play a game or read Huckleberry Finn. As if this whole thing amuses him, the masses of people with their over-the-top and implied-uneducated-and-therefore-unworthy opinions, because of course he'd never actual, maybe, sort of, kind of, think about the issue a little. This is the modern form of criticism. It's no longer informative, debatable, self-aware, and cautious; it's direct, declarative, non-ironic, and bold.
And even in regards to Murray's misappropriated essay from above, after the general disappointment and backlash against it late in the comments section, you would think there would be some sort of re-thinking of the approach the issue of "micronarrative" representation over at the AVClub and in criticism in general. But in a recent Girls review, head editor Todd VanDerWerff posts the following comment in response to the continuing Girls backslash:
"People seem completely unwilling to extend this show even an inch of intellectual/critical charity, as if every minor deviation from their own reality on the part of the show's reality is somehow a huge failure. It's just fucking wearying."
Which threw that idea out the window. (Which goes doubly so for this screed on a recent Girls review, at least the second half of it.)
I know Todd and met him a few times in New York and in Los Angeles. He is a very nice person and definitely has a solid head on his shoulders. I'm pretty sure he didn't mean to come off glib or dismissive, but hearing "it's just fucking wearying" is irritating. As if we're supposed to, once again, follow that auteur theory road that Dunham is a part of, and play their game of television art and be satisfied, because those who don't or refuse to or even have legit reasons for their dislike is "wearying". Poor Todd and critics like him, forced to think maybe other people have a point.
This, I believe, is the inherent reason to the internet's backlash to people like Ebert or to shows like Girls or to places like Cartoon Brew. They simply do not, or in many cases will not, acknowledge the flaws in their criticisms or attempt to explore, legitimately, the criticisms of other places. They will not participate in those debates in any meaningful fashion; not to say they need to at every single occasion, but it's that they don't even bother. I have my issues with people like Jim Sterling at Destructoid or Penny Arcade's Tycho Brahe (aka Jerry Holkins) or Kevin Smith, but their willingness to mix it up with the average person and willingness to explore ideas garners more points from me (and most of the internet) than most critics these days.
If more critics fall to honestly explore the problems with modern television (well, in entertainment across the board), then this Gilded Age will only grow worse, these opinions will become "rules," and criticism will no longer be the critical thinking/exploration method like the days of old, but the biased preference of "universal" rigidity of today – which is really, really male, straight, and white.
Andre 3000's hit single "Hey Ya!" is a gleefully hyperactive song, fusing a classic rock sensibility with a modern, funky chic. It exploded on the scene in 2003, in a strange moment, when Outkast, a duo with a string of underrated, entertaining albums from  Southernplayalisticadillacmuzik to Stankonia, decided to release separate ones. They weren't splitting; they were exploring different things. Speakerboxx/The Love Below was the outcome. At the time, critics marveled over Andre 3000's The Love Below's eccentricity and random energy, and casually accepted Big Boi's Speakerboxx. What makes this particularly weird is that Speakerboxx was inherently the better product, a fact that's much more obvious today by most mainstream musicphiles. The Love Below is a nifty experiment, but there's a really blatant truth here, which is most obvious on "Hey Ya," but has yet to be quite understood: Andre 3000, while a great rapper, isn't a good musician.
"Hey Ya" bounces and rolls with the immensity and grandeur that a great pop song can be. It works well in clubs and parties, and brightens the spirits as it bounds through its synths, basses, and fake guitar/xylophonist melodies. It's great as a wonderful 50s-esque rock homage; not so much as a modern rock song. Andre 3000 cut his teeth as a rapper, so his voice is barely registering in this song (mainly due to the fact he can't hit the notes, choosing to drown his voice out instead). I don't hate "Hey Ya" (although I never loved it). It's good, but it's good with an asterisk.
The middle of aughts was a really, really strange period. It was around that time that Youtube REALLY hit its stride and entertainment across the board started to pick up. Artists were finding success in niches, and it seemed that executives were trying to find the formula for recapturing the splitting markets. Options? Catering to new demographics was an idea – Desperate Housewives, The Sex in the City movie. Another option was experimentation. It worked in the early 90s, when animation ripped into the TV landscape with new, bold stuff. And in desperate times, why not try it again?
Lost was such an experiment, the ABC, 6-season mindfuck that, well, didn't turn out to be a mindfuck. A moment in time, the perfect moment for a drama to break the landscape for what could be shown on TV. It was, essentially, an art film as a TV show. Expertly acted, crafted, designed, and displayed. A buffet of skilled workmen behind the scenes, who, despite what the most hardened critics say, left viewers and audiences unsatisfied. Period.
What happened in the post-Lost TV world was, well, nothing. The real TV-game changers were The Office, Adult Swim and 24. The Office defined Thursday night comedy for NBC, and while not a ratings-smash, defined new niche comedies that a network could expunge. Adult Swim opened the niche of singular voices in animated and non-animated comedy. 24, while ridiculous, pretty much defined serial television, showcasing the ability to not possess self-contained shows to be a hit. In the advent of DVRs, Netflix, streaming, and torrents, it seems strange that television is still marred in the classic mode of storytelling. Although, it is starting to break.
The truth is, Lost did not end well. It failed to tie in its plot lines, it failed to define a followup (some people suggest Fringe, although that's more akin to X-Files), and, well, even as a casual fan of the show, there's no desire to go back to it. The strange thing is, Lost, like "Hey Ya," had so much raw impact at an individual level, but came to mean nothing in the end. "Hey Ya" falls in being sung by a not-good singer on a weird but not-that-great of an album. Lost, with no strong narrative and no real endgame, failed as a TV show. Good, but with asterisk.
I also humbly submit Pan's Labyrinth as the film equivalent of good, asterisked media. Guillermo Del Toro is an craftsman director, a visionary into the heart of creations and monsters – a modern day Henson, more or less. And while Pan's Labyrinth had the rich fairytale rhythms and acting that hit all the right notes, it was a not-so-consistent story. The "fairytale" theme became more of a gimmick, an excuse for characters to randomly act out of character. Looking back on the question of its dream/non-dream settings, I keep wondering why and how the film managed to get to certain points without acting wildly out of sync. I can't imagine re-watching this without a rub of the chin and a cock-eyed expression. Who has it in their top fifty films? What did we really like about this again?
The asterisk is there because I want to be clear: this is different that the typical cultural embarrassment that we're usually engaging in. This isn't the Macarana, 80s power rock ballads, bland raunchy comedy, 60s animation, or other forms of entertainment that was terrible content-wise AND media-wise. "Hey Ya," musically, is solid, just as Lost was masterful television and Pan's Labyrinth visually arresting. But as "music," as "game-changing TV," as "the cinematic experience," these three mid-2000 reeked of some missing element, a lack of commitment to the real core issue – entertainment that was aggressively "forest for the trees." In other words – Andre 3000 can't sing, Lost failed to have an endgame, and Pan's Labyrinth's characters made too many uncharacteristic decisions.
Today's entertainment seems to have taken the lessons ultimately learned from this and created… well, not better-quality material, but better contained material. Although if Terra Nova, the DC comic reboot, and Thundercats (more on this later) are the norm, then we may just be coming back full circle.