Posts Tagged Comedy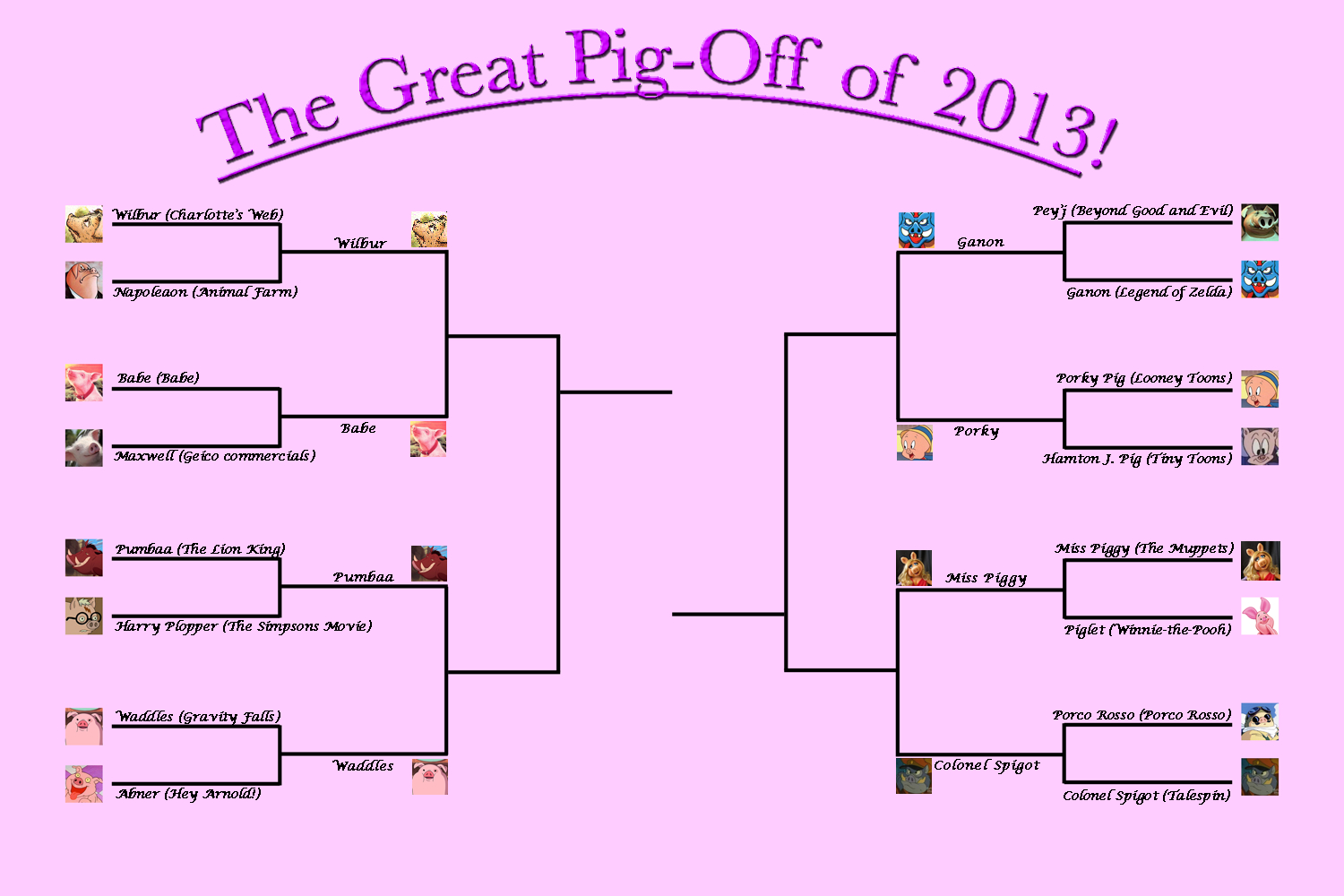 Welcome back to the Great Pig-Off of 2013. We're into the second round now, and the contest is starting to heat up. I'll be providing a couple of thoughts and observations before each set of new brackets, so you have an idea of how the voting went and maybe get an idea of the next round.
I) Wilbur v. Babe
Wilbur won in a landslide against the vicious Napoleon, which probably means there were some spider-lovers out there. Likewise, Babe had an easy victory over Maxwell, which is surely a sign that people hate insurance companies, over-indulgent commercials, or both. So now we pit the tiny, introverted, helpless pigs against each other in one of the two most intriguing brackets of this round. Will Wilbur win over the hearts and minds of his fans with some fancy webbed wordplay? Or can Babe "BAA-RAM-EWE" his way into a straight-forward, non-aggressive victory? This one genuinely has my interest piqued.
I think Babe is going to pull it off here in the end. He's a little more part of the public conscious than Wilbur is.
Wilbur or Babe?
Wilbur (73%, 33 Votes)
Babe (27%, 12 Votes)
Total Voters: 45

Loading ...
II) Pumbaa v. Waddles
The second most nail-biting round pits Timon's not-at-all significant other against Mabel's definitive significant other. Pumbaa trounced Harry Plopper, AKA Spider-Pig, presumably because The Simpsons Movie for some reason plopped two pop culture references on one animal, which, what? The real contest of the first round was the immensely close battle between Waddles and Abner, which seemed like a battle between nostalgia lovers and current cartoon aficionados. Well, the aficionados won by a slim margin, netting Waddles the win. So now comes the toughest block of the brackets – does Pumbaa's random bouts of brilliance trump Waddles darling eyes of innocence?
Really tough call here, but I think Pumbaa is going narrowly get the victory, since my readership skew a wee-bit towards nostalgia than modernism. But the new Gravity Falls episode tonight might change a lot of people's ideas.
Pumbaa or Waddles?
Waddles (81%, 43 Votes)
Pumbaa (19%, 10 Votes)
Total Voters: 53

Loading ...
III) Ganon V. Porky Pig
I was somewhat surprised that Ganon decimated Pey'j so readily, doubly so when no one gave me too much crap over the fact that Ganon isn't quite a pig any more. Porky, on the other hand, had a landslide win over Hamton – no surprise there. So here we are, the representation of true evil versus the representation of true… neutrality. Will Ganon's tyrannical rule spread to the Looney Toons landscape, or with Porky's speech impediment "impede" Ganon's onslaught?
A tricky one, but I'm leaning for Ganon. Cool bad guys tend to always get ahead in these things, and The New Looney Tunes Show doesn't exactly do Porky any favors.
Ganon or Porky?
Porky (61%, 25 Votes)
Ganon (39%, 16 Votes)
Total Voters: 41

Loading ...
VI) Miss Piggy v. Colonel Spigot
Miss Piggy is why I had to redo the contest, and sure enough, she overwhelmed little Piglet into non-existence.  The BIGGEST surprise was Colonel Spigot nudging out in front of Porco Rosso. The goofy, whiny character from the mostly forgotten but insanely underrated Talespin beating a fairly badass character from a Miyazaki film? I didn't see it coming. Now the question is the Thembrian Air Force commander overtake Miss Piggy's sweet-and-sourness? Or will the infamous Muppet pig "HI-YA!" her way through the blue warthog's soldiers?
Most likely an easy Miss Piggy win here; I love Colonel Spigot, but Miss Piggy managed to win so many hearts (aside from Kermit's).
Miss Piggy or Colonel Spigot?
Miss Piggy (80%, 37 Votes)
Colonel Spigot (20%, 9 Votes)
Total Voters: 46

Loading ...
Vote today! Polls will close next Friday, then on to Round Three!