Posts Tagged Comedy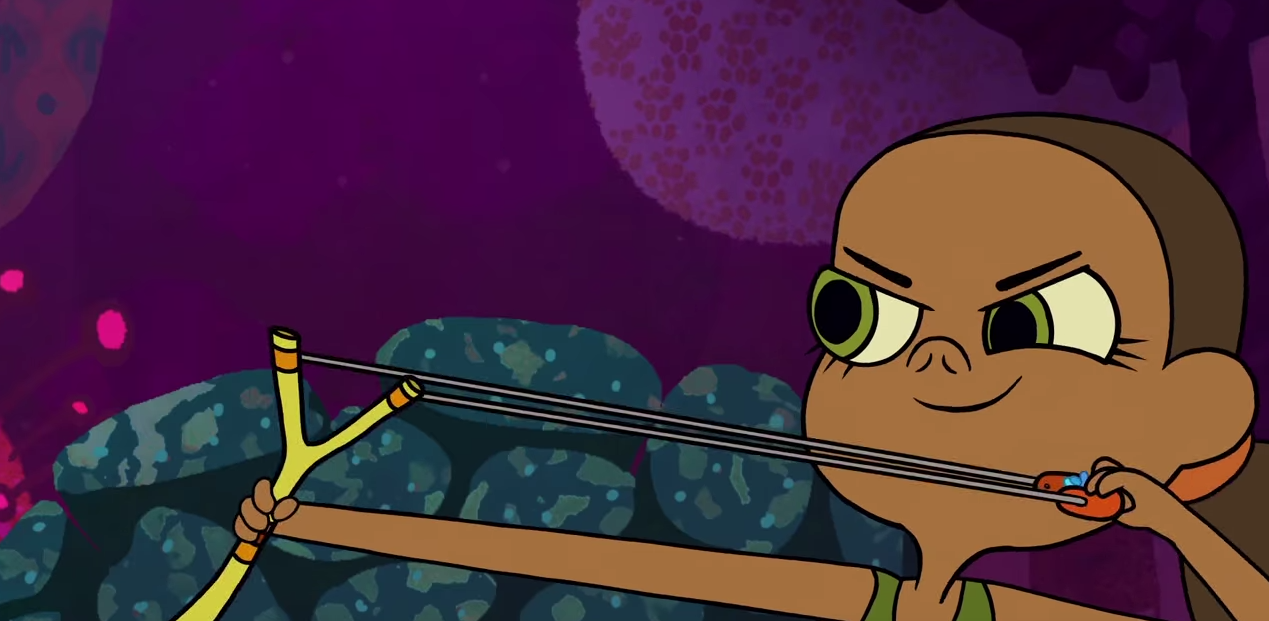 Home: Adventures of Tip and Oh is based on the Dreamworks film Home, a buggered, incomplete piece of animation that never quite grasped the satirical edge needed to portray the abject and complete removal of citizens into makeshift suburban prisons. Home cared little about the uncomfortable connotation of such a premise, which resulted in a plot – in which a young black girl teams up with an alien outcast to try and find her mother – that could not shake off its racially-coded baggage. I know. I know. I wish I could just ignore the analogies – the wholesale removal of people from their homes, the wholesale removal of African people from their continent, the constant splintering of slave parents from their children to foster an economic system that possesses ramifications that last even till this day. But what you need to understand is that it is so, so hard, and Home did little to ease that discomfort from my mind.
In that regard, I had very few expectations of this show.
If a Home TV series had to be made, the best bet would be to ignore that entire premise and forge onward with new, unrelated storylines. Adventures of Tip and Oh does for the most part, although the occasional exploration of the Bov's cinematic past actions is as awkward as you'd expect (more on that later). The animation is decent; the character designs are off-putting, as typical of Thurop Van Orman's style, but functions well enough in movement, and viewers will find themselves getting used to it fairly quickly. The character choices are fairly trope-y and questionable, with Donny being a Mr. Krabs-esque non-entity, Sherzod gearing up to be the most decisive character in a while, and Lucy exhibiting a certain level of air-headedness that doesn't seem to fit a single mother living in Chicago. These, and other creative decisions, suggest the writers are still working through some issues, but there is one thing that Netflix's new show has right: Tip herself.
I didn't warm up to Gratuity "Tip" Tucci at first. She seemed a bit all over the place. She is inconsistent, a bit aggressive, a bit loud, a bit too weird – especially compared to her cinematic counterpart. But then I realized something: that is the point. Tip is purposely, uniquely, her own girl. She is an eighth-grader who possesses her own very limited, very vain, very specific point of view. Her aggressiveness, loudness, and weirdness is uniquely her own. The writing doesn't quite do her any favors, specifically in terms of the situations that she finds herself (and Oh) in. But Tip herself is special. She is unabashedly herself, not particularly concerned to fit within the parameters of young girl character templates – specifically, young black girl characters – that came before her. She is Penny Pride – clever, determined, confident to a fault – mixed with Star Butterfly – extroverted, adventurous, out-of-her-league. Tip is confused, lost, conceited, goofy, and, yes, even grating. She is all those things – which makes her the best, most important young black female lead for children today.
I need to reiterate something: other than Doc McStuffins – a show for preschoolers – we do not have a single animated show on the air with a black girl as a lead. Mostly cartoons are driven by young boys (or talking animals). There are more shows now with girls as leads, and/or shows with strong feminine characters. But they're mostly all white (save for Steven Universe's Garnet, which is another matter entirely). And that is fine. But in this era and in the call for more diversity, it's telling that, as usual, young black girls are continually, routinely ignored. (Full disclosure: I pitched this piece to a well-known site, which was rejected, and which I deeply believe contributes to this problem.) Seeing and experiencing someone like Tip on my screen felt revelatory. It made me realize how limited in scope my expectations of what young black girls could be. (Note I didn't say "what black girls should be," which is an extremely important distinction.) I love Tip because, sometimes, I don't love Tip. I love that she's sweet and loving and naive and annoying and too much and quirky and super-weird and sometimes "uppity." Black girls need to see this. We all need to see this.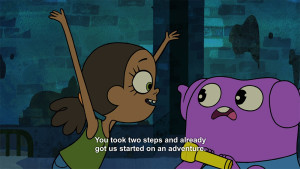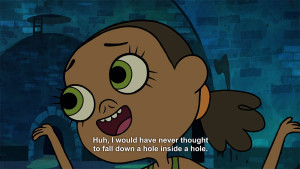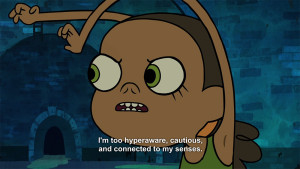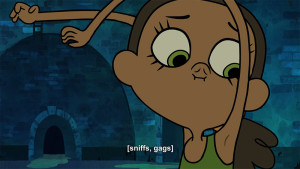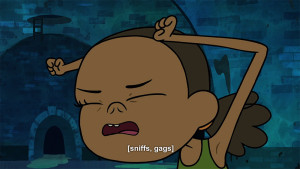 Tip isn't African-American. She's Caribbean-American. Her grandparents immigrated from Barbados; Tip is second-generation. The show doesn't play around too much with this, although it is nice to see when they do. (I would love to see more Barbados-inspired bits on occasion, in the fun ways that Sanjay & Craig sometimes played with its Indian-related bits.) I don't expect the show to really do that, though, mainly because the writers don't seem to really grasp the full relevancy of what they have in a character like Tip. There's theoretically a lot to unpack in a show in which the Bov implemented forced displacement and occupancy, where the setting is Chicago, and where Tip and Lucy live by themselves sans a father figure. When Tip's grandparents visit in "Wrinkly Humans People," that awkwardness is palpable, but the writers don't see it. After all, her grandparents deeply distrust the Bov for what they did, and you honestly can't blame them. Yet the show works it so as to suggest that it's her grandparents that are in the wrong, that they're the ones who are, essentially, the bigots, since they just can't get over what the Bov did. Well, of course they can't. History is ugly.
Even still, there is potential here. There is a rich complexity in the idea of Tip's broader acceptance of the Bov and, specifically, Oh, and how that comes up against the reality of what the Bov did. There is perhaps something to how easily a young Tip has forgiven the Bov in order to maintain the stability of her small family unit, and how that continues to push up against those still harboring resentment towards their occupiers-turned-neighbors. It would be deeply interesting to see episodes in which Tip has to, in some way, address how she justifies her love for Oh, as opposed to her past hatred for the Bov's role in separating her from her mother. Adventures of Tip and Oh might have been better served ignoring all that overall, but although I do applaud the show for dipping its toe into the thornier sides of the film, I doubt the writers have the temperament to hit such dramatic notes.
That's a dramatic layer way out of reach for this crew. At this point, in its first season, it would be just enough to take a fun, deep look at Tip herself (in the context of a young black eighth-grader with only a mother living in Chicago). As a unique character, the writers provide her with the variety of traits that I've mentioned earlier. As a character who will be developed, that where the writers fall short. It's tricky, because the show doesn't need to be an in-depth (if silly) examination on what it means to be a young black girl in Chicago – aliens or not. But it would be worth exploring some of the issues unique to that worldview and experience. The clearest example of this dilemma lies in "Angerdome," an episode in which Tip deals with her anger. There are volumes of content that could be written that explores the social exploitation and discrimination that exists within the "angry black woman" trope. It is both vicious (which posits all black women as unstable and prone to violence) and commodified (from the lighter-but-overused "sassy" trope, to pushing their angry reactions on reality TV). It's hard to say how the writers see all of this in "Angerdome," though. There's a moment, after various characters tell Tip to calm down, where she proclaims, "I'm allowed to be angry!" and it is wonderful; filled with the personal, determined, defiant spirit that young black girls need to hear. Yet the power of that statement is undercut when, immediately after, Tip resigns to needing help (and an outlet) to deal with her anger.
That's what makes it hard. There is the real, distinctive lesson which allows kids to understand that having an outlet to deal with anger is important, and I can't fault the show for dealing with that (although the answer they come up with is muddled). At the same time, the show mostly ignored the opportunity to explore Tip's individual struggle with what it means to be a black girl who gets, and is allowed to be, angry. It's a powerful statement that the writers fail to notice as a powerful statement. It's part of the overall verve of the show, really. It's great to see Adventures of Tip and Oh use a character like Tip to have fun with the general complexities of childhood, especially within such a specific premise. It's tougher to see this done separate from the unique characteristics and history that Tip (and the show) embodies: the black, only-child, fatherless, Chicagoan setting. The universal ideas are fun, and pushing them through Tip is wonderful, but the writers have an opportunity to really explore Tip's experiences at a personal, raw level, and I don't think the writers see it – or they refuse to.
Still, I praise the fact that a character like Tip exists. She is simultaneously fun and frustrating, and it makes her necessary to see a character like her on television. What ever issues or concerns that may happen around the lives of the Tuccis (which, for all we know, could be fixed by season two), Tip's goofy, abject, unforgiving weirdness and quirkiness – so often contributed to white women to the point of a dated, oft-misunderstood trope – has been finally applied to a young black girl. It's just good, refreshing even, to see a black girl outside of a typical "no-nonsense" role. (Tip is no-nonsense, but it's defined within her weirdness, not as a sole contrast to those "silly" white kids.) A lot of her appeal is due to the voice artist, Rachel Crow, a 2011 X-Factor contender taking the role from Rihanna from the movie. Rihanna had gumption, but at best her voice work was merely passable. Crow brings a serious, specific attitude to Tip – a rough energy that's wonderfully infectious (in the same multi-layered cadences that the late Christine Cavanaugh gave to Gosalyn Mallard). She also has a distinct singing voice that manages to add flavor to both the show and the character, without it being too distracting or random.
So flaws and all, I look forward to see where Home: Adventures of Tip and Oh takes Oh and Tip in future stories. The creative critic in me wants to see the show lean a little harder on its premise, on its boundaries and issues, just to see them contextualize how Tip might respond to those tougher dilemmas and grow as a person. I would love to see those issues hit upon, to expose it to kids, particularly young black girls, who struggle through those issues every day. As for now though, I just want to see more Tip. I want to see more of her odd, assertive, annoying behavior. I want to be challenged, bothered, and amused by Tip's antics, because I want young black girls – and all viewers, really – to understand that being like Tip is okay.
(Final note: I know this is "just a cartoon." I know I should just enjoy it for what it is. What I'm telling you is, I just can't. Not with what I know and experienced, not with what I've read, not with the history and context of this country and even Chicago itself inside my head, not with the news stories and the personal accounts of people's experiences shared every single day. I physically, emotionally, psychological cannot separate the two. I can only channel it, and I would hope and love to see Home: Adventures of Tip and Oh do this as well.)
I wanted to do a piece about kids networks and recent rash of man-children cartoons for a while now – by which I mean, cartoons staring mostly adult-ish characters who have simplistic pleasures and seem more prone to skirt responsibilities in order to engage in juvenile behavior or activities. In some ways, the "man-child" has always been part of the animated landscape – Bullwinkle J. Moose is a fairly classic man-child – but it was tempered with a sense that the character, at least at some level, had a clear direction, an idea that he was doing something right, a guiding voice (in this case, Rocky), and a sense of logic that drove his actions. Bullwinkle was goofy, sure, but he was a loveable goof, loyal and passionate and at least somewhat-down-to-earth. Jay Ward's titular cartoon was also loose and free with its characters, easily plopped into simple plots that doubled as smart-ass satire against current events. Other cartoons, too, emphasized semi-silly characters who were at least dedicated to their jobs – Super Chicken, Roger Ramjet, Dudley Do-Right.
AO Scott wrote this pretty interesting piece about the fall of adulthood recently, and while it's a little rambling, it made me think about current cartoons today, particularly on Nickelodeon, and their emphasis on man-children adult characters. After all, Nick's call for animation pitches only allowed for 'toons with kids or man-children adult protagonists (mainly due to their research stating that kids today just want comedy). There's really nothing inherently bad about the man-child adult icon, but the recent batch of cartoons with such characters helming the show are dialed up to eleven. These are not characters who enjoy their childish pleasures while working their way through their (often newly-earned) responsibilities. These are characters who thrive in their juvenile behavior, behavior that is encouraged and often ends up saving the day despite the fact that such behavior would be dangerous and/or illegal. This can only go so far before the true nature of growing up becomes muddled.
To clarify, the rise of man-child entertainment arose from three specific events: 1) the social embrace of "nerd" culture – things like comic books and cartoons, media originally created for kids, 2) the recession, which leaves the younger generation aloof from job/domestic responsibilities due to the difficulty and ambiguity of acquiring them, and 3) what can be described as the "new sincerity,"  which in some ways arose from "ironic culture." [The best way to describe this would be to think about someone who enjoys something objectively terrible because of its terribleness like The Room, or Saved by the Bell; if there's a certain self-awareness about liking something terrible, it's ironic, but if there's a fondness for that terribleness, its sincere. The line between the two is obviously muddled, but a lot of that tends to cleared up by how much interest in paid into the creation of the entertainment in question – the actors, the crew, the producers, the networks/studios, and so on. Liking The Mighty Ducks might be ironic if you laugh at its awfulness, but it may be sincere if you immerse yourself in Mighty Ducks lore, discuss the writing of David Wise, talk with animators about their time on the show, etc.]
Part of the appeal of the man-child (and a lot of the aspects of Scott's piece, particularly with his sections on Beyonce and Taylor Swift) is the emphasis of the individual's stake in his enjoyment. Pushing against the social tract that tended to instill adulthood at one's mid-20s, which included marriage, kids, a home, a job, a car, and "most importantly," the dismissal of all forms of children-marketed entertainment, man-children (and their female counterparts) thrive and proudly embrace their love of such pleasures, like video games, comics, cartoons, and young adult books. These are people who absolutely believe they can take care of their responsibilities along with loving what they love, even if such responsibilities will have to occur months or years later. And let's be clear: these people are one hundred percent right, but there is an asterisk, as that passion can be all-consuming. Criticisms against such behavior and/or the juvenile media tend to come off as a personal attack, which can explain things like more aggressive sides of gamergate, the MLP fandom, and lovers of Harry Potter, Twilight, and The Hunger Games.
Life's always been about the balance between one's responsibilities, particularly the ones associated with adulthood, and pleasures, although back in the day, the pleasures were always of the "adult-ish" kind: fishing, vacationing, playing a sport, reading. There was a distinct line between the two, too – there was a time for work, and there was a time for play. Blurring the line was a strict no-no. Ducktales and TaleSpin, for example, were clear to make this distinction. Scrooge McDuck was absolutely serious about his pursuit for business and financial deals; his pleasure, ironic enough, came from literally dipping into the money he earned. Scrooge has always been an "adult" in that way, and any sense of his business acumen as a symbol of being uptight and suppressed was rare. In only a few instances was his "greed" portrayed as a real issue for the character, and that greed was always set in some "character-removed" manner. In the "Treasure of the Golden Suns" saga, the greed was only a problem when he became fully afflicted with gold fever. Additionally, it's in this five-part pilot that he gains a real family, the "other" mark of adulthood, emphasized later in "Once Upon a Dime." Everything about Ducktales was built around characters being and embracing adulthood, and the insanity culled from it.
With TaleSpin, Disney is directly tackling the man-child idea, delineating the idea that pleasures are okay but only up to a point. Going beyond that point is more trouble than its worth, or prone to cause trouble. Baloo is a safe man-child, a lazy, baffoonish bear who thrives solely in his skills as a pilot. His juvenile behavior often masks his crippling insecurity, pushing him to levels of petty ridiculousness, like his conflict with Ace London in "Mach One for the Gipper," or Louie in "For a Fuel Dollars More," or even Becky in "The Bigger They Are, the Louder They Oink." Yet that push also drives him to be level-headed at times and even heroic, like when he called out Becky's reckless business behavior in "A Touch of Glass" or when he went up against Don Karnage's laser gun in the pilot. TaleSpin shows often that while there's a certain value to Baloo's goofball antics (like in "My Fair Baloo," where, it should be noted, that the goofball antics are tied directly to hands-on, working class intuitiveness), that there is a limit. When things go too far, things go bad; it's only when you act like an adult do things fall in line. (Becky learns this lesson in a most serious way in "Her Chance to Dream," dismissing the pleasure of leaving the stress of life behind in order to stay and raise her daughter).
The Disney Afternoon was emphatic on adults cartoon characters needing to act like adults, comic or cartoony-slant be damned. Gummi Bears was marred in the need to care for Gummi Glen. Darkwing Duck's more ridiculous pursuits were tampered by his need to take care of his daughter (and his struggles with his girlfriend). Rescue Rangers overall was about its characters coming to terms with various degrees of adulthood – Monterey Jack tackled his addiction, Gadget confronted her insecurities multiple times, Chip often dealt with his role as a leader. Dale might seem the exception, but the show, like TaleSpin, delineates Dale's behavior. When he goes too far, things go bad (and likewise with Chip, when his practical jokes go too far in "One-Upsman-Chip"). The show makes it clear that Dale's childishness is necessary in the sense that its unpredictability gives the team an edge, and when it comes down to it, Dale indeed will pull up his metaphorical pants and get to work. (In truth, it probably wasn't until Donald in Quack Pack did the Disney Afternoon push against the role of adulthood. Goof Troop and Bonkers, despite their problems, emphasized its characters attempting to be responsible grown-ups.)
Adult characters in cartoons were simply adults, flawed and broken of course, but not so much as the crazy world around them. Rocko's Modern Life was perhaps the clearest example of this, the show about a young adult just simply trying to run his life, notably away from his parents way back in Australia. It's the world that's insane, not the character, and the comedy was in watching Rocko try to do simple, mundane, adult things, like the laundry or going to the beach or getting to work on time. Hefer, Rocko's friend, is definitive the show's man-child, and at no point does the show suggest that Hefer's behavior is warranted or ideal. The show's clearest direction of adulthood, oddly enough, is created through Philbert, the one who literally has to go on a pilgrimage to become "a dolt" (note the play on words here), and he's the one who ends up getting married. Rocko gets a lot of discussion over the various ways it got away with adult gags, but it's ironic that a show known for its juvenile gags masks its emphasis on maturity and growth.
Somewhere along the lines, the cartoon philosophy changed, and we can't quite place the blame on Nickelodeon. CN brought us Johnny Bravo, starring a character epitomizing the worst of the man-child, a walking Dane Cook-esque "bro-seph" who only loves himself and treats women terribly. The show, of course, makes it clear that Bravo's behavior is absolutely abhorrent, that his sexist actions result in him put through physical pain. Yet Johnny has no job and no prospects, and he lives with his mother (more or less), emphasizing his separation from adulthood. We are meant to laugh at Johnny and in no way look up to him.
Then there's Spongebob Squarepants. I mean, it's easy to just call this show as the catalyst for the man-child adult run in animation today, but Spongebob is a curious case. At least prior to the movie, Spongebob relished in his pleasures, such as blowing bubbles, jellyfishing, and karate, all of which are representative of his immaturity (in addition to his complete inability to get a boating license). However, Spongebob owns his own home and he works at a job that he not only loves but he's actively good at. Spongebob engages in the things he enjoys, but even he knows when things go too far, and he always keeps his job (and taking care of Gary) first.
I think Nickelodeon took the wrong information from show's popularity. Instead of observing the various components that made the show function so well – in that a character who enjoys his pleasures also is relatively dependable, to a fault – they saw "man-child adult" and doubled down on it. This in some ways explain Spongebob's current failings – the character is a lot more irresponsible, dangerous, and stupid, like marrying Krabby Patties, and it also explains Nick's current off-putting shows, like TUFF Puppy and Breadwinners.
The titular lead in TUFF Puppy, in contrast to Johnny Bravo, is supposed to be admired, I think. We're supposed to laugh at Dudley similarly to how we laugh at Johnny, but while Johnny's behavior leads to bad, comical scenarios, Dudley's behavior is, at worst, a comic distraction, and, at best, heroic. The similarities are uncanny – both live with their moms, both are moronic to a fault, both wear black shirts – but while Johnny falls flat on his face, Dudley is rewarded with a new job, friends who tolerate (and accept) him, and amazing ass-kicking abilities. (Note how Johnny's martial arts are a joke, hyperbolic posturing, while Dudley's nonsensical movesets can handle all sorts of criminals). In a way, Dudley is more akin to Rescue Rangers' Dale, but Dale, as mentioned, is distinctly tempered. Dudley, meanwhile, is free to go overboard, and the show goes along with him, with its criminals and fellow agents free to go ridiculous as well, consequences be damned. I'd argue that there was a minor attempt in the first season to bring some sort of pathos to its man-children setup, with the show attempting to establish strong if goofy relationships between Dudley and characters like Kitty, the Chief, and his mother. That pretense was dropped quickly, turning all the characters (even Kitty) into unrepentant goofballs. TUFF isn't so much a crime fighting agency as an unsupervised playground; the show isn't so much about balancing work and pleasure as its about unrestrained comic inanity.
Breadwinners, likewise, portrays its workplace and its workers as instruments of chaos. To Buhdeuce and SwaySway, delivering bread isn't just a job they enjoy but a massive game to them, an endeavor that allows them to be wildly goofy and destructive sans consequences. Breadwinners has a slightly better handle on its character relationships – the strong bond between the main characters; the easy-going connection with their mechanic, Ketta; the tense relationship with the antagonist cop Rambamboo – but again, it's all a means to an end, excuses to have its characters engage in juvenile behavior within (ostensibly) a working environment. There's no meaning to their role as breadwinners other than it's vaguely important, and, like Dudley, their chaotic behavior often saves the day more so than it ruins it. Notably, both Breadwinners and TUFF Puppy can't define their workplaces or relationships with any clear-cut boundaries, since that would break the protagonists' hold on their childish behavior. In other words, these are characters who can essentially do whatever they want; forces that try to tamper that down just don't get it, despite such dangerous behavior. No one even questions it.
It's sort of why the 7D never feels like it's getting off the ground. Like TUFF Puppy and Breadwinners, 7D seems primarily concerned with its workplaces and relationships as excuses for its characters to be comically nonsensical. There's little hint that the dwarfs' mining or the queen's ruling is other than a means for hilarious stuff to happen. And, like Kitty and Rambamboo, 7D's Starchbottom (note the name) is the show's stick in the mud, since he's the only one who takes his job with any sort of seriousness. Locales and relationships, again, are ill-defined, since that would interfere with the joke-telling. Grim and Hildy, the show's antagonists, are married, but there's no sense that the marriage is anything beyond the comic scolding of Hildy's aggressiveness to Grim's submissive stupidity. In 7D, TUFF Puppy, and Breadwinners, (wo)man-children rule, with nary a thought.
There are two holdouts to this questionable trend. My Little Pony: Friendship is Magic, for its faults, is refreshing, since its six main characters have real, adult-ish roles and pursuits (even Pinkie-Pie, who pursues her childish passion for partying with an adult-level fervor). The world of Equestria is chaotic, but there are rules and limits, and the characters are forced to pay attention to those limits to thrive. Kung Fu Panda: Legends of Awesomeness is wildly flawed too, but at its best, it strikes the right balance between Po's love of childish things and the need to engage in responsibility. It does struggle with this at times, but it does showcase Po's childishness within a "work" environment as problematic, not rewarding.
I'm ending this this piece by mentioning Wander Over Yonder, which is quite analogous to Rocky & Bullwinkle – a childish "adult" (Wander) who is guided by a more mature figure (Sylvia). Both shows are loose enough allow their man-children characters to behave chaotically unchecked, but, like its forebear, the show is loose enough to plop its characters in random scenarios to let the comic behavior breathe, and the episodes balance the sillier stuff within its own brand of satire ("The Hero," "The Troll"), and again, it's clear when Wander's behavior goes too far or is portrayed as dangerous ("The Void," "The Box"). Here, man-child behavior is celebrated but is distinctly curbed – there's a time and place for it. That's really the issue in a nutshell: the best shows embrace the enjoyment of adult characters and their "toys," yet understand that there's a time to put them away. THAT'S the lesson I fear is being lost.
Road Rovers's lofty premise failed to commit to anything of substance to sustain into a cohesive whole. The question is, why?
I have seen a lot of cartoons by this point. I have seen the good, the bad, the ugly, the beautiful, the strange, the weird, the bizarre, the outlandish. I've seen action cartoons, wacky cartoons, subversive cartoons, serious cartoons, and surreal cartoons. I've geared myself to engage in every type of animation out there, whether for kids or adults, cracking my knuckles and prepping my fingers to explore what happens within the animated frame and how those events could affect viewers, and how over time those effects may be viewed in a modern context, or within any context at all.
Then there's Road Rovers, a show that seems so stifled that it's almost impossible to engage in. Almost.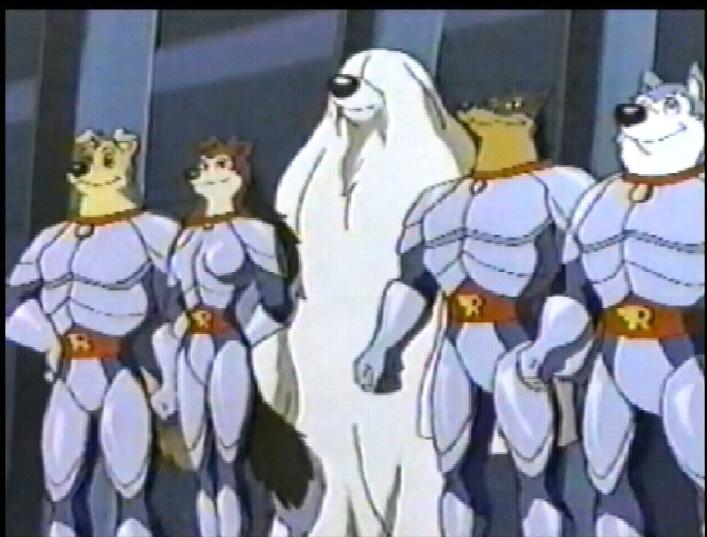 Road Rovers is a curio. I kind of feel like Homer Simpson when he described what a Muppet is – that is, if you were to ask me what Road Rovers is about, I would respond: "Well, it's not quite an action show and it's not quite a funny show, but man… so, to answer your question, I don't know." Honestly. I'm not exactly clear on what the Road Rovers was aiming for. For a show spearheaded by Tom Ruegger and Paul Rudd, the geniuses behind Tiny Toons, Animaniacs and Freakazoid – three shows with enough narrative oddness to compete with the Bible – Road Rovers may be the oddest of them all, because it seems reluctant to commit to its oddness. Or anything at all, really.
Road Rovers takes its cues from the Power Rangers, and other super sentai shows that were popular (and still are, to a certain extent), in which five or six plucky characters are chosen to be a super-powered fighting force battling evil where ever it may be. Instead of humans, though, the show opts for dogs, which allows it to dip its toe into the early 90s badass, macho talking animal action-cartoon template as well. Road Rovers is clearly building off these two concepts and attempts to, more or less, undercut those ideas and ridiculousness of them.
Yet Road Rovers doesn't exactly build into anything on its own. It doesn't really even undercut the super sentai show or the talking animal action cartoon either. The show kinda plays into those elements with this weird, lackadaisical malaise, lightly elbowing and jabbing at all these elements – the action, the comedy, the story, the commentary, the metacommentary – without strongly committing to any of it, or even to the very premise of the show itself.
A lot of that probably sounded like gobbledygook. Let's look at the pilot, "Let's Hit the Road."

Road Rovers Episode 1 "Let's hit the Road" by dm_51e63c6f9122b
The first five minutes are played completely straight. It's a bit slow (which isn't necessarily a problem, but there's a sense that it's padding for time), and considering it involves a scientist being blown up, there's a sense that viewers should be taking things seriously. Then the dogs are summoned. It's a silly scene, but it's portrayed with a quiet wonderment, and for a while it's unclear whether it's supposed to be funny or awe-inspiring. The first "joke" involves Shaggy, who's whimpering in fear of his summons. We're treated to Hunter, who saves his doomed doggy pal before he's called upon, which gives us a direct indication that he'll be the leader. Then they're all transformed into their anthropomorphic, metal-suited selves, and present themselves before their "master".
A few quips aside, everything is portrayed as direct and sincerely as possible. But that can't be right, right? The machine that transformed them is called "the transdogmafier," and it's a phrase that is spoken by an actual person, and it's not supposed to elicit chuckles? Then when the master tells the dogs to greet each other, it's done via an off-camera gag with the Rovers' tails in the air, indicating that their sniffing each others' butts. The master sighs and laments he should've used cats. It's a cute, easy gag, but I'm not sure how to take it considering we're nine minutes into the show. It's a gag that pushes it into the ridiculous realm, but the show doesn't feel ridiculous enough to pull it off.
That's just it. It's hard to gauge how to respond to the show. In the middle of various action and dramatic scenes, characters will sort of shoot out these really casual comedy bits that seem tonally off. I get the sense that the creators were aiming for a "casual action cartoon," something where the characters amicably shoot the shit with each other while things blow up around them, a thing that happens quite often with the Rovers themselves. It's an admirable attempt, but the result rarely creates a solid comedy, and it drastically lowers the action/dramatic stakes. It creates a show that feels perfunctory at best, and ill-thought out at worse.
"Let's Hit the Road" is actually part one of a three part series (along with "Dawn of the Groomer" and "Reigning Cats and Dogs" [I think – the episodes weren't aired in any order that made sense]) that gets into the nitty-gritty of the master, Professor Shepherd, the villain General Parvo, and The Groomer (Parvo's assistant and potential lover), and the origins of this transdogmafier. That is, there is a mythology. The show is dedicated to that mythology, but it's inherently silly, and the show knows it is, but it's an attitude that doesn't adequately show up on screen. Plus, it's a mythology that doesn't hold up to even mild scrutiny, particularly when they start bringing in Egyptian spells and time-travel. It's needlessly complicated, which again, would be fine if the show had fun with it. But it treats everything with this weird heavy weight, making it more off-putting then it needs to be.
Yet as mentioned before, the show feels like the joke is in placing its characters in tense situations, creating like a "hangout" show in the midst of an action show. Unfortunately the characters don't have strong enough personalities to stand out individually, let along make a compelling exchange. Hunter is just a really positive guy. There's nothing much going on with him other than his optimistic response to everything, but it's always level-headed, not heavily exaggerated like a Spongebob or a Wander. Colleen is fine but kinda fits the "bad ass female" role, regulated mostly to quipping with Hunter and Blitz. Blitz is the comic relief, although he doesn't really work. He freaks out at the sign of danger – but so does Shaggy, which defeats the purpose (Blitz and Colleen have a running gag where Colleen pretends not to know Blitz when he hits on her. This doesn't work because 1) the sexism is too strong here, 2) Blitz is too stupid to vary the responses to this gag, and 3) Blitz works better as a goofy but functional member of the team.) Exile seems to be the writers' favorite, with his relatively witty putdowns and depth of character that's lacking with the others. His running gag – reading simplistic children stories in the middle of missions – work the best, because it's fits his character AND it's patently absurd.
Lacking a strong premise and a strong cast, Road Rovers kinda limps by with a non-committal attitude that makes it hard to really get behind. Still, the show has promise. The best episodes work with its undeveloped premise, inserts a simple story, and lets it loose. "Where Rovers Dare" is epitome of this. A scepter has been stolen and the Rovers have to get it back. It's a simple, straight-forward action episode, not bogged down by too much information. It's enjoyable to see the Rovers in their element, and their banter doesn't pull too much away from the plot. ("Where Rovers Dare" also has a smartass allegory in its premise, written by this person on Deviantart and confirmed by Tom Ruegger himself. Problem is, the show isn't overall an indictment of studio cattiness, so don't expect to be looking for hidden messages everywhere.)
Once the show tries to be complex, though, it fails. The show is too silly to insert that kind of complexity because it raises too many questions the show is not adept at answering (like its mythology), and the obvious lack of a budget and quality writers makes it hard to look good. "Still a Few Bugs in the System" is just a disaster, introducing a bug-crazed scientist who seems like a caricature out of a wackier cartoon. But the episode is sloppy, with nonsensical storyboards and an even stupider plot. "Gold and Retrievers" has a blind kid who's a native, but also seems to be a leader of a tribe, but it's never made clear, and it's frustrating (the show has an obsession with pyramids but nothing is ever done with it, narratively or thematically). "A Hair of the Dog that Bit You" brings in other talking anthropomorphic dogs, characters we never see again, and it's a baffling reveal. We're these dogs made by the transdogmafier too? Why is one sitting on a mountain, Dali Lama-style? The show isn't wacky enough to get away with these kinds of absurd reveals; it's unclear whether to insert them into the show's mythology or place them as a comedic outlier. The other episodes are okay, with "The Dog Who Knew Too Much" containing a clever twist, but again, the show doesn't engage with either its serious or comic sides, making it hard to support it.
A friend of mine is a fan of the show and spoken with a few of the writers/animators in light of the show's fallout. They basically were working with less of the resources they had with Animaniacs, and it shows. Hunter's eyes are different colors for several episodes, and Blitz sometimes will have Hunter's fur colors. They recycle animation and scenes constantly; a post-Muzzle attack re-uses the same exactly shot and background, despite Muzzle being in two different locations in two different episodes. (An aside: the Muzzle-kills-everyone stuff fails to work because the audience doesn't even get a sliver of an indication that Muzzle's attacks are grotesque. Also, if he's so effective, why not unleash him all the time?) I sympathize with the lack of resources, but the team behind this show is way too talented to let monetary concerns limit them.

Road Rovers 13 – A Day In The Life (Unedited… by extremlymsync
"A Day in the Life" seems to be the kind of episode Road Rovers was always going for, which suggests the show needed a gimmick or absurd frame story to situate its characters inside, so that its seriousness and its silliness can breathe in its own way. The title cards indicating the changing timeframes allow certain moments for the characters to hangout and chat, and other moments for them to kick ass. Hunter's search for his mother is effective, as well as Colleen's feelings for him are explored, which allows her to actually talk with Blitz in a mature manner. Exile works as a team communicator, and the little comic bits they come up with are, if not funny, enjoyable that deepens the characters instead of forcing dialogue gags to disrupt the momentum (the edited "Russian name bit" is too much – not because it's offensive, but because it's really just an Animaniacs gag forced into Road Rovers for no reason).
That bit is Road Rovers in a nutshell. Unable to commit to its drama, action, or comedy, the show tries to do all three but ends up doing neither. The passion is there. You can feel it pushing against the edges of the show. But as the cliche go, Road Rovers' bark is worse than its bite.