Posts Tagged Comics
Hollywood will be smurfing our theaters with the new Smurfs movie, released on August 3, 2011:
I'm no longer the type of person to decry the end of Hollywood's creativity or bitch about the onslaught of lazy slop of reboots, remakes, sequels, prequels, "re-visionings," and poor adaptations. I've heard all the complaints, whines, eye-rolling comments, and exasperations. Don't get me wrong, I agree. But there's no point complaining, since Hollywood and the rich executives who run them will continue to produce them. Marmaduke. Underdog. Yogi Bear. Alvin and the Chipmunks. They're just gonna keep coming.
And why not? People go and see them. And the public isn't exactly running to the original stuff – Inception being the exception (and even that has its problematic justifications). Besides, beyond the lame premises, people do work on these films, and arguably a few of them actually work hard on their respective roles. And, I'll be honest: on a slow day in the future, when it's on TNT and I'm bored and have time to kill, I may watch an hour of one of these films. Hell, I saw twenty minutes of Underdog while at the gym. Stupid, but hearing Patrick Warbuton say "Dogfish" while wearing a too-tight stocking cap was damn hilarious. (Does the context even matter?)
This write-up isn't about the hack-work of the Hollywood system (it's always been there, from the lesser studio system works of the 50s, to the trash-exploitation films of the 70s, to the early TV-show-turned-films of the 90s). This is actually about an interesting set of comments concerning these types of stories and attempts to wrap one's head around the premises in question. People seem more willing to explore the fringes of a concept a lot more than usual; in other words, they seem to want more "world building".
In effect, people wants to see characters inhabit their own existence, and the logic in which that existence came to be. Why couldn't the Smurfs exist in their own world? Why make them interact with humans? The same could be said with Hop. Couldn't he just be a Easter bunny in an… I don't know, an Easter bunny world? Or, take Cars – a film which has been sarcastically befuddling people: who built these cars? Why are there sidewalks? And so on.
It's difficult for me to acknowledge this, but these films are the now-equivalent of the 2D-live action films like Who Framed Roger Rabbit and Space Jam. Unlike today's CGI/live action films, however, Roger Rabbit and Space Jam at least tried to contextualize their worlds. In Roger Rabbit, cartoon characters were "actors" of their own right in 1940s America; in Space Jam, the animated world, underneath our own, was about to be invaded by aliens. It doesn't make "full" sense in closer inspection (do animators exist in Roger Rabbit? why would aliens really need to play basketball to global domination?), but there's enough content to keep our focus and suspend our disbelief.
The problem isn't really the writers, but the base material and the intended audience. Yogi Bear and the damn-near full gamut of Hanna-Barbara cartoons place animated characters among humans. Looney Toon shorts did too, so it isn't Cartoon Network's fault per se that the upcoming cartoon randomly places Bugs and Daffy among a world of humans. They ought to take lessons from Lauren Faust, whose reboot of MLP seem to establish a fully-fleshed world in which the characters can thrive, without falling into the two traps of over-explaining or under-explaining their worlds.
Over-explaining puts -too- much detail into the world, focusing on the excessive details without providing a solid story to work with. Heroes fell into this trap, Final Fantasy games and most JRPGs are notorious for this, and Sonic the Hedgehog fans seem enamored with the details of everything Mobius instead of the story of the comic run (comics, with their constant need for retconning, seems to be the biggest culprit in over-explaining). By contrast, under-explaining creates a broad world without fleshed out rules that fail to stay consistent with the various stories being told. Heroes did this (yes, somehow a show both OVER and UNDER explained its world), and recent shows like V apparently has been throwing a ton of ideas to the wall without anything in place.
Bottom-line: good world building is hard. It takes planning, a dedication to understanding the types of stories you wish to tell, and the surroundings in which you wish to tell it. The characters must be beholden to this world you create, and the audience should be drawn into it. Showcase this world, and let the characters thrive in it, and let the audience figure out where the limits of this world go. Sure, some forms of entertainment can be looser in this regard (take Spongebob, where fires burn and electricity flows freely underwater), but the basis is there (all the characters are underwater species, and mammals need aquatic suites to breath.)
So, really, it's not a BIG surprise that films like the Smurfs, Hop, and Yogi Bear tosses its characters in the real world and let them do whatever. Why bother to put much thought into the world of such films if their mostly for kids, kids who care very little about "where the sidewalks in Cars" came from? Good world building is better for long-term venues, like television, books, and video games anyway; films, as great as they can be, are difficult to justify in several months of rules, laws, social hierarchies, status quos, and so on. Not to say they can't exist in cinema, it's just harder to make it work in three hours or less without over or under-explaining everything.
Towing the line between "but how?" and "who cares?" is a tricky one, especially pushing into sci-fi territory. In a certain way, not only does one have to create a certain level of plausibility in the self-created world, but – and here's the key – work to deny further inquiry. The limits are not only what the characters can do, but what the audience is willing to believe. Yogi Bear is a good example. He's a talking, walking bear, so why aren't they other walking, talking animals? If there were at least 2 or 3 other talking animals, then the audience wouldn't be so hard-pressed in wondering about Yogi. (In effect, the later Hanna-Barbara crossover films, which contained a number of the talking animal characters, was an easier pill to swallow).
Films are better served to KISS (Keep It Simple, Stupid) in their worlds unless we're entering trilogy territory; even then, there's shaky ground. Both the Matrix and Star Wars were straining by the third film, the former more so than the latter, and the less said about the Star Wars prequels, the better. Books, games, and TV have more time to share their environments in detail, but even they can be over and/or under achieving.
My advice in the art of world building is to let your characters and story define the world, and not the other way around. The goals should reveal the strengths and limits of the environment, no more, no less. Build your conflict, understand your tone and genre, and from there, the rules should automatically come. Don't force your beliefs, ideologies, or philosophies into the world until and unless they are emphatic to the development of the story or character. And above all, know when to stop. Let the fans fill in the details.
I'm sure all five Smurf fans in existence have already nailed the lore down, so they should be the only ones truly angry come August first.
Before I begin, I want to mention that the title confuses me. Is it suppose to a play on the line "Prance Around You?" If so, that's an awfully big stretch for a pun. If anyone has any ideas what this is supposed to mean, let me know, please.
My second entry into the Super Mario Adventure series, "Piranha-Round Sue" is a fairly ambitious ten pager that never manages to live up to its potential. Oddly enough, many of the Valiant entries have bold ideas but weak executions. It's difficult to put a solid story in such a short amount of time, but considering that there are a few comics that are fairly great (including a particular one that is flat-out excellent), I do believe that there could have been more hits than misses during the series' run.
One of my favorite ideas about Super Mario stories is expanding the various factions within the Mushroom Kingdom world. To wit, I mean to think of sects of characters that go beyond "Princess Toadstool supporters" and "King Bowser minions". Whenever a comic or game looks to insert not only new characters, but new groups of people, it elevates the franchise immensely. And while not every comic or game can toss in a Smithy, a few X-Naughts, or even a Shadow Princess (who I personally think is an underrated but amazingly evil villain), fooling around with already-established creatures is a great way to work with what you got. It's always cool to see actual Koopa Troopas being on the right-side of the law, and in a perfectly creative would, these Troopas would be treated with a cautious approach, a constant shadow on where their loyalties still lie – the Death Eaters of the Mushroom Kingdom world. (And don't get it twisted – Nintendo could allow something like this to happen, albeit in a more light-hearted fashion.)
So in "Piranha-Round Sue," we're treated to what appears to be a new wrinkle in the Toadstool v. Bowser conflict: the piranha plants are revolting!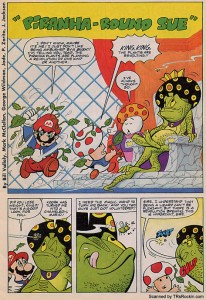 Not only that, but the King has be transformed into a chameleon, and Mario and Toad have to find the magic wand to change him back. That's three conflicts total: the uprising, controlling the king in his chameleon form, and finding the wand (yeah, I know the second one isn't a conflict per se, but it theoretically would be one if there was time to focus on the King's situation within the palace. I'm still counting it.) In addition, Mario is given a magic jewel called the Green Gecko Gem (despite the fact that the king was changed into a different type of lizard entirely. Also, did the king always possess this thing?) It's essentially a poor man's Starman. Protect you from mediocre attacks, but you can't touch anyone else. Why they dropped the Starman concept for this Gecko Gem I have no idea – probably because it's difficult to draw a multicolored figure on the page? In it's own way, this is another conflict, an ultra-weak version of the ring from Lord of the Ring. It still counts, though, especially how the comic handles it later.
Again, this is crazy ambitious, and a full comic might have satisfied all the beats required to accomplish this. But then we see this.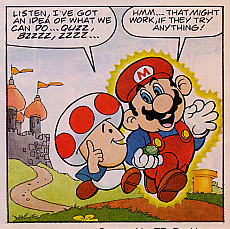 Toad plans something with Mario. Interesting at first. But it leads to this: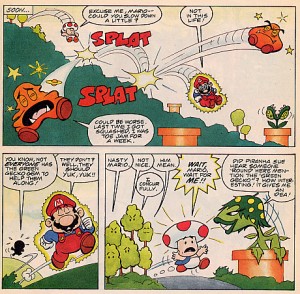 Mario acting like a PURE DICK.
Now, I'm going to stop here and talk about Mario a bit, and why this sort of makes sense, contrary to our heroic dispositions. It's often ridiculed in pictures on the web, but Mario as a gleeful, arrogant hero actually works. He stomps, kicks, punches, and attacks what seems to be innocent creatures all the time, often with a smile on his face. Of course, the visual aspect of SMB is ultimately whimsical; a cute, visceral metaphor of a struggling person fighting these monsters under a false, carefree veil of poppy music, bright colors, and charmingly cure henchman. The gag, therefore, is to showcase Mario as an needless aggressor, attacking innocent Koopas and helpless Goombas for no reason. Humorously, it's fine, but every so often, it seems the writers here take that idea and make it into a real trait, as showcased in that screencap. And you know what? I dig it. It gives Mario a darker side. A personal conflict that he has to keep in check. In fact, to this comic's credit, it plays with this idea later on, as well as touched upon in later issues.
So, leaving Toad in the dust, our tricky antagonist, Sue, confront our solitary mushroom and manipulates him into forcing Mario to choose between his gem and hubris or his friendship. Another layer of conflict? Hey, I'm down for this.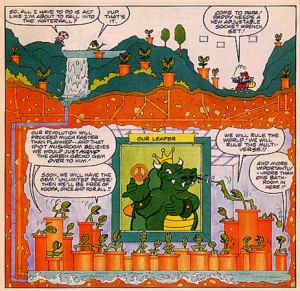 This is probably one of my favorite panels in the entire run. It looks cheap, but on purpose; it has a strong 8-bit video game vibe to it. I love how it divulges so much info without being too expository (well, it is, but no one exposits directly to Toad, so I buy it.) The other piranha plants are all doing different actions, the simple but refreshing "mustache on Bowser gag", and the spacing of the three different "character-areas" is very well established. All this clutter for the this short gag.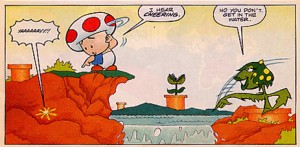 Comics are best thought of what happens between the panels than what happens in them. This is a great example of this.
Of course, things go off the rails. Sue convinces Toad to test Mario's friendship by pretending to drown. Mario is a jerk, but he isn't a monster; so it's just wrong to see Mario complain about being unable to help due to the Gem's restrictive powers. Sue hurries things along in another great panel: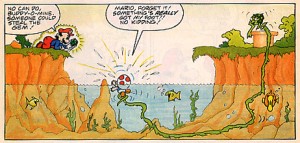 … finally forcing Mario to drop the gem (and the wand he found which was, strangely, underneath a random rock) and save his friend. Sue snatches up the gem and the wand, declaring herself to be the most powerful creature in the world. (If the piranha plants are all connected, they theoretically all could be gem-protected as well. That is never made clear though). Those plants are about to unload on Bowser's tyranny, Egypt-style.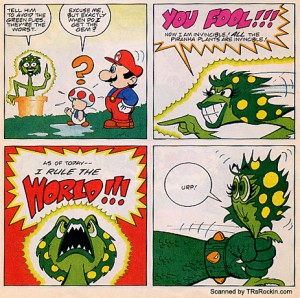 OR ARE THEY?
You see, apparently only extremely strong forces can penetrate the gem's barrier. And Bowser is pretty damn motherf*cking strong. So in instant, Bowser undermines the revolt with a neck-snatch and a belittling and tossing aside of these cheap trinkets, as he calls them. Snatching them up, Mario and Toad head off, with this extremely bizarre revelation: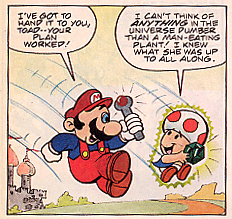 BACK THE FUCK UP.
So, everything that happened was pre-planned? Did Toad whisper to Mario, "The plants are revolting, so pretend to be a jerk, so that one of the plants will try to goad me into testing your friendship with a near-death experience. That plant will possess the gem and wand right until Bowser appears from nowhere and just quell that rebellion shit in an instant, leaving us the gem and wand, killing two birds with one stone!"? No. No. NO. I can't imagine even part of the idea being in Toad's plan. Mario acting like a jerk wouldn't necessarily lead to the Sue encounter, nor bring Bowser into the picture. Mario's line "That could work… if they try anything!" kind of implies the Sue meeting ("they" being the plants) but "That could work" then means Bowser coming into the picture, or bating Sue to monologue loud enough to capture King Koopa's attention, who for some reason was in the area. NONE of this makes sense. In an instant, a cute story goes to hell. Cutting out the idea of Toad executing all that would have at least turned it into a charmingly cartoony tale. Now it's just a Shyamalan mess.
Anyway, they return to the castle, transform the king back into his former self, and grin at each other while the king still seeks out flies to eat. Haha. (Also, the Wooster character is INEXPLICABLY wrapped in bandages on the final page. I am completely baffled as to why.)
Like I said, the comic is okay and they are some really nice moments, but the story collapses on its own weight. It tries to be greater than the sum of its parts, but it instead just blows up in the face of simple logic. I don't remember the other comics trying to be smarter than its content (the sucky ones suck for other reasons) but the idea that the characters knew it all along is just undramatic, illogical, and unnecessary. Being silly is one thing; being stupid takes work.
Next time: A sillier comic where Princess Toadstool goes punk: "Magic Carpet Madness."
Okay, this needs a lengthy introduction.
I mentioned this briefly on my write-up of the Super Mario Bros. movie, but I was, and still am, an unabashed Super Mario fan. I've been behind on the games as of late, although I did play Super Mario Bros. Wii and I am currently on-and-off with Super Mario Galaxy. But the premise, background, and history of the Super Mario Brothers universe is almost like a second world to me. I love its whimsical freedom along with its dark undercurrents; it's really a lighter form of the Harry Potter universe without the genocide.
While my fanship waned (somewhat) over the years, I have amassed a small collection of the available Super Mario Bros. (SMB) comics that were published in the early 90s. There was two overall anthologies: The SMB comics under the Nintendo Comics System, published by Valiant Comics in 1990 and 1991 (which also produced a run of Legend of Zelda and Captain N series), and the Super Mario Adventure volume, which was the compilation of the Nintendo Power series published when that magazine was the best thing out there, back in 1992.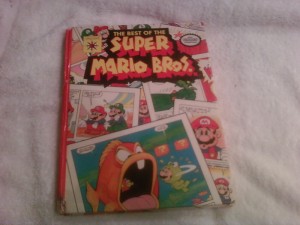 The SMB Valiant series was released in a hardcover edition in 1990, which contains the "Best of" of the lot, not so much all of them. Owning that, and Edition #1, I think I only failed to read 2 others that may exist out there in the void, and these comics are not easy to find. Still, the fact I still have them gives me a sense of… shameful pride? Prideful shame? Something.
I happened upon this blog here, a fellow blogger who reviews and analyzes various Ducktales/Scrooge McDuck Disney comics, and I truly enjoy the write ups, so much so that I decided to do something similar with the collection of SMB comics I have, in addition to the CHILDHOOD REVISITED series, the various updates to the webtoon, and what ever entertainment issue I want to write about. Truth is, I wanted to do this for a while, and mister Geo X just gave me the kick in the pants I needed to start.
I will try to impart as much info as I can about the writers and artists for each of the comics that I can find; truth is, it's a bit tricky since it was so long ago and it's difficult to find and confirm that some of these current comic book creators indeed worked on this series. In all honesty, some of these comics are of various quality, and save for one or two, you… wouldn't really want them in your portfolio. But I'll try my best to blend together a general recap of the story, a light review, a bit of analysis and information, and some good ol' fashioned nerd-love for the SMB world.
I'll go in the order of the hardcover anthology, starting with the first offered comic: "Just Deserts".
——————-
"Just Desserts" is actually a great comic to begin with, as it's both a good mix of what could be great about this series, as well as what could be flat-out abysmal. Here, the art is fairly decent all around, and the story starts off cute and intriguing, but ends with a "What the fuck" (I don't do WTF, as W is not a great letter to use as an initial) type of twist that would make Shyamalan look at it incredulously.
We start of with what looks to be the precursor to Super Mario Kart as well as the introduction of who will be a recurring character: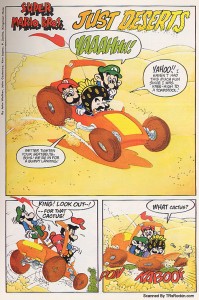 I'll talk more about The King, King Toadstool, the father to Princess Toadstool, at length in a future comic where he's much more prominent, but the basic gist is that he's a bold, lazy, slightly-arrogant and simple-minded fool. You get the sense that Princess Toadstool does all the real royal duties, but it's surprisingly clear that 1) she's her father's daughter and 2) isn't as smart as another future recurring character. I'll talk about him, as well as Princess Toadstool, later as well. I'll tell you right now, though: I LOVE how the comics portray her.
I digress. Our sibling heroes and king are on their way somewhere – and they get stuck when they run over a cactus and get a flat tire. It's important to note that here, SMB takes a very cartoony approach to its storylines, unlike something like Sonic the Hedgehog, which is more mystically serious.
The king lazily forces the brothers to fix the flat. Meanwhile, Bowser is watching their struggle in a hidden, underground pyramid/hideout: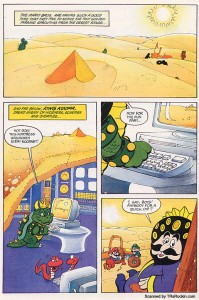 (That is the old design of Bowser, AKA King Koopa, in the days when games were still 8-bit. He's even called King Koopa in this comic run as well. I'll get into the revamped villain design later as well.)
Our king sudden spots a pool nearby, and dives right in. The brothers are skeptical that it might be a mirage, but after watching the king have fun, Mario and Luigi join in —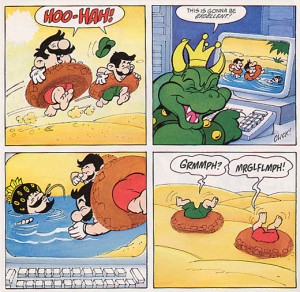 — only to be duped by the entire scenario being a mirage. The king's been taken while the brothers been busy, which sets up something pretty creepy: Mario and Luigi have to find him in the HUGE expanse of a barren desert. In theory, this could be a pretty tight adventure. Expect not: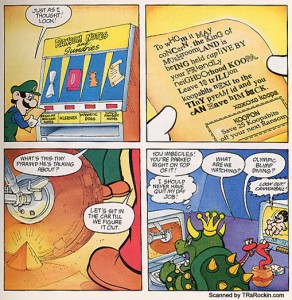 Okay, while the convenience of the ransom note vending machine is pretty lame, it doesn't kill the plot completely. But where is this tiny pyramid?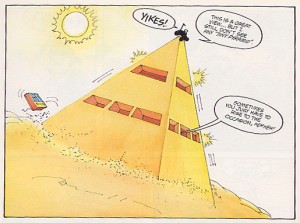 I included this panel because it's a really awesome canted perspective shot. And Luigi's right: the pyramid's big now, so they still don't know where this "small pyramid" is!
Only one thing to do now: just book it!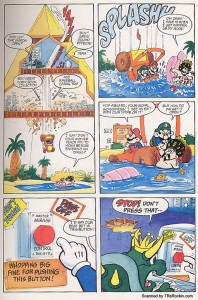 This is pretty amusing – the progress cut short by gravity. I really dig how the first panel portrayed that. Also, very convenient, as they find the king AND a nice pool to cool off in. The escape, however is where the problem arises. I mean, the emergency button near the pool is ridiculous but plausible in a far-fetched kind of way, but: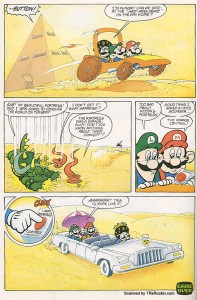 — the idea that the entire thing, pyramid, plan, and all, was a mirage is just too far out there. If it all was a mirage, then how was it originally created? I get that the device didn't create mirages so much as create realistic holograms, but there's no way to play the "hologram created the hologram" card without going cross-eyed. It's a chicken-and-egg problem.
Still, I will say for the most part this is a fun little comic and the art is fairly great all around (although, the settings tend to be better and more consistent than the character designs), with little bits of visual flair here and there to make this issue stand out. Vibrant colors is key to any SMB outing, and here, the artists do a decent job. The writers miss the boat (or should I say limo?) at the end there, but for a primer entry into this series, it's a decent one.
I should also mention that most of these and the future screenshots and crops are from this site: http://trsrockin.com/ncs_smb.html. I thank them for the scans so I don't have to scan my edition, which is almost falling apart at the seams anyway. You can read most of the comics there.