Posts Tagged Film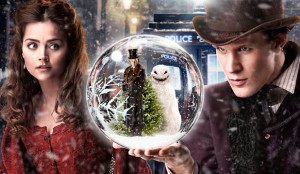 Of all the events that transpired in the Doctor Who episode "The Rings of Akhaten," the one thing that stuck with me was the moment that the Doctor and his newest companion Clara talked with an alien about renting a space moped. In lieu of cash or credits, the aliens on the world of Akhaten wanted objects of sentimental value. The more sentiment behind the object, the Doctor explains, the more its value, its worth. The episode continues then with all these other concepts like gods, stories, memories, songs, meaning, and "the most important leaf in human history" (and we'll get to this in a second), but for the most part I kept thinking about this concept of buying a tangible object with another tangible object that has intangible meaning to a single individual. Then it hit me – this really is fucking stupid.
Why? The idea of an alien species valuing an object with meaning behind it is not even science fiction. It's not even LIGHT science fiction. It's the hacky, emotional reject of an young adult fiction novel. Of all the goofy, fun moments in The Fifth Element, no one said that the idea of "the fifth element being love" was one of them. As dark as Harry Potter gets, Harry surviving Voldermort's attack when he was a child due to his parents love is not exactly well-respected.  So when Doctor Who trades Clara's ring (which was passed down from her "mum") for the moped, we're way past a soap operatic science fiction show. We're entering allegory territory. The problem isn't that science fiction can't have allegorical concepts; it's that the overall show as an philosophical allegory is just not interesting. We're not watching a show with real characters and crazy plots that build around a theme; we're watching a show about concepts, ideas, and themes, embodied in random characters and plots. Doctor Who is all about meaning now, and it's bothering me.
Moffat seems strangely obsessed with myths, concepts, and intangibles. He's weirdly taken to ideas, ideas so specific that it's off-putting. His clever-by-half take on the series embodies this, where characters seem perfectly quippy and quirky, speaking in Lost-ian like language that no human (or alien!) would actually, or even theoretically talk like. It's getting to House-like levels of silliness now, when in it's final three or four seasons, every character talked like observational theorists, able to suss out the essence and emotions of every other character. Everyone became a fucking detective of human life.
The entirety of Doctor Who is now a "fucking detective of life". This would explain everything – the lack of urgency, the labyrinthine story arcs, the obsession over the "Doctor Who?" question (which was always played for a joke… until now!), the questionable presentation of Manic Pixie Dream Girls as companions, the ideas of fear and love and song and memory being catalysts for plot contrivances, the nonsensical EVERYTHING involving River Song, the ruination of potentially great monsters like The Silence and The Fallen Angels. All of these plots and characters are nothing but vessels for Moffat and his writing staff to muse on life and the universe's greatest mysteries, like the meaning of love and fear and friendship and death. Moffat probably decided to avoid returning to Daleks because he couldn't make them into a metaphor for anything. The Cybermen, though? The cold, mechanical robots with no feeling? Oh, yeah, we'll see them again.
Beyond this all being questionable sci-fi, the bigger issue is that these themes and his opinion on them are NOT universal. He doesn't seem to present a nuanced side to these things, nor seem to delve to much into various opinions of it. His arc concerning the Doctor's death could have been a powerfully dramatic moment for the character. Matt Smith sells it well, but it ultimately leads to nowhere, branching out into bizarre one-note areas, like in "Let's Kill Hitler," where he was poisoned and, for some reason, ran back to the TARDIS to talk to an image of a young Amy Pond to… express regret? It's a nice moment but had absolutely no bearing in the actual plot of the episode and felt rather extrameous. Or in "Vincent and the Doctor," a dramatically powerful episode to many, but its clear that Moffat wanted to talk about depression and loss, not necessarily create an actual plot-driven episode of TV that supposed to last 52 minutes. (And the less said about "Closing Time," the better.)
And so we're back to the "most important leaf in human history," which – what? The most important leaf in human history gave you a raccoon tail and ears and allowed you to fly. Clara, your leaf being apparently stronger than the history of the Doctor's travels is nonsense. Even worse, his metaphorical nonsense doesn't even hold under scrutiny. Moffat (or in this case, writer Neil Cross) holds that history is finite but the future is forever, and somehow the leaf represents infinity but the Doctor's life doesn't, despite the fact that the Doctor, presumable, will be living a LOT longer (and his experiences bare more for the future), but the leaf actually represent past events (the marriage of Clara's parents) and kinda doesn't bare anything to the future, save for what Clara would believe and — do you see what I'm getting at here? A whole lot of run-around bullshit. And it's bullshit that lacks the foresight of contrarian and differentiating viewpoints, so it's not even WELL-THOUGHT bullshit.
I was somewhat pleased with "Cold War," which gave purpose and agency to the characters, and even allowed Clara to feel vulnerable and unsafe for once. I wasn't too pleased with the deus ex machina of the Ice Warrior's arriving ship, and it seemed like Clara's fears were tossed aside in the end. But at least those critiques come from elements of substance, writing, and character, instead of the broad swath of allegorical ideas that seem to be present nowadays. Here's hoping that we can see Doctor Who become more character and plot based as the season winds to a close.
Phyllis Diller died a few weeks ago, and in memorandum, a tweet was sent out linking her to a Muppets performance, where she played a saxophone to upbeat version of a familiar ragtime diddy:
Let's be honest here. Diller isn't good with her mini-saxophone. From a musical standpoint, she pretty much messes up every time she plays, and it's very, very noticeable.
But watch Diller's face and expression. She doesn't care. She KNOWS she's not doing well. I especially love how much she gets into playing poorly towards the end, mugging for the camera with the classic showmanship that a talented stage presence can muster. It gets the crowd going, and it gets her going. She messes up, but she messes up with class.
The old adage, "if you mess up, mess up big" doesn't seem to apply here. In the 70s, if you messed up, you messed up with grace and charm. Diller doesn't mug harder or begin to overdo her musical prowess. She lets the moment speak for itself. She lets the audience enjoy it for what it is. Messing up and playing through it is truly a real skill, and Diller does not disappoint.
Watch an old episode of Match Game. Watch this awesome interview with Tom Waits. Watch any episode of The Carol Burnett Show. The charisma of the actors simply playing the moment is all that's needed to entertain the audience. Match Game is particularly interesting, since it almost seems like the celebrities have little to no interest in actually help the contestants win, nor do they have any real desire to play up certain gags and moments to get a rise out of the audience – unlike Hollywood Squares, which reeks of pre-written, hammy gags for the celebrities to perform. Comparing the two, it's almost sad.
Why is this? Partly, it's stylistic. "Raw and gritty," staples of 70s hard-boiled entertainment, wasn't just regulated to dramas. Humor and comedy also benefited from that raw and gritty aesthetic that the audience, frankly, expected. It's a style that only the best performers and hosts can walk sans flop-sweat or jitters, especially in trying to power through the actual meat-and-potatoes of an actual skit. Compare that Muppets video to pretty much any Saturday Night Live skit starring Jimmy Fallon. While he may have found his niche in hosting late night, his inability to hold in his laughter essentially ruined skits, but as a greater affront, he had no stage presence to control the ruined skit without his stammering reflecting his fucking up – unlike Diller, who poorly plays that saxophone with the discipline of a master. I'd rather watch her screw up at a thousand things then watch Fallon struggle through another mediocre SNL bit. (SNL, in fact, seemed to have issues with its players powering through non-winning skits, but that's a write-up for another day.)
It's rare these days to find an entertainer that can work with ease and comfort in front of an audience, whether a routine goes swimmingly or erupts in flames. It takes a real skill to screw up and make it look wonderful – to be high, or drunk, or on drugs, or just not very good at all, and still win over the crowd with sheer charisma.
The Penguins of Madagascar is a quietly excellent cartoon: a madcap, zany show that redefined the Madagascar's cuddly-yet-militaristic team in an over-the-top Brooklyn zoo. Its insular nature made it hard to keep up, but, like Community, rewarded followers with inside jokes, excellent character gags, and nods to past events. Recently, the show finished up their production run, and sooner then later the final episodes will be aired on Nick. [07/19/12 – Edit: Just learned that, today, the show was also nominated for a Primetime Emmy!] Executive producer and writer Robert Schooley took some time out of his schedule to talk about the show, the difference between CGI and traditional animation, and whether the Lunicorns were indeed a My Little Pony parody. Be sure to follow him on Twitter.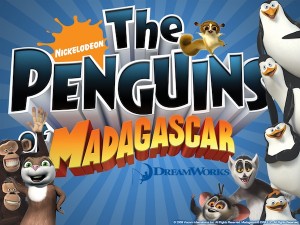 TMB: The Penguins of Madagascar seemed to relish in being its own thing instead of hewing too closely to the Madagascar movies. How much of this was intentional from the start? Did Dreamworks or Nickelodeon have reservations in taking the characters in such a different and separate direction?
RS: It was a practical decision.  DW didn't know what the Madagascar sequel stories would be at that point, so the decision was made to feature all of the characters but the four leads and exist in a separate continuity from the features.
TMB: As a followup, what were the challenges, if any, in defining the characters and the show outside of the films?
RS: Skipper was fully defined already, so it was a matter of finding new aspects to the other three to round out the team.   Because we were not really related to the movies, we felt pretty comfortable letting everyone develop naturally as we'd invent new comic quirks to have fun with.
TMB: Does the New York setting pose any issues? Since everyone who works on the show is in LA.
RS: Not really. Most of us are from the east coast anyway.  I'm sure if we were living there while writing the show more particular real world details might have shown up.
TMB: The director of the first Madagascar film, Tom McGrath, mentioned here that he wanted to avoid "zoo vs. wild" type contentions. Seems like you doubled down on that philosophy. Can you elaborate on it?
RS: It's such a unique world with it's own strange logic, I'm not sure the issue really came up much.
TMB: How did ideas for characters and plots come up? It's impressive how rich and diverse the cast has become in just a few years.
RS: Hardest question to answer.  Most ideas just come out of looking to put a character through something.  A few stories came out of specifics to the zoo setting, like "Snooze at the Zoo" or webcam, but most were just coming up with funny ways to put characters in conflict with each other, nature or the world.
TMB: While I wouldn't say the show had a "story arc," it seems to have a very loose style that allows events, stories, and characters to be called back to, referenced, and revisited. Was there a fear about that being alienating to new audiences?
RS: Always a risk and probably something the network would rather we didn't do, but all the shows we produce have a rough internal continuity.  We like to reward fans who watch every episode.  And in this DVR age it's not hard to do.
TMB: I would like to talk about the animation for a moment. We've come a long way since Reboot. How challenging is it to make strong, cartoony movements (squash and stretch, smears and blurs, etc.) via CGI?
RS: We have really great animators in our studios working off very strong board poses.   It amuses me when people confuse rendering (i.e. detailed fur) to character animation. On a TV budget and schedule we can't do the same lush rendering as a feature, but I think we do get every ounce of subtlety and personality out of these characters.  We are constantly amazed by the little extra touches the teams in India and New Zealand add to the acting.
TMB: Which do you prefer, traditional or computers?
RS: Apples and oranges.  I like both.  Kim Possible was a great looking show and I'd do that style again in a minute.  A big advantage to traditional is that you can create a much bigger world, since every set and guest character doesn't have to be laboriously built.  And it can be a more stylish look, ideally.  But there's also a great feel of spacial reality in CG that lends itself to the more sitcom sorts of stories that we do on this show, and yet, thanks to the process that's been refined here at Nick, with genuine cartoon snap and timing that is genuinely fun to watch.
TMB: How did you get into the TV animation business? How'd you get tagged as executive producer of this show in particular?
RS: Started in the mailroom at DIC, a busy studio in the 80's.  Started pitching stories to their shows, got hired on staff.  Eventually drafted to Disney, worked our way up to exec producer there.  We were recruited to run Penguins after they had already done a first version of a pilot that we came in to rework.
TMB: Favorite character? Favorite episode?
RS: Can't really pick a favorite character.  Honestly they're all fun to write.  I think Skipper is pretty special because Tom created him and can add little touches and ad libs in the performance that surprise and delight us.  But I think everybody has added unique touches to their characters. Danny's King Julien is a constant exploration of how far you can push an ego.  I love when Jeff gets to play Kowalski as unexpectedly emotionally fragile.  Or when John decided Rico should sing like Michael McDonald.  And nothing made me laugh more than James when Private got angry at everybody.
Favorite episode may be "The Penguin Who Loved Me" because it's the final Blowhole episode and it pays off a lot of running gags from the series.   It may end up being the last to air.
TMB: Now that production is finished on the show, what's next for you and the Penguins? Rumor has it that there may be a movie in the works.
RS: There is a Penguins movie in production at DW, but at this time it's unrelated to the series.  That could always change though, I guess.   We, and most of the staff and some of the cast are deep into the next series Monsters vs. Aliens.
TMB: Final question: Are the Lunacorns really the show's jab at the My Little Pony fandom?
RS: One man's jab is another's homage.