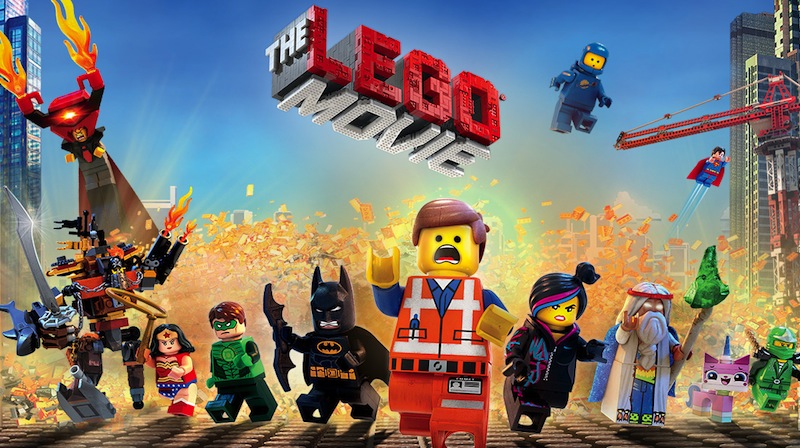 The most talked-about Oscar snub was for Selma's exclusion from the Best Director and Best Actor nominations. Surprisingly, talk over The Lego Movie's Best Animated Picture snub seemed equally controversial, perhaps even more so, particularly over at The Dissolve. And while outrage continues to follow it around, with directors Phil Lord and Christopher Miller tossing back-handed insults towards the Academy for their perceived neglect, I can't help but think that, perhaps, the Oscar voters may have gotten this one right.
To be clear, award season has always been, and continues to be, an elaborate stroke-fest: self-servicing, brown-nosing, self-celebratory crap. Most people know that most of these awards are nonsense, and the outrage only really feeds into the season's insatiable love for itself. That being said, some films are noted to be shoo-ins, particularly with the Academy increasing the number of films that could be nominated. The Lego Movie was a critical and commercial success, so it just seemed like a no-brainer that it would win Best Animated Picture, let alone be nominated for it. Yet the Academy chose: Big Hero Six, The Boxtrolls, How to Train Your Dragon 2, Song of the Sea, and The Tale of the Princess Kaguya, leaving off The Lego Movie, much to the chagrin of many people.
Not so myself. While a majority of the world saw the film and loved its clever take on the Chosen One concept, along with its comical/thoughtful take on the Lego world, I saw just a perfectly fun, cute film that nevertheless fell for the same kind of tropes that Chosen One films tend to fall into, via animation that did exactly what it was supposed to do. The Lego Movie had fun with its premise but it's difficult for me to agree that it did anything novel with it – save for an inspired climax. Beyond that, though, it possessed the kind of simplistic gags that often fill animated kids films, troubled with actors unsuited for voice over work, and the kind of average, Joe Campell-esque pacing that most critics would pan in other films, animated or otherwise.
Not to say it wasn't a bad film at all! It reminded me, in fact, of Cats Don't Dance and Over the Hedge: two animated films with comically clever group dynamics and fast-paced sequences. Yet while The Lego Movie wore its satire on its sleeve, Cats and Over were a lot more subtle about its commentary (the former's endearing homage to 40s and 50s musical animated shorts; the latter to the encroaching suburban blight on the natural environment). I love those films but I would never say they deserved Oscars, and The Lego Movie was basically a trumped up version of those films. The Lego Movie is also built on a slightly recent batch of animated films which seek to "subvert" certain tropes of animation plots – only to lean into those tropes anyway. Shrek sought to break down the happily-ever-after ending of generic fairy tale stories, only to end with exactly that, albeit on the ugly-orge side of things. Frozen tried to break free of love-at-first-sight storytelling when it comes to princesses, only to suggest the second handsome guy you meet is totally fine. And The Lego Movie, while exposing everyone to be potential master-builders, still ended up with Chosen One Emmet to be the master-builder that saved the day.
I've said this before, but most modern critics tend to be terrible at analyzing animation as a whole. They'll know the big names of animation –  your Brad Birds, Hayao Miyazakis, Chuck Jones, Tom Rueggers – and if you're lucky, they might be aware of Genndy Tartakovsky, Lauren Faust, Henry Selick, or Pendleton Ward. Critics are not voracious viewers of cartoons – the insane work of Tex Avery, the character-focused oeuvre of Paul & Joe, the wacky excellence of Mark Dindal, or the brilliantly satircal cartoons of Jay Ward. The latter, in particular, was built upon satire and subversion, with the various bits introduced in Rocky & Bullwinkle utterly annihilating generic animation tropes, and this was back in the 60s. Watching a lot of cartoons is tricky – it's time-consuming and requires a certain degree of patience – but I think to truly understand cartoons, the various approaches to visual representations, requires a certain commitment that many critics fail to take part in.
So of course The Lego Movie seems like some sort of top-notch brilliance to them. And, to be fair, there is a lot to like about it. But in the whole scheme of things, The Lego Movie, with its reliance on generic rhythms and faux-subversion, all within (and let's be blunt here) an obvious toy-based corporate tie-in, is pretty ordinary. Some people point to the film's animation as a celebratory selling point. I agree that the film's visuals were perfectly tailored to The Lego Movie's sensibility, but to be honest, the film did exactly what it was supposed to do. It committed to the "Lego" look, with the movements and pacing akin to the limited movements and pacings of the actual toys, but it actually didn't do anything interesting with it. No sharp montages. No unique comic/dramatic visuals. Nothing about the animation pushed the film aesthetically.
How to Train Your Dragon 2 (the only nominated film I managed to see this year, an unfortunate blight due to financial issues) had its flaws, too. And while I don't think it should win, I do think it's a stronger film than its reputation, with its commitment to its central family unit (before its torn asunder), its unique dragon personalities (Toothless has never seemed less adorably playful), and its mastery over its visuals and art designs. Just the scene where Hiccups reunited father and mother singer their courting song to each other is powerful stuff, with its swooping camera angles and play on the area surrounding them. It's an insular, personal film that struggled against its bombast, action-fest second half, but it understood the importance of look, feel, and meaning, in terms of the situation and the characters. In comparison, The Lego Movie was about the flair, the self-awareness, the subversion (that never was). It's a movie that leaned hard on the idea of being a self-aware toy-product, and while it did do a fine job with that limitation, it still was a self-aware toy product. Of course, this allowed for a wonderfully strong, climactic third act, but that's just the third act. Two-thirds of the film are still flat, generic, run-of-the-mill animation and pacing, with mediocre gags, less-than-average voice work, and exciting-if-passable action.
The next few weeks I'll be working my way through the rest of the nominated film as they drop on DVD. With The Lego's Movie snub, and the various flaws that How to Train Your Dragon 2, The Boxtrolls, and Big Hero Six reportedly possess, perhaps this will allow the outliers Song of the Sea and The Tale of the Princess Kaguya a larger chance to win (or maybe that this was just a weak year for animated films). But while The Lego Movie has strong moments, I can't agree that it's worth a nomination nor even the Oscar itself. It's fun but slight, ambitious but generic, fun but fluff. Admittedly I do have issues concerning the "Lego-fication" of a lot of entertainment nowadays, but even still, I wonder why it takes a product-film to bluntly emphasize the power and wonder of unbridled creativity, even though, particularly with animated films, that should be the default mindset. (Perhaps it is the lack of openness when it comes to critics and their approaches to animation – film, TV or otherwise – but that's an argument for another day.)